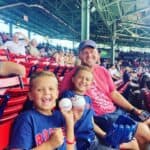 Jake Cain is an entrepreneur and writer from Cincinnati, Ohio. He spends his free time driving around the country in his late 90's conversion van, affectionately known as the "Monster Van" with his wife and 3 boys.
Key Takeaways:
Boomers spent on average 3x more on sporting event tickets than other generations.
Despite the increase in ticket prices, enthusiasm for attending live events is surging.
Concert-goers are willing to spend up to $843 on average for floor seats to their favorite artist.
As Visa reports, Boomers account for more than half of all U.S. spending.
According to a study by TFL, as detailed on PR Newswire, Boomers have outpaced other American generations on spending for sporting events in the past year, with an average spend of $1658. This finding is underlined by another study conducted by Innerbody, which reveals that concert-goers across generations are willing to spend up to $843 on average for floor seats to experience their favorite artists live.
What's fascinating is that these reports echo another by Visa, which points to Boomers accounting for over half of all U.S. spending, thereby continuing to dominate consumer spending. These deep pockets aren't merely confined to live events but suggest a broader spending pattern unique to this generation.
Boomers, often seen as being on the fringes of the digital revolution, are demonstrating a defiance of stereotypes, maintaining budgets for travel and other discretionary treats such as live events.
These findings collectively highlight the value of live, in-person experiences across different age groups despite the rising costs of event tickets. They also emphasize the economic clout still wielded by the Boomer generation in the US economy.
In light of this, businesses, particularly those in the sports and entertainment industry, might need to revisit their marketing strategies. Understanding the spending behavior of different generations can lead to more effective targeting and more inclusive pricing strategies, particularly to ensure younger and less financially secure generations aren't excluded from these enriching experiences.
In conclusion, the appeal of live events transcends generational lines, but access to such experiences should not hinge on financial standing. As consumers, we share a collective responsibility to push for fair pricing and greater accessibility, ensuring that the love for live experiences can be enjoyed equally by all.