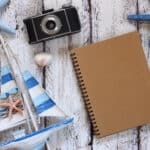 Elizabeth is an experienced traveler and writer with bylines in several popular travel publications. She currently co-owns a small digital travel publication and spends her free time writing, taking photos, and traveling.
Are you longing for a fall getaway but afraid it's too late to snag some great deals on plane tickets?
From insider airline tips to savvy booking strategies, we've got the lowdown on how to score cheap flights for your next fall adventure.
Book Early
One of the biggest mistakes travelers make is waiting too long to book their flights. The earlier you book, the better chance you have of scoring a deal. According to a recent study, the sweet spot for booking flights is around eight weeks in advance. This not only gives you the best prices but also more flight options to choose from.
Be Flexible With Dates
The more flexible you are with your travel dates, the more money you can save. If you're not tied down to specific travel dates, consider booking your flight mid-week or during less busy travel days. According to research, Tuesdays and Wednesdays have the cheapest flights, while Fridays and Sundays are the most expensive.
Consider Alternative Airports
Flying into smaller or less popular airports can often save you big bucks. Do some research on alternative airports near your destination to see if it's worth the extra travel time. Sometimes driving a few extra miles to a different airport can save you hundreds of dollars, making it a worthwhile option to consider.
Use Incognito Mode or Clear your Browser Cache
Many airline websites track your search history and adjust prices based on your search habits. To avoid this, use incognito mode or clear your browser cache before searching for flights. This will ensure you see the most accurate and up-to-date prices without any price hikes.
Sign Up for Alerts
If you're not ready to book your flight yet but want to keep an eye on the price, sign up for alerts. Apps like Skyscanner, Google Flights, and Hopper allow you to set up alerts for your desired route or destination, so you can get notified when the price drops. This is a great way to stay on top of the latest flight prices without having to constantly check airline websites.
Book Connecting Flights
While direct flights are convenient, they can also be expensive. Booking connecting flights can often save you big bucks, especially during peak travel seasons. Just be sure to give yourself plenty of time between flights in case of delays, and pack light to make your layover easier.
Use Credit Card Rewards
Many credit cards offer travel rewards and bonuses for booking flights, so make sure to take advantage of these perks. Some cards even offer 0% interest on flights for a certain period of time, giving you more flexibility with your payments. Just be sure to read the fine print and use your cards responsibly.
Pack Light
Airline baggage fees can add up quickly, especially if you're traveling with checked luggage. By packing light and only carrying on a small bag, you can avoid these fees and save money.
Fly Off-Peak
Early-morning or late-night flights may be inconvenient, but they can significantly reduce your travel costs. Fewer people want to travel at these times, which often results in cheaper fares.
8 Most Unique Places To Kayak In The US- Stunning Beauty
Looking for a unique and thrilling way to explore the natural beauty of the United States? Look no further! From the bioluminescent bays of Puerto Rico to the rugged beauty of the Apostle Islands in Wisconsin, there's something for every adventure seeker.
The 10 Most Beautiful Hikes In The US- Discovering America
This article highlights the most beautiful hikes in the US from California to Maine. Whether you're a seasoned hiker or just starting out, there's a trail on this list that will leave you awe-inspired. So, put on your hiking boots and get ready to explore the diverse and awe-inspiring landscapes of America's most beautiful hiking destinations.
10 National Parks To Skip If You Have Young Children
This article is a must-read if you're planning a national park trip with young children! Don't get stuck in rugged terrain, limited water access, or super-long hiking distances with your kiddos! Learn about the challenges and potential dangers of visiting these parks with young children and plan your trip accordingly for a safe and enjoyable experience.