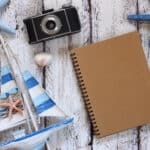 Elizabeth is an experienced traveler and writer with bylines in several popular travel publications. She currently co-owns a small digital travel publication and spends her free time writing, taking photos, and traveling.
Summer may be in full swing, but savvy travelers know that autumn is the perfect season for a getaway. From vibrant foliage to mild weather and fewer crowds, fall offers a plethora of opportunities to explore new destinations.
But to make the most out of it, it's crucial to start planning at least two to three months in advance.
Click through for ten tips for planning fall travel now to ensure a memorable and stress-free trip.
Time It Right
Fall is a fleeting season, and if you want to catch the colors at their peak, timing is everything. Depending on where you're headed, fall foliage typically peaks between mid-September and mid-November. Check out an online foliage map to track the turning of the leaves and plan your trip accordingly.
Follow the Harvest
Fall marks the harvest season, and there's nothing quite like sampling fresh, seasonal produce straight from the source. Look up farmers' markets and food festivals in your destination to enjoy the flavors of fall from local growers.
Chase Waterfalls
Fall is a season of change, and nowhere is that more apparent than the waterfalls that dot our national parks and wilderness areas. As the leaves begin to fall, waterfalls put on a show of their own, their cascading waters framed by the vibrant colors surrounding them.
Stay at a B&B
Fall is a season for cozying up, and nothing says cozy quite like a bed and breakfast. From quaint cottages to elegant mansions, B&Bs offer the perfect retreat for leaf peepers looking to savor the season's simple pleasures. Plus, they're a great way to support the local economy.
Take a Scenic Drive
In most regions of the country, the beauty of fall can be found at every turn, and there's nothing quite like the thrill of a scenic drive to take it all in. So, rent a car and hit the open road! Some great routes include the Blue Ridge Parkway in Virginia or the Olympic Peninsula Loop Drive in Washington.
Get Into the Halloween Spirit
Embrace the spooky season by visiting haunted houses, going on ghost tours, or exploring local cemeteries. It's a fun way to get into the Halloween spirit and learn about local history all at the same time.
Take a Hike
Fall is a hiker's paradise, with cooler temperatures and less humidity making for perfect trail conditions. Whether you're an experienced hiker or a casual adventurer, there are countless hiking trails throughout the US that offer stunning fall scenery.
Attend a Fall Festival
From apple picking to pumpkin carving, fall is a season that celebrates nature's bounty. And there's no shortage of fall festivals that celebrate the season's gifts. Check out local events at your destination to experience fall traditions in their truest form.
Visit a Vineyard
Fall is the season of wine, with grape harvests and wine festivals taking place all across the country. So, visit a vineyard and experience the flavors of fall firsthand. Sample award-winning wines, enjoy a tour of the vineyard, and savor the crisp autumn air with a glass of your favorite vintage in hand.
Book Early
Don't wait until the last minute to make travel arrangements. Booking in advance (like, right now) can save you a bundle on flights, hotels, and activities. Plus, it gives you the flexibility to make changes if needed.
11 Day Trips From Reno: Desert Stops For Everyone To Enjoy
Are you planning a day trip from Reno, Nevada, and looking for some exciting options? Look no further than this article, which highlights the best day trips from Reno. There's something for everyone, from skiing in Mount Rose to relaxing in Steamboat Hot Springs. So, pack your bags and get ready to explore the beautiful Sierra Nevada mountains and beyond!
Fly-Fishing, Skiing, Hiking, and Much More: 10 Montana Vacation Spots
Looking for an outdoor adventure in Big Sky Country? Look no further than this article, which highlights the top vacation spots in Montana. From Yellowstone National Park's famous geysers to Glacier National Park's breathtaking scenery, and Bozeman's skiing and whitewater rafting, there's something for everyone. So, pack your bags and get ready for an unforgettable trip to Montana's beautiful wilderness, abundant animal life, and incredible national parks.
Best 16 Utah Vacation Spots
If you're looking for a vacation spot that offers breathtaking natural scenery and exciting outdoor adventures, then Utah is the place to be! This article highlights the top places to visit in Utah, from the stunning Zion National Park to the unique Homestead Crater. Whether you're interested in hiking, skiing, or simply soaking in a hot spring, Utah has something for everyone. So, pack your bags and get ready to explore the diverse and awe-inspiring landscapes of Utah!
10 National Parks To Skip If You Have Young Children
If you're planning a national park trip with young children, this article is a must-read! Discover the top 10 national parks to skip if you have young children, from the rugged terrain of Denali National Park to the limited access to Isle Royale National Park. Learn about the challenges and potential dangers of visiting these parks with young children and plan your trip accordingly for a safe and enjoyable experience.