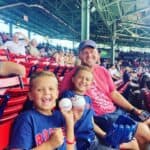 Jake Cain is an entrepreneur and writer from Cincinnati, Ohio. He spends his free time driving around the country in his late 90's conversion van, affectionately known as the "Monster Van" with his wife and 3 boys.
Duval Street, Mallory Square, world-class fishing- we thought we'd experienced a lot of the "must do" attractions in Key West in our past visits.
However, last week, we rented a boat with a local captain who took us out to some places we never would have found exploring on our own.
Finding The Boat
My wife, Sarah, and I met up with our longtime friends, Jonny and Chiara, to celebrate the ladies' birthdays in the Key West area.
We wanted to see some of the classics, like taking in a sunset at Mallory Square, but we also wanted to get out on the water and explore the beautiful waters surrounding Key West.
We decided to book a private boat tour via Getmyboat, which I had heard of but never used.
It's a little bit like Airbnb for boat rentals, where you can rent boats directly from owners who want to rent them out when they're not using them.
You can also book boat tours and other experiences where your boat rental includes a captain. This could be something like a whale watching tour, or in our case, just cruising around and checking out some hidden gems in the waters surrounding Key West.
Our group of 4 booked this trip with Anthony and let him take the lead on what we saw and did. We just wanted to spend a day on the water, and we figured Anthony would know some cool spots to check out.
We were right.
Swimming Through Mangroves
Mangroves are unique trees that thrive in coastal saline or brackish water, and they support a lot of marine life.
Our first stop on the trip was a sandbar surrounded by mangroves where we could hop out of the boat and walk or swim over to the mangroves and explore a little bit.
A couple of nameless people in our group were a little nervous as we saw a nurse shark and a stingray in the shallow waters where we dropped anchor.
Anthony assured us they had no interest in us, so we hopped right in. As we were headed over to swim through the mangrove tunnel Anthony pointed out to us, we heard quite a bit of splashing and commotion behind us near the boat. Chiara gave a concerned look and asked Captain Anthony, "Ummmm, what was that?" Anthony replied, "It's a barracuda eating another fish. Just nature being nature, you're good."
So we kept going and swam through a little mangrove tunnel and around to the other side of the island. It was a super fun experience.
We were the only boat in the area, so it felt like we were exploring our own private mangrove island.
Relaxing On Sandbars
Our four-hour trip included three different stops, and each one featured a beautiful sandbar. We spent time sunbathing on Anthony's huge floating mat and even exploring one of the small private islands he brought us to.
Our trip was midday, so we packed some sandwiches, and Anthony provided chips and a cooler full of drinks, which was a nice touch.
At each stop, Anthony pointed out things like a rope swing on the island and interesting spots for photo ops. Since these places were all new to us, it was super helpful having a captain that knew his way around the sand bars of Key West.
Exploring Houseboats
Honestly, half the fun of the trip was hanging out with Anthony.
We were a little worried it could be awkward with just four of us and one captain nobody knew hanging out for half the day. However, those worries were put to rest right away as it was clear that Anthony is a laid-back guy who can get along with just about anybody.
As we were hanging out on the boat, Anthony mentioned he was also working on renovating a houseboat that he was going to list on Airbnb.
We asked all kinds of questions about it, so he offered to drive us by it on our way back to land.
We stopped by and checked out the exterior of Anthony's boat renovation project and learned that a lot of the cool houseboats parked nearby were listed on Airbnb as short-term rentals.
It was a fun way to wrap up the trip and something else we would have never really known about if we were cruising around on our own.
Should You Rent A Boat In Key West?
Our boat rental was easily the highlight of our trip.
We're not "boat people" in that we wouldn't have felt really comfortable renting a boat and being tasked with doing all the driving, parking, and navigating the rules related to no wake zones and other things I'm only vaguely familiar with.
So, for us, renting a boat that included a captain was 100% the way to go.
Plus, Anthony took us to mangrove tunnels and sandbars, and was full of local knowledge we would have missed out on otherwise.
If you're headed to Key West and want to get out on a boat with a small group of friends or family, definitely check it out.