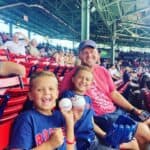 Jake Cain is an entrepreneur and writer from Cincinnati, Ohio. He spends his free time driving around the country in his late 90's conversion van, affectionately known as the "Monster Van" with his wife and 3 boys.
Imagine the sun beaming down, the gentle ripple of a luxury pool, and the soft hum of conversation, all framed by the picturesque backdrop of Key West.
Sounds like the making of a perfect vacation, doesn't it?
Here's a little secret – you don't need to book an entire stay at a high-end resort to live this experience.
My friends and I discovered the magic of resort passes on our recent visit to Key West.
Though we were based at a friend's house about 45 minutes out of town, we were eager to spend a day exploring the seaports and historic areas of Key West. But the thought of walking around all day in the sweltering heat wasn't appealing.
We wanted a comfortable spot where we could take a break and truly feel like we were on vacation. What we were really missing was that quintessential poolside experience, the kind that only a luxury resort can offer.
Enter The Marker Key West Harbor Resort with its resort day passes.
The idea of spending a day at a premier resort, recently crowned the "#1 Resort in the Florida Keys" by Condé Nast Traveler's Readers' Choice Awards for the second consecutive year, was too good to resist.
The Marker was the perfect fit for us because of its location. Adjacent to the Key West Historic Seaport, it's a stone's throw from the vivacity of Duval Street and the sunset magnet of Mallory Square.
We started our day with lunch at The Waterfront Brewery, which is right next door, and had lunch along the water.
We'd never done a resort day pass before, so part of me was wondering if it would be an awkward experience if the front desk person had no idea what we were talking about when we walked in.
However, that wasn't the case at all.
First off, the place is absolutely gorgeous and you truly feel like you're walking into a luxury property upon arrival.
Then, when we walked in, the staff was incredibly friendly and accommodating.
Before we knew it, we were ushered to our private cabana. Lounging around, sipping drinks from the poolside bar, and diving into one of their three saltwater pools made our day an unforgettable experience.
We had access to the fitness facilities, but we were looking to take it easy, so we spent most of our time lounging by the pool. The pool area is surrounded by the resort rooms and walled off from the busy seaport that's nearby, which really does give you a sense of privacy and makes for a truly peaceful setting.
As if that wasn't enough, we capped off our opulent day with a picturesque sunset cruise, also conveniently located a short walk from the resort.
Another underrated part of The Marker's report pass was that onsite parking is included. We left our car in their private lot for the entire day with zero hassle, which would have cost $25 based on the nearby hourly rates in public lots.
Using The Marker as our home base for the day and exploring downtown Key West on foot make us feel like true VIPs, having experienced luxury without the price tag of an overnight stay.
If you're headed to Key West and are looking for a day of poolside luxury, The Marker Key West Harbor Resort offers its day pass at just $32/day/person. And if you fancy the cabana experience like we did, it's $90 for two, which even comes with two complimentary cocktails.
Based on what we saw of Key West prices, this is an exceptional value for spending a day at such an amazing place.
If you're seeking that splash of luxury on your next trip to Key West, consider a day pass. It's the ultimate way to vacation like a high roller, even if just for a day.
Learn more here about how to get a resort pass and check availability.