Daniel is a copywriter who has well and truly been bitten alive by the 'travel bug'. After ticking off several North American National Parks and exploring Europe by train, his sights are now set on South East Asia. Usually with at least one camera locked and loaded, you'll find Daniel wherever there are mountains, lakes or beaches.
Brimming with natural beauty and a range of activities, San Jose is home to a wealth of stunning lakes perfect for an outdoor adventure. From the tranquility of Stevens Creek Reservoir to the wildlife haven of Calaveras Reservoir, there's a treasure trove waiting to be explored.
To help you organize your next getaway into nature, we've put together a curated list of the 13 best lakes you'll find in San Jose.
Stevens Creek Reservoir
Hidden in the foothills of the Santa Cruz Mountains near Cupertino, Stevens Creek Reservoir is an artificial lake surrounded by a vast 1,063-acre county park. It's a haven for outdoor enthusiasts, offering hiking, horseback riding, picnicking, and limited catch-and-release fishing. For parts of the year, the reservoir opens to non-power boating, allowing you to kayak across Stevens Creek Reservoir's calm waters.
Cottonwood Lake
Nestled among the majestic 14,000-foot collegiate peaks, Cottonwood Lake is a year-round haven for outdoor enthusiasts. Positioned at 9,550 feet, it invites nature lovers to enjoy diverse activities, from casting lines for northern pike and trout to off-roading into the wilderness. For hikers, the nearby Colorado Trail offers treks ranging from a mile to cross-state, while the shaded picnic areas provide a peaceful retreat for relaxation and wildlife viewing. Come winter, the frozen lake comes alive with ice fishing and hockey enthusiasts, as nearby trails cater to snowmobile or cross-country skiers.
Lake Cunningham
Amid San Jose's urban sprawl, Lake Cunningham provides a unique retreat with its generous open space and inviting 50-acre lake. From jogging and walking to enjoying a barbecue picnic with volleyball and horseshoes or rollerblading along the lakeshore, the park caters to diverse interests. Moreover, Lake Cunningham houses the action-packed Skate Park and Raging Waters theme park, making it an exciting destination for all ages.
Coyote Lake
Coyote Lake, an artificial reservoir surrounded by a 4,595-acre county park, is a haven for outdoor activities. Whether you're into camping, catch-and-release fishing, picnicking, or hiking, the "Coyote-Bear" park has something for you. Boating enthusiasts have a wide choice of activities, including power boating, jet-skiing, and canoeing, facilitated by a conveniently located boat launch ramp with ample amenities.
Chesbro Reservoir
Just northeast of San Jose in Morgan Hill, the Chesbro Reservoir awaits within its surrounding county park. Created in 1955, this artificial 133-hectare lake offers a serene backdrop for a leisurely picnic or a contemplative walk along the shorelines, indulging in the silent beauty of nature. For the adventurous, the park provides an opportunity to explore the terrain freely, lending itself to experienced hikers looking for adventure with no set-out trials.
Anderson Lake
Set within southern Santa Clara County's Morgan Hill, Anderson Lake transforms Coyote Creek's damming into a vibrant recreational hub. Within the surrounding 4,275-acre county park, catch-and-release fishing, picnicking, and hiking are all options, complemented by scenic views of the lake and mountains from various trails. Boating, water-skiing, and jet-skiing are prime attractions here, water levels permitting, while the encompassing Anderson Lake County Park offers ample opportunities for more hiking, biking, horseback riding, and jogging.
Lexington Reservoir
Lexington Reservoir, an artificial lake on the Los Gatos Creek, sits 17 miles from San Jose. As part of the Lexington Reservoir County Park, it's a vital water supply and a recreational haven, offering activities like rowing, paddling, and fishing, and is home to the Los Gatos Rowing Club. With a boat launch on its east side, six varied hiking trails radiating from the lake, and first-come, first-serve picnic spots, it's a perfect destination for outdoor enthusiasts seeking both adventure and tranquility.
Calero Reservoir
Open all year to a wealth of water activities, Calero Reservoir is a great destination for power boating, sailing, fishing, water-skiing, and jet-skiing. Picnic enthusiasts will appreciate the first-come, first-serve tables and barbecues near the water's edge; for those favoring land-based adventures, the reservoir's backcountry stages a grand 18.9-mile trail network for hikers and equestrians, along with a 0.5-mile segment of the Serpentine Loop Trail specially dedicated to bicyclists.
Lake Del Valle
A 31-mile journey northeast of San Jose leads to Lake Del Valle, a scenic 287-hectare lake nestled within Livermore's rolling hills in Del Valle Regional Park. This lake features a 16-mile shoreline dotted with camping areas, a marina, and lifeguard-patrolled swimming zones. It's a favored spot for boating, windsurfing, and fishing. If you're not keen on the water, enjoy some horseback riding, picnicking, or exploring the park's expansive trail network.
Crystal Springs Reservoir
Crystal Springs Reservoir, nestled in the northern Santa Cruz Mountains, comprises two adjoining lakes fed by local precipitation and a pipe from Yosemite's Hetch Hetchy Reservoir. The area stands out for its remarkable biodiversity, harboring endangered species such as the San Mateo Thornmint, Marin Dwarf Flax, and the San Mateo Woolly Sunflower. Most visitors are drawn by the opportunity to explore the Crystal Springs Regional Trail, a scenic route divided into three sections that caters to hiking, jogging, cycling, and horseback riding enthusiasts.
Loch Lomond
Found in the Santa Cruz Mountains near Lompico, Loch Lomond is a reservoir created by the Newell Creek Dam, providing crucial drinking water for Santa Cruz and surrounding areas. Extending over 175 acres, the reservoir invites visitors for boating, fishing, picnicking, and hiking within the Loch Lomond Recreation Area. While swimming and daily private boat launching are restricted, a boat rental service and snack shop are accessible to visitors. The area is open every day from March 1st to September 15th and weekends only till October 17th.
Calaveras Reservoir
Calaveras Reservoir, situated in the Calaveras Valley near the Sunol Regional Wilderness area just north of San Jose, is a wildlife-rich lake. Initially an agricultural area, it morphed into a reservoir to meet the growing demands for drinking water. It's home to a variety of wildlife, including coyotes, deer, turkey vultures, red-tailed hawks, red-winged blackbirds, and purple martins. Interestingly, the reservoir also holds a historical secret, as it revealed the remnants of a missing airplane and its occupants during the significant drought of the early 1990s.
Guadalupe Reservoir
Bordering San Jose's southern edge, Guadalupe Reservoir is a peaceful oasis contained within Almaden Quicksilver County Park's greenery. While fishing is permitted in the 30-hectare lake, it follows a catch-and-release policy due to the fish being unsafe for consumption and does not allow swimming or any watercraft. However, the reservoir's true draw lies in its stunning scenery and the park's offering of nearly 37 miles of hiking trails, as well as options for horseback riding, cycling, and picnicking.
The 16 Best National Parks to Visit in June For Summer Fun
Are you looking for the perfect summer adventure? Look no further than these top national parks to visit in June! From the stunning wildflower displays at Lassen Volcanic National Park to the world-class whitewater rafting at New River Gorge National Park, this article provides insider tips and recommendations for an unforgettable outdoor experience. Don't miss out on the chance to explore these breathtaking natural wonders during one of the best months of the year!
6 National Parks To Avoid This Summer (And The Alternatives)
Are you planning a summer trip to a national park but want to avoid the crowds? Look no further than this article, which provides insider tips on which popular national parks to avoid and offers recommendations for six alternative destinations that offer unique experiences and stunning natural beauty. From exploring rugged peaks and pristine lakes at North Cascades National Park to discovering the geological history of Capitol Reef National Park, this article has everything you need to plan an unforgettable outdoor adventure this summer.
Best 16 Utah Vacation Spots
Are you looking for an unforgettable vacation spot with breathtaking natural beauty? Look no further than Utah! With stunning national parks like Zion and Bryce Canyon, as well as unique attractions like the Homestead Crater and Dead Horse Point, Utah has something for everyone. This article provides insider tips and recommendations for the best places to visit in Utah, from hiking to skiing to soaking in natural hot springs. Don't miss out on the chance to explore this incredible outdoor playground!
5 Waterfalls in Zion National Park For A Fabulous Day Out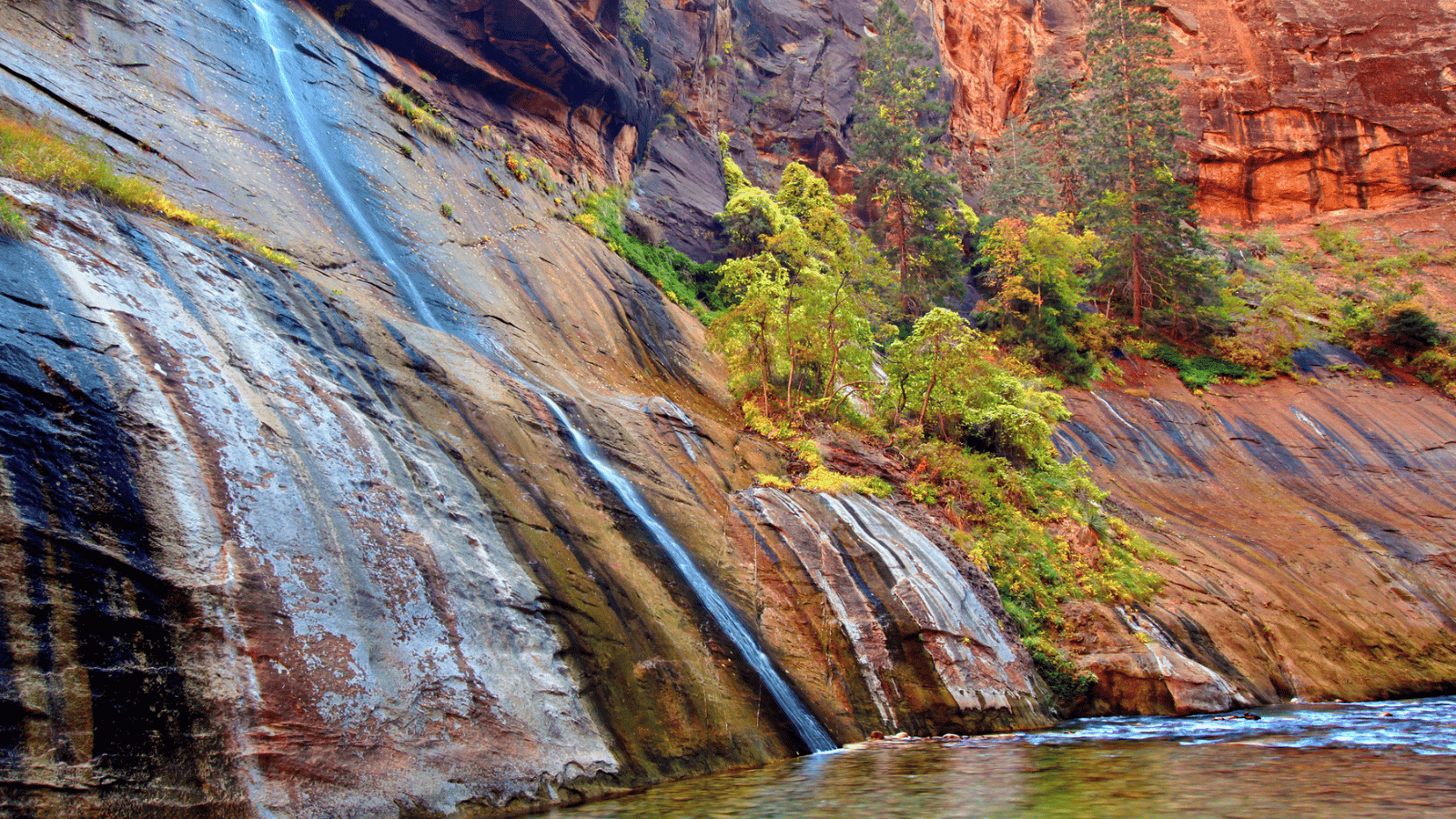 Are you a nature enthusiast looking for an outdoor adventure that will take your breath away? Look no further than Zion National Park in southwestern Utah! This article explores the park's stunning waterfalls, including the moderate hike to Archangel Falls and the more challenging Upper Emerald Pools. But that's not all – the article also highlights other natural attractions in the park, such as The Great White Throne and the Court of the Patriarchs. Don't miss out on the chance to explore this gorgeous landscape and experience the beauty of Utah's unique natural wonders!