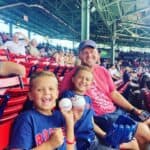 Jake Cain is an entrepreneur and writer from Cincinnati, Ohio. He spends his free time driving around the country in his late 90's conversion van, affectionately known as the "Monster Van" with his wife and 3 boys.
We've had the pleasure of globe-trotting both as a family of 5 and just as a couple.
Along the way, we've occasionally stumbled upon hotels or resorts that scream for a makeover—be it the tell-tale signs of wear like tattered linens, visible scuffs on the walls, or that dreaded musty aroma that my wife simply can't stand.
Because of these experiences, I've developed a penchant for seeking out properties that are fresh off the ribbon-cutting.
The challenge?
These brand-new spots often lurk in the shadows on Trip Advisor, overshadowed by their older, review-rich counterparts.
In this list, we've handpicked 10 all-inclusive resorts that exude that crisp, untouched charm, accompanied by delectable dining options and top-notch amenities to boot.
Sanctuary Cap Cana, A Luxury Collection Adult All-Inclusive Resort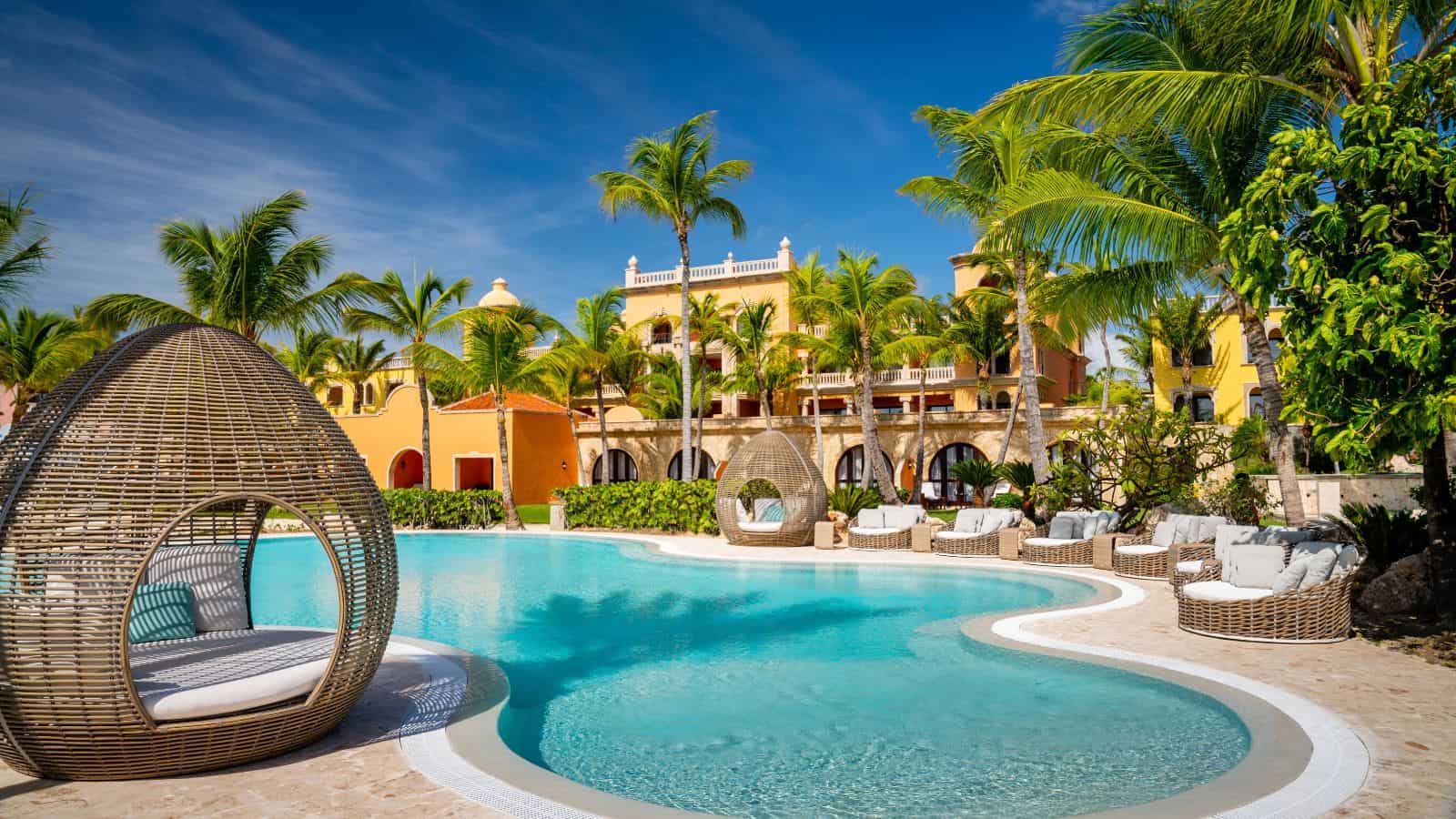 Located on the flawless beaches of Cap Cana, an exclusive enclave of Punta Canta, Sanctuary Cap Cana, A Luxury Collection Adult All-Inclusive Resort, brings Marriott's Luxury Collection brand into the all-inclusive arena.
This resort opened in January 2023, providing visitors with a fresh and up-to-date luxury experience. Amenities abound at this resort; you'll find a golf course, five pools, two polo fields, a private marina with over 150 yacht slips, and the Sanctuary Spa. To top it all off, there are plenty of dining options at the resort's five a la carte restaurants and six bars.
Naviva, A Four Seasons Resort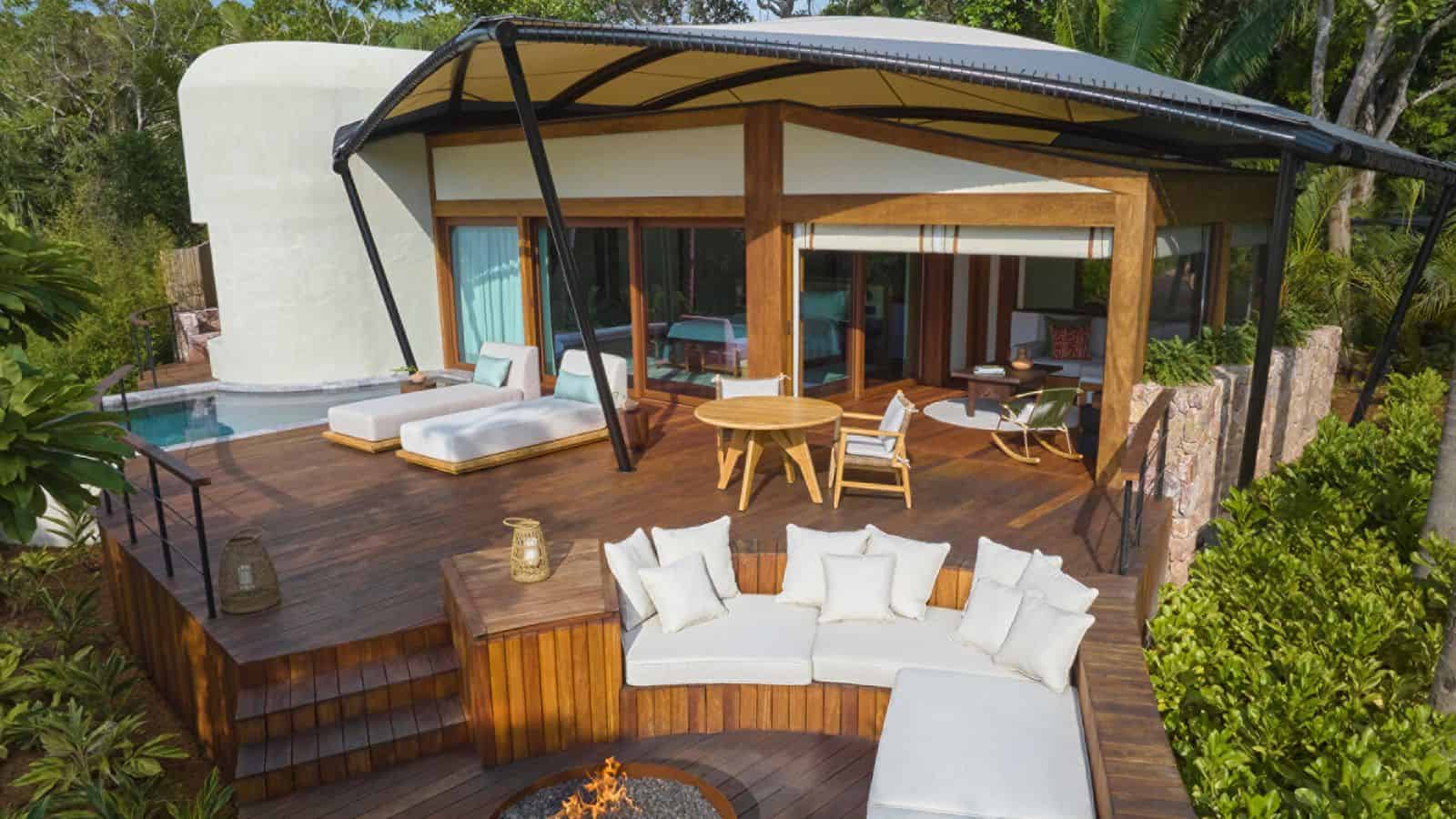 For an all-inclusive retreat that is truly unique and personalized, consider Naviva, A Four Seasons Resort. This resort, located in Punta Mita, Mexico, is an adults-only, all-inclusive tented resort. With just 15 luxury private tents surrounded by 48 acres of jungle, it's the setting for an incredibly private getaway.
Your rate includes all of your meals, snacks, and drinks, a private spa treatment, and daily community activities, both planned and unscripted. Your stay at Naviva is designed to feel fluid and informal, more like a stay in the home of a friend than at a resort. Activities like spontaneous picnics in the jungle, small-batch Mexican coffee tasting, and visiting with local artists in their homes and studios make this a restful, culturally-rich trip that's nothing like any other resort stay.
Margaritaville Island Reserve Riviera Maya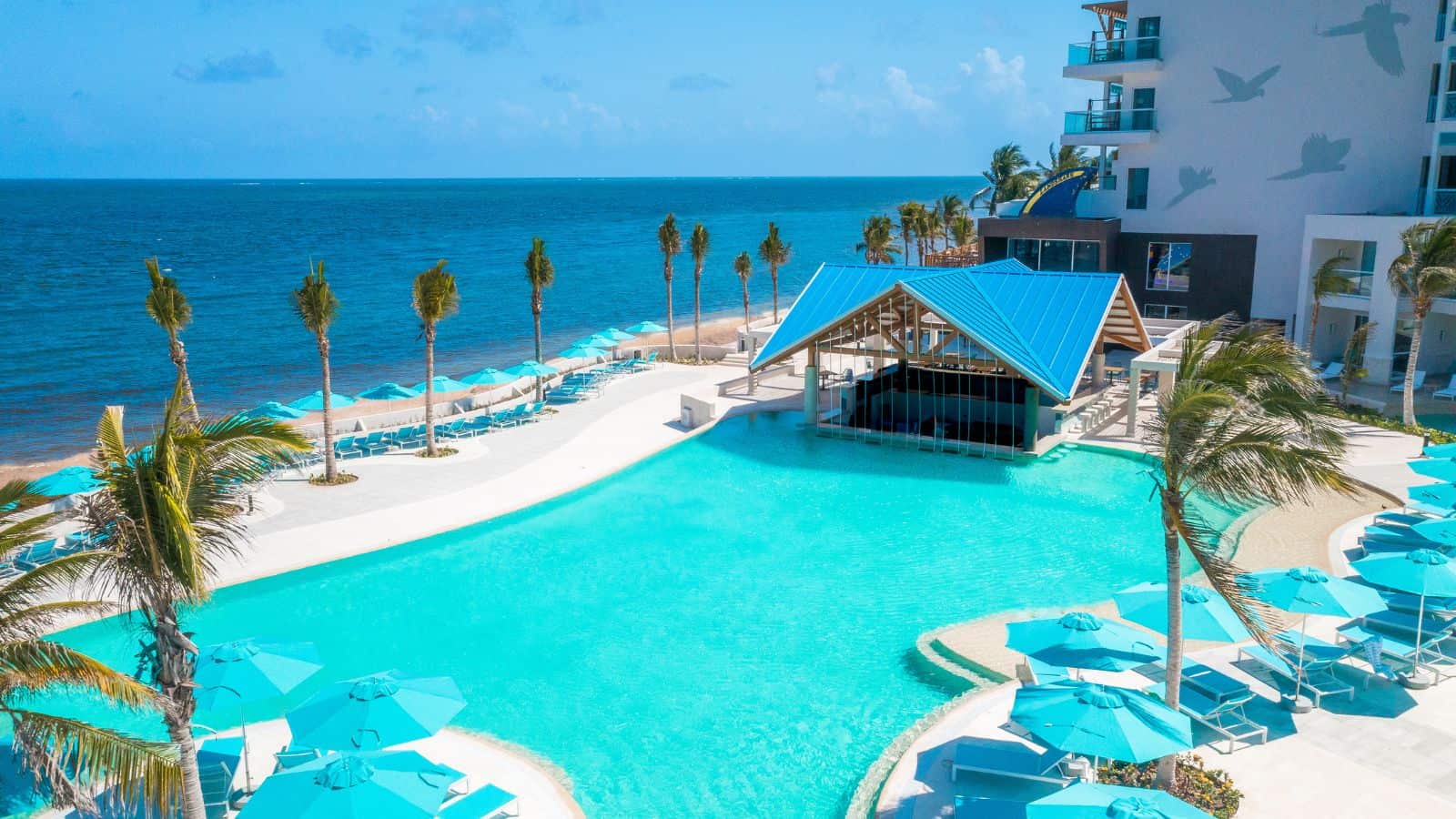 This Margaritaville resort opened its doors on June 1, 2023, and it is the first adults-only resort in the brand's portfolio of all-inclusives. That's not all that's fresh and new about this resort; Margaritaville Island Reserve Riviera Maya also debuts an oceanfront LandShark brewery, a meat sommelier, and new luxury suite designs. Two new restaurants, Far Side of the World- Pacific Rim Cuisine and Salted Rim- Margarita Bar and Lounge, will join brand staples to give guests five onsite dining options.
If polo fields and yacht slips sounded a little intimidating, you might find the activity roster at Margaritaville more welcoming. Here you'll find live music, pool parties, bonfires, and pickleball and cornhole tournaments. Of course, the laid-back, "no worries" vibe alone is worth the price of admission.
Grand Velas Boutique Los Cabos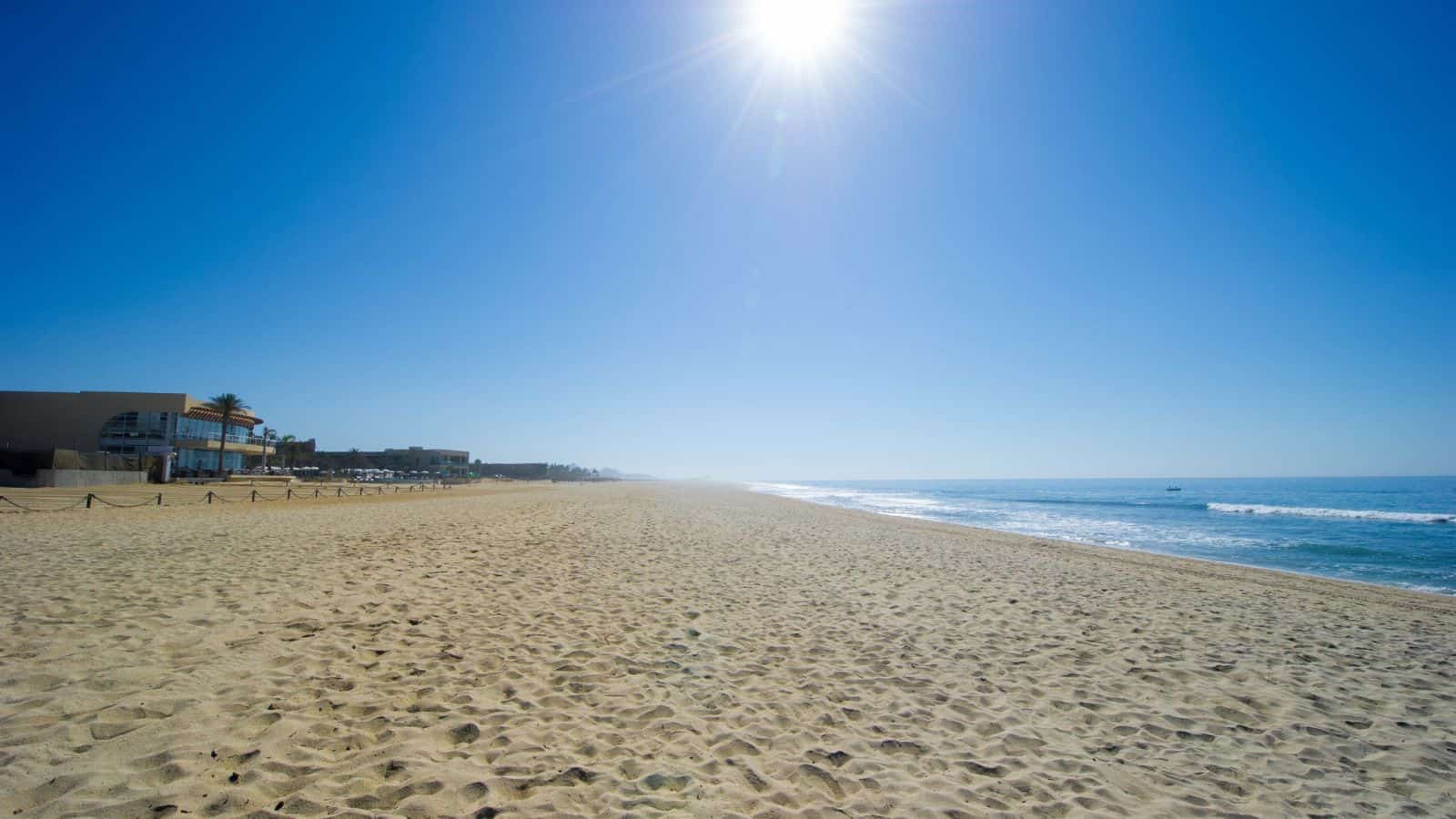 Mark your calendars to be among the first to stay at Grand Velas Boutique Los Cabos, an adults-only boutique hotel opening in late 2023. This property will be the third for Velas Resorts in Los Cabos, and the brand has a history of excellence, earning the Forbes Travel Guide's prestigious five-star rating.
While staying at Grand Velas Boutique Los Cabos, visitors will have access to a signature spa with treatments inspired by Mexican culture, an infinity pool, and the resort's private beach. The fine and casual dining options are sure to be impressive, with a two Michelin-starred chef consulting, but visitors can also head over the the main Grand Velas Resort to dine at its five gourmet restaurants and four bars at no additional charge.
La Casa de la Playa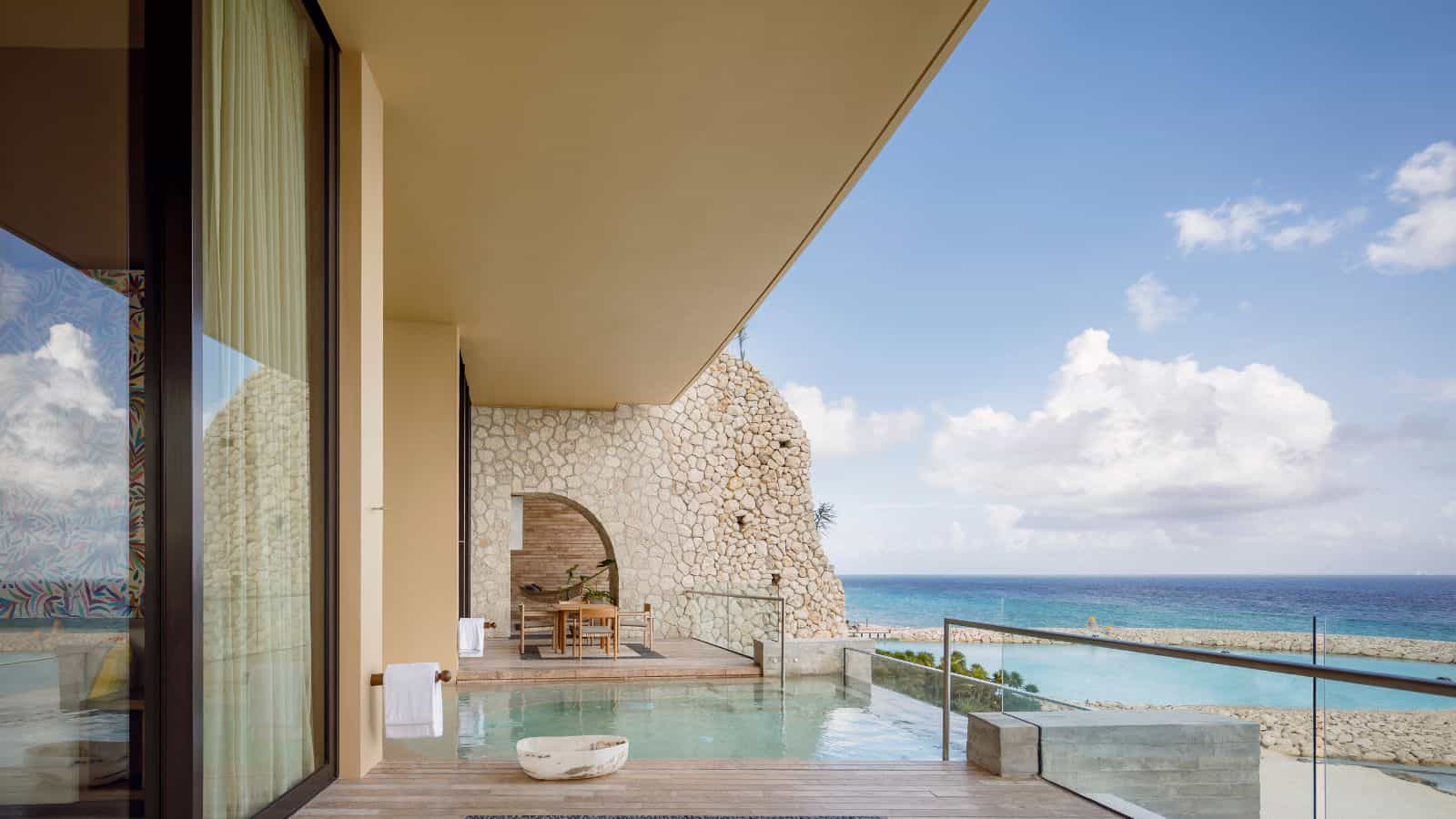 Located in Riviera Maya, La Casa de la Playa scores points right off the bat for being situated on the beautiful crystal-clear waters of the Mexican Caribbean. That's just the first perk on the list for this ultra-luxury all-inclusive boutique hotel.
If you're wondering what "ultra-luxury" is, it looks a little like this: every suite is ocean-view, attended by a personal butler, and outfitted with a private plunge pool. This resort is also packed with unique experiences that set it apart from your average all-inclusive. For example, each suite features a habitat for Aurelia jellyfish- can your last hotel say that? You'll also find world-class dining designed by Mexico's most famous Michelin-starred and celebrity chefs, 24-hour access to the hotel's wine cellar, a Chocolatería for those with a sweet tooth, and a traditional Cafeteca for guests who love the aroma of a warm cup of coffee.
Hyatt Zilara Riviera Maya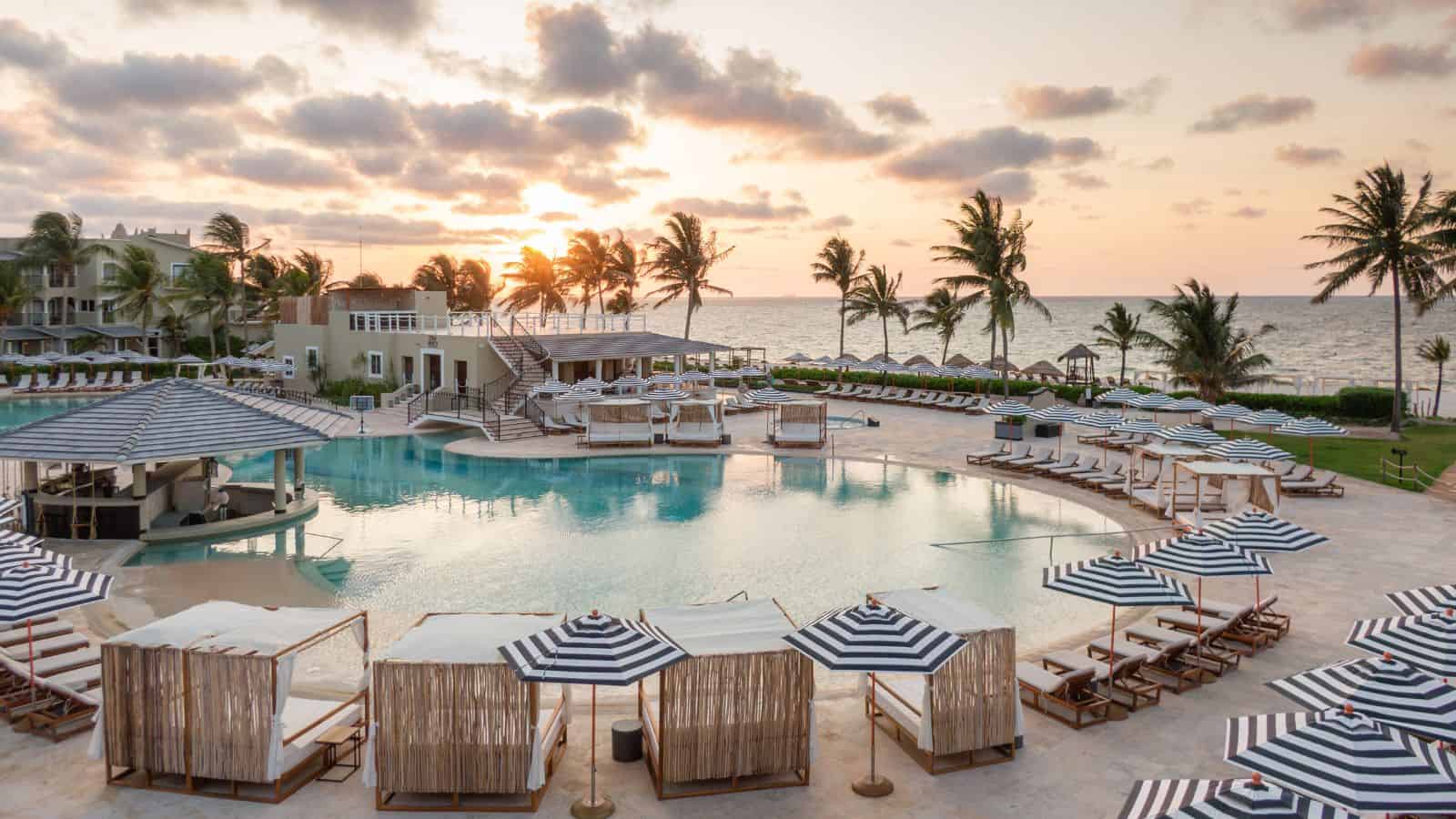 Hyatt Zilara Riviera Maya offers a hacienda-style all-inclusive retreat for adults in Riviera Maya, Mexico. It opened in December 2022, and its many amenities are fresh and modern. You'll keep busy with an ocean-view pool and hot tub and daily activities such as water sports, water aerobics, and live performances.
One of the most important parts of an all-inclusive trip is the dining, and Hyatt Zilara Riveria Maya definitely delivers on that point. The resort features nine restaurants, bars, and lounges serving cuisine inspired by flavors from all over the world.
Sandals Grenada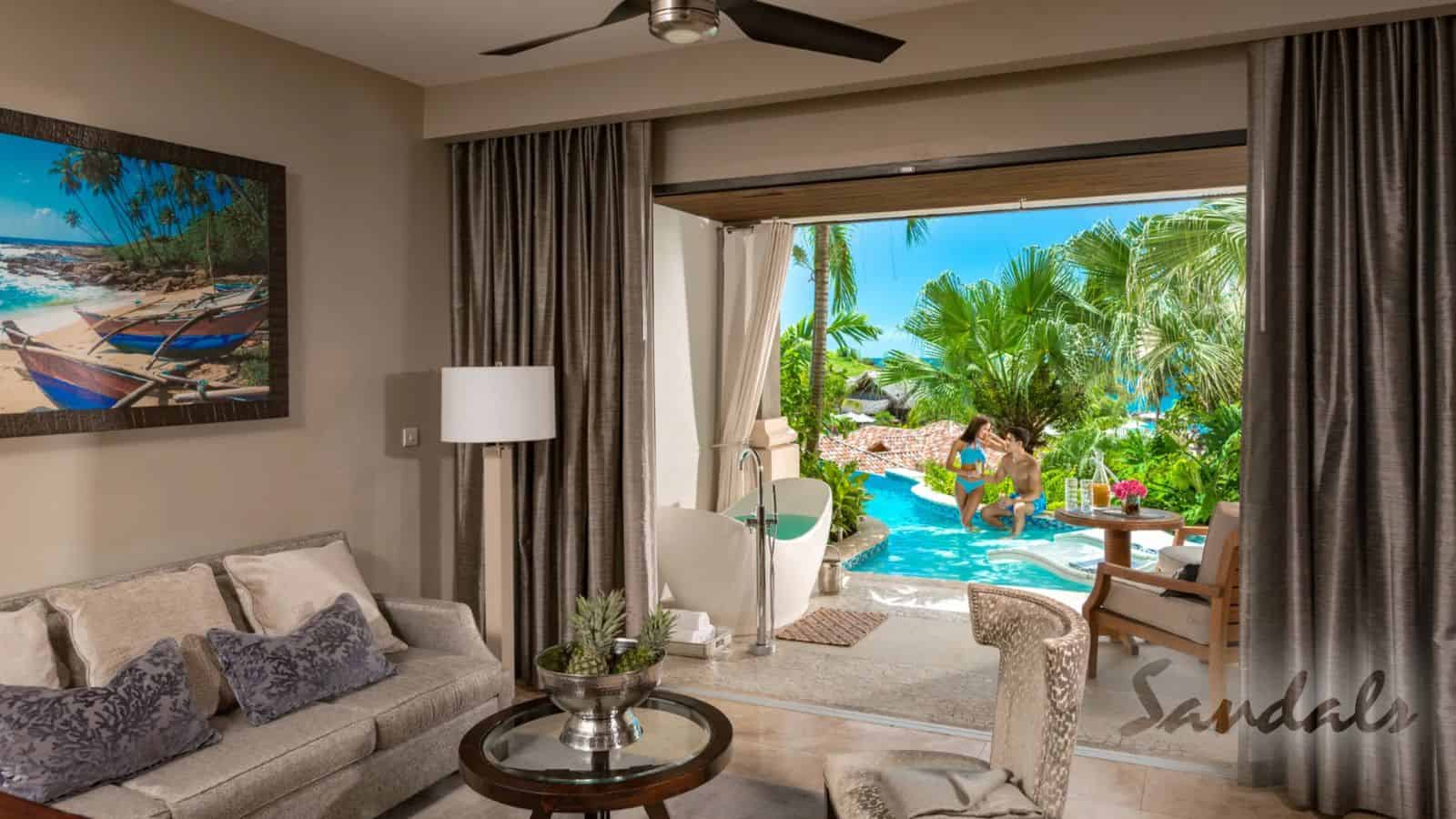 Like all of the brand's resorts, Sandals Grenada offers a luxurious and worry-free all-inclusive stay. Sandals took over this resort in 2013, bringing it up the the brand's standards with high-quality suites, beautiful and innovative pools, and gourmet-quality dining options.
If you're worried that all this relaxation will start to get boring, don't be. With PADI-certified SCUBA diving, water sports, land sports, and day and night live entertainment, you'll never want for something to do here.
Excellence Punta Cana
What words come to mind when you dream of your ideal resort? High-end? Luxury? Top-tier? Bespoke? If so, you'll want to give Excellence Punta Cana a look. This adults-only all-inclusive resort, located in Punta Cana, Dominican Republic, isn't brand new, but it's built a strong reputation for quality.
If you like to keep active even while in paradise, you can take part in land and water sports, including tennis, beach volleyball, yoga, and snorkeling. If you prefer to lounge by the pool, no problem! Four swimming pools and four jacuzzis are available for that purpose.
Sandals Dunn's River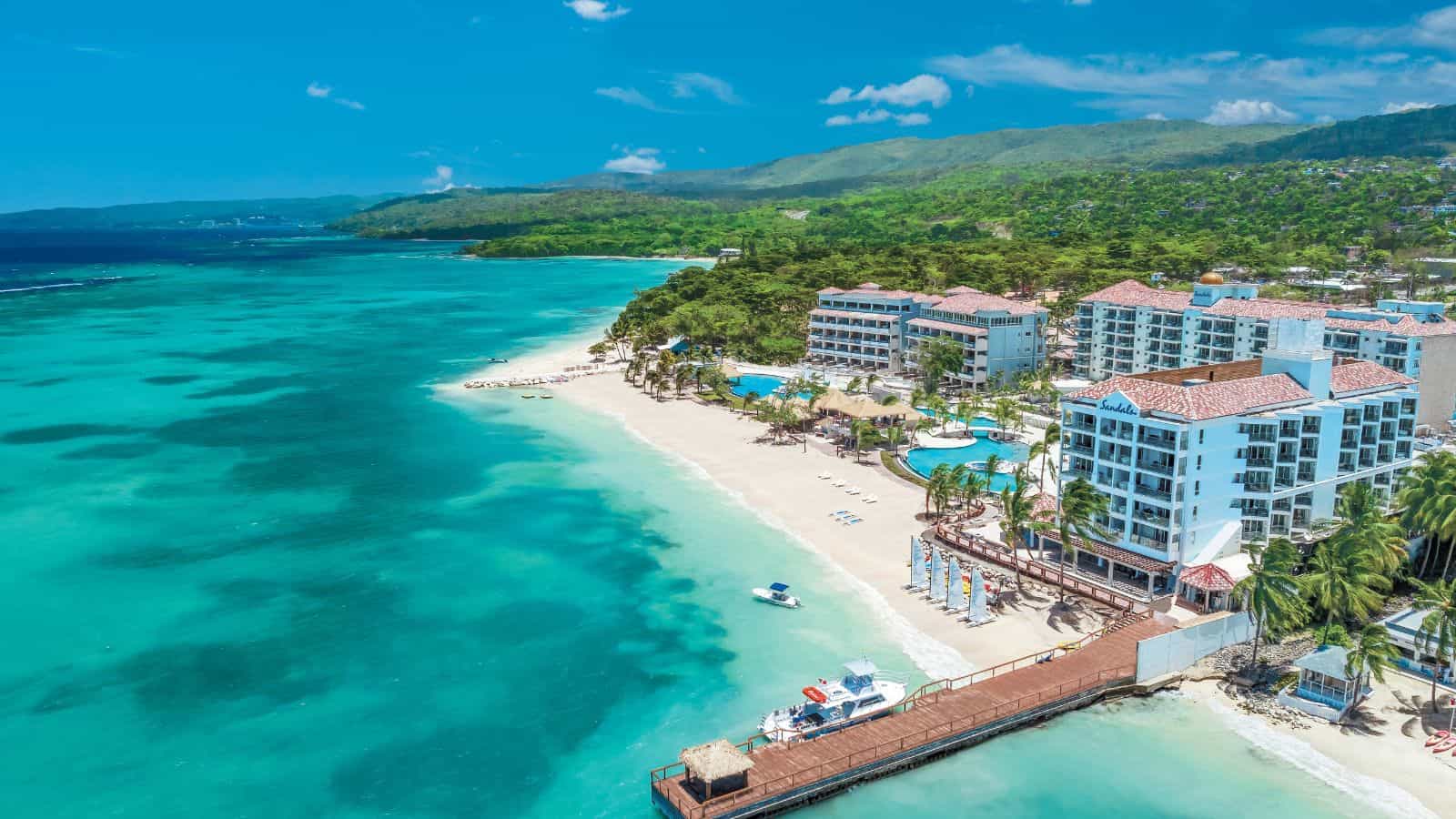 This resort, located in Ocho Rios, Jamaica, returned to the Sandals brand this year as a completely reimagined, ultra-romantic property. The rooms are modern and luxurious, but the native elements of Jamaica are included in the design, too. Sandals Dunn's River also boasts a Sandals first with the Coyaba Sky Rondoval Villas, top-tier accommodations equipped with an open-air terrace and oversized swim-up pool.
When it comes to inclusions, this resort doesn't disappoint. Unlimited land and water sports, day and night live entertainment, unlimited fine dining at 12 restaurants, and roundtrip airport transfers make your trip perfectly worry-free from start to finish.
Sandals Royal Curaçao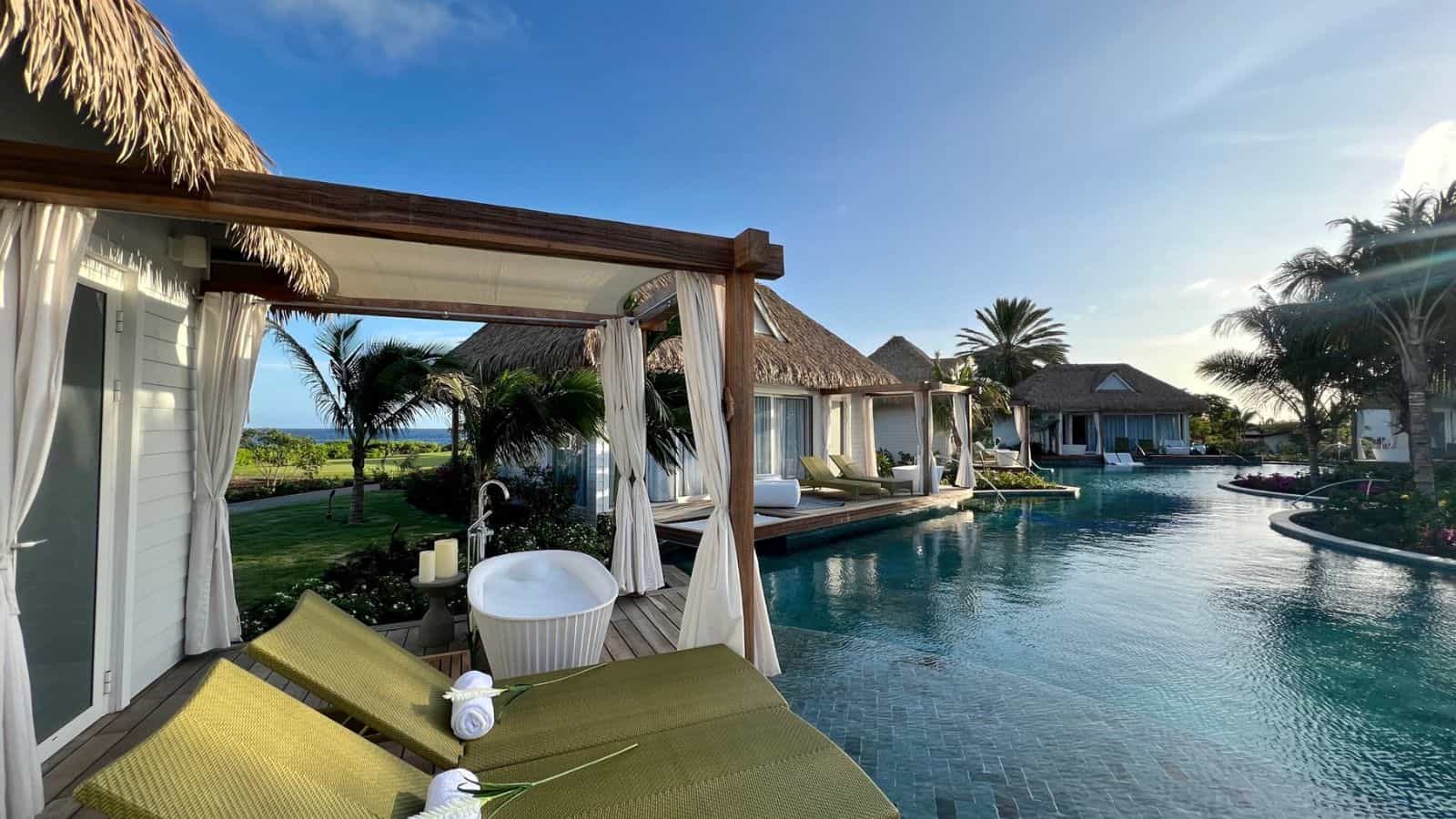 Set on 44 beachfront acres on a tiny island, Sandals Royal Curaçao is the newest Sandals property (no musty smells here!), and its beautiful views will make you want to stay forever.
You'll have the opportunity to take part in PADI-certified SCUBA diving, unlimited land sports, a wide range of water sports, Caribbean-inspired spa treatments, and excursions that range from swimming with turtles to sculpture painting. We'd be remiss not to mention the dining, too: the 8 fine-dining restaurants are a definite draw, but the 3 oceanfront food trucks? Sure to be a favorite.