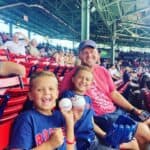 Jake Cain is an entrepreneur and writer from Cincinnati, Ohio. He spends his free time driving around the country in his late 90's conversion van, affectionately known as the "Monster Van" with his wife and 3 boys.
This holiday season, there's a palpable tension in the air. Data from different surveys suggests a complex picture of American spending plans.
A new survey by ScoreSense suggests that 24% of Americans plan to spend less on travel, while 25% are considering cancelling their holiday trips due to economic concerns.
On the other hand, AAA's Thanksgiving forecast predicts an uptick in holiday travel. Amid this, a recent Bankrate survey reports that inflation is prompting 40% of Americans to reconsider their holiday shopping strategies.
ScoreSense reports 55% of Americans plan to stay home for the holiday season
AAA predicts 55.4 million travelers will journey 50 miles or more over the Thanksgiving holiday travel period
Bankrate reveals 40% of Americans say inflation will change their holiday shopping habits
These seemingly contrasting trends reveal the breadth of consumer responses to the economic uncertainties. While many are tightening their belts, others still prioritise holiday travel. It's a stark reminder of the economic divide still prevalent in our society.
The rising prices and inflation are changing the face of the holiday season, not just in terms of travel but also in terms of shopping and gifting. The Bankrate's survey suggests an increase in thriftiness, with 40% of shoppers planning to purchase fewer items, 21% leaning towards cheaper brands, and 41% actively seeking out coupons, sales, and discounts.
For travel enthusiasts who find themselves in a tough spot financially, it's time to get creative. This might mean turning to staycations, focusing on DIY gifts, or buying used or secondhand items. For the travel industry, this suggests a need for innovative offers and deals that can provide value to cost-conscious travelers.
So, where does this leave your holiday plans? Whether you're planning to hit the road or stay home, it's evident that flexibility is key in these uncertain times. It's also a reminder to focus on what truly matters during the holiday season – the joy of togetherness, love, and warmth, whether we find it at home, on the road, or in the heart of a well-loved tradition.
For more details on the travel and holiday shopping forecasts, check the original stories on PR Newswire, the AAA Newsroom, and CNBC.