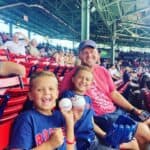 Jake Cain is an entrepreneur and writer from Cincinnati, Ohio. He spends his free time driving around the country in his late 90's conversion van, affectionately known as the "Monster Van" with his wife and 3 boys.
When we woke up in Anaheim we let the kids swim again and took in the free breakfast before heading to Vegas.
I'd booked the 5 star Trump International hotel, so we were pretty excited to check it out and drive around Vegas a bit. However, I'd never really been to Vegas so I wasn't 100% sure what kind of visual content we might see driving down the strip, even if we weren't popping in and out of casinos.
We had planned another surprise stop just outside of Vegas at the Seven Magic Mountains.
These brightly colored stacks of rocks make for a pretty cool photo opp and are worth checking out as you're headed into the area.
Mom loved the bright colors but was a little on edge after reading the posted "watch out for rattlesnacks" signs.
After we forced the kids to jump up in the air for the perfect picture, we headed over to Trump International.
I always get a little nervous when it's valet only and I'm pulling up in the Monster Van, but I was really excited to pull up and snap this photo of our ugly van in front of the glitzy Trump sign:
Fortunately, they had enough height clearance to park this guy in the garage.
The Trump hotel was super nice – very luxurious feeling when you walk in, without the smoke and noise you'd expect in a casino hotel, which was perfect for us.
I've tried my hand at gambling in the casinos of Indiana and pretty much know that any "gambling" I do is more or less a non-tax-deductible donation to the casino.
We did take some time to get a dip in the Trump pool with the huge letter "T":
AYCE Buffet
I feel like when I hear of Vegas, you always hear about meals being comped and eating meals where an award-winning filet costs $5.
Maybe you've got to be a high-rolling gambler to get these meals comped?
Either way – I was excited to find some amazing casino buffet and we ended up at the AYCE buffet at the Palms Resort, which was the right mix of quality and price for our group.
We waited in maybe a 30-minute line to pay and get seated.
During that wait time, I heard some variation of "Dad, I'm starving" about 278 times.
So the boys were excited when we could finally fill a plate and dive in.
After we felt as if we'd ate our money's worth, we took a little driving tour to see the lights of the Vegas strip as well as old Vegas, where the Golden Nugget and some other brightly-lit attractions reside.
I can see how this area could be problematic for distracted driving related collisions…
We didn't really get out and see anything on foot, and I'm happy to report that we didn't see any topless women walking around or some other crazy thing I'd have to explain to my children.
With the way my kids remember things, I was worried that whatever happened in Vegas would stay burned in their brains for years to come…
Boulder City
The next morning we left mom and dad to relax and soak in the last few hours of our 5 star Trump hotel as we went to meet our good friends, Steve and Monica Turpin at the Coffee Cup in Boulder City, NV. 
If you're in the area and exploring the Hoover Dam, this place isn't to be missed.
They even make kids pancakes into the shape of Mickey Mouse's head:
The prices are fantastic, especially since Steve paid for everyone's breakfast.
The company was top-notch, and given that we've got 7 kids between us plus a couple of other family members – we took over a whole wing of the restaurant.
I've only had breakfast there – but if in Boulder City or the Hoover Dam area, the Coffee Cup is a must-do.
When breakfast was over, we stopped by the Turpin's new dome house.
I don't have any photos to share, but I know that once Steve has a chance to get his hands dirty, it's going to be a super-cool house.
Steve and Monica were the ones who forced me to acquire a taste for sparkling water back in 2017. So, the most impressive thing at Steve's house to me was his kegerator with one half carbonated water and the other half their home-brewed kombucha.
I was pretty satisfied with our house until I saw that in their kitchen, now it's back to the drawing board.
Off To Utah
Once we said our goodbyes to the Turpin clan, we picked up mom and dad back in Vegas and made our way to our next stop – St. George, Utah.
We had a cheap hotel for the night there where we did some swimming and grabbed dinner before we took on Zion National Park the next day.
Stay tuned for our Utah adventures next.