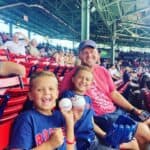 Jake Cain is an entrepreneur and writer from Cincinnati, Ohio. He spends his free time driving around the country in his late 90's conversion van, affectionately known as the "Monster Van" with his wife and 3 boys.
The ornithological world is full of interesting birds, from extraordinary behavior and mating rituals to striking patterns, plumage, colors, and sizes. While all species of bird have features that make them unique, some are just a feather more unique-looking than others. Here are 22 of the most visually unique birds from across the globe. Read the original article on
Wild Bird Scoop.
Helmeted Hornbill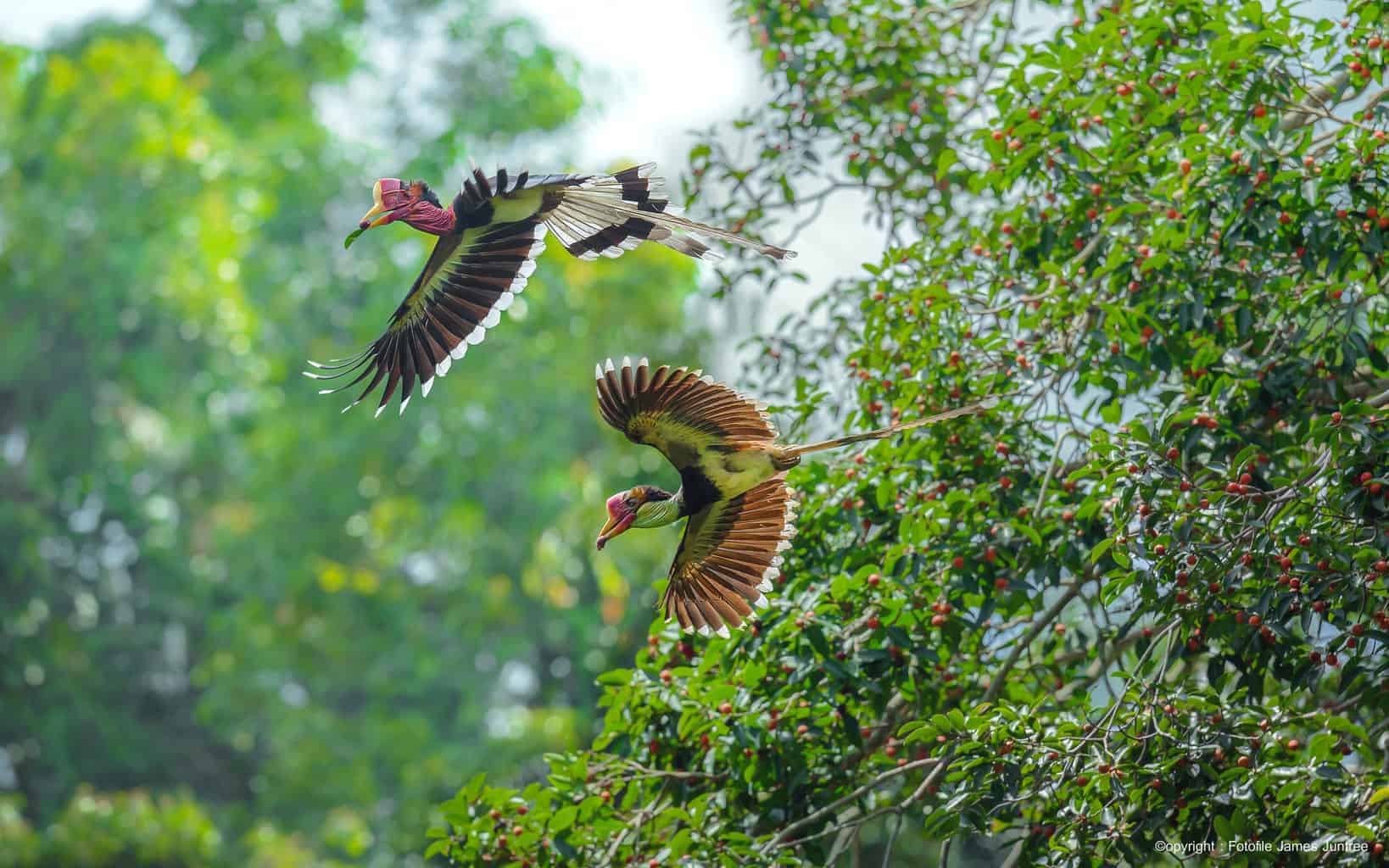 Perhaps the oddest of the hornbill species, all of which are unique birds, is the helmeted hornbill, a resident of Asia's tropical forests. Male helmeted hornbills use their solid ivory helmets, called casques, for aerial jousting. The hornbill's ivory is valuable, leading to poaching that has contributed to the species' status as a critically endangered species. In addition to poaching, habitat loss and the fact that they're relatively slow breeders, raising just one chick per year, have contributed to the hornbill's decreasing numbers.
Rhinoceros Hornbill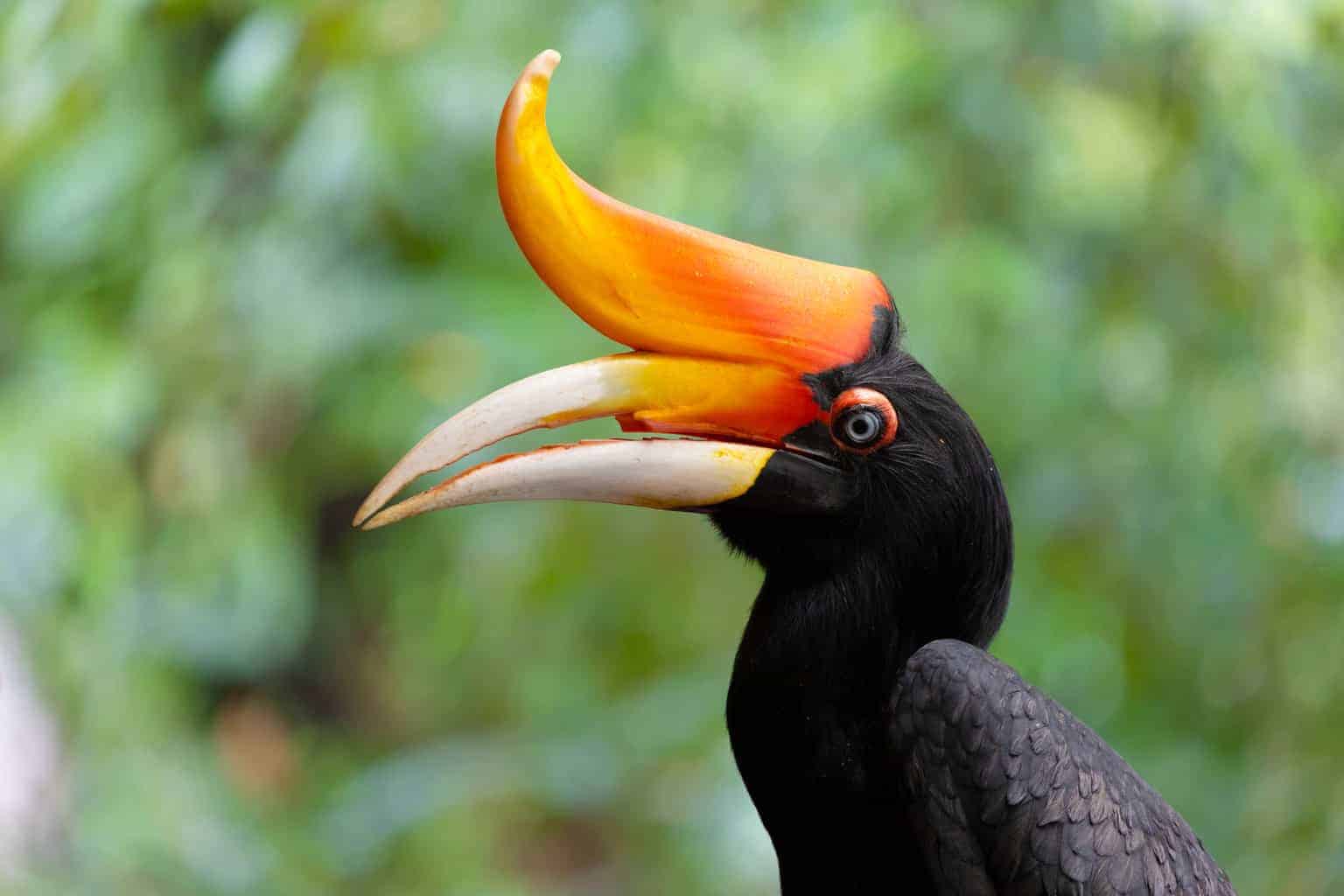 Any one of the 62 hornbill species could have been a consideration for the weirdest birds in the world, but the helmeted hornbill is amongst the most unique. Rhinoceros hornbills nest in the rainforests of countries including Thailand, Singapore, and Malaysia, where it is the national bird. The
Rhinoceros hornbill
is listed as a vulnerable species, largely due to habitat loss.
Southern Cassowary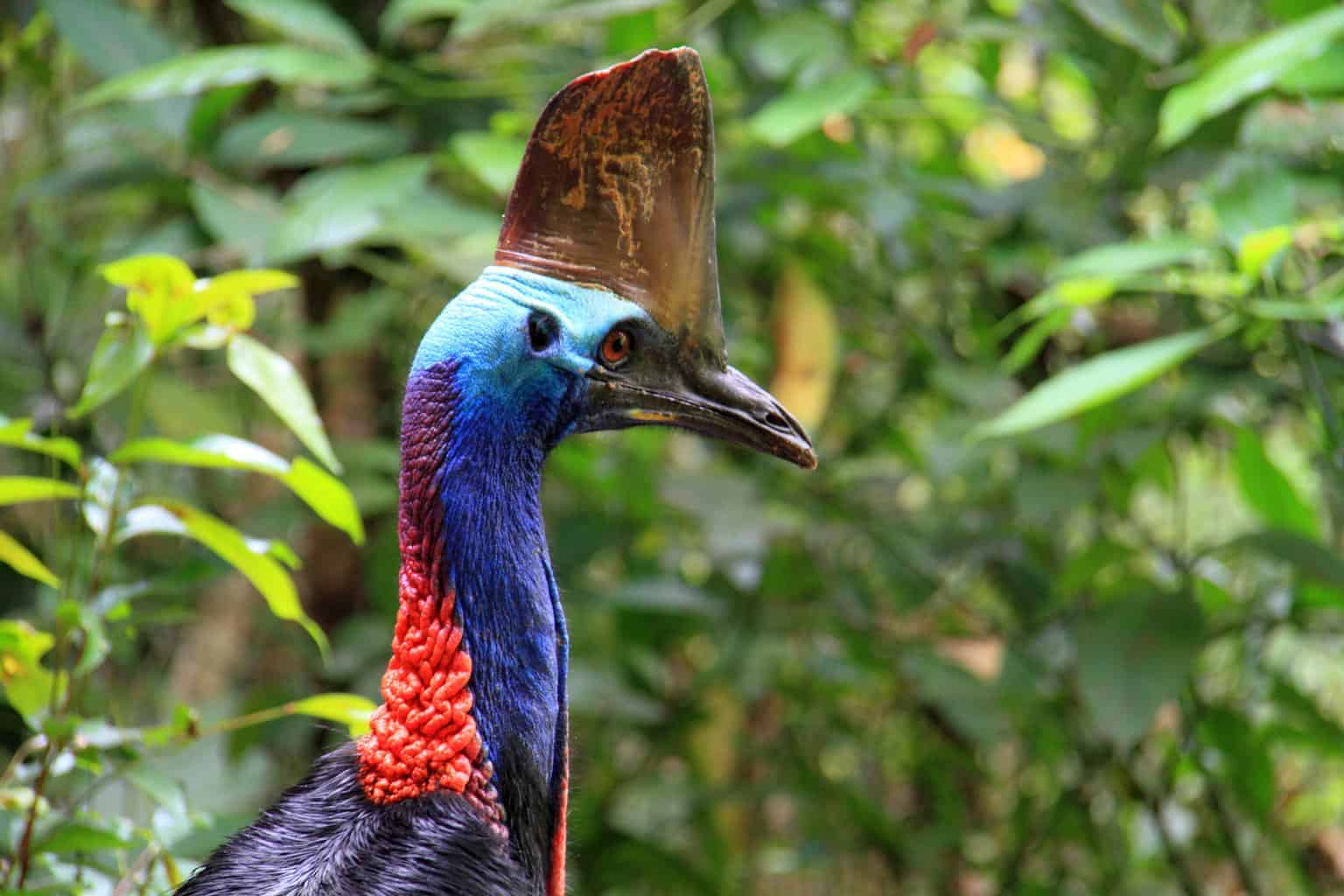 The
southern cassowary
, a species of Australia, Indonesia, and Papua New Guinea, is closely related to emus and ostriches, typically standing between five and six feet tall. The standout identifier of the southern cassowary is a brown mohawk-shaped, dinosaur-esque casque on the top of the head. It's not known for sure what purpose the casque serves for the bird, with some believing it projects the cassowary's
calls
and others believing it's either a reflection of dominance or for head protection as the birds move through thick forests, according to the
San Diego Zoo
.
Golden Pheasant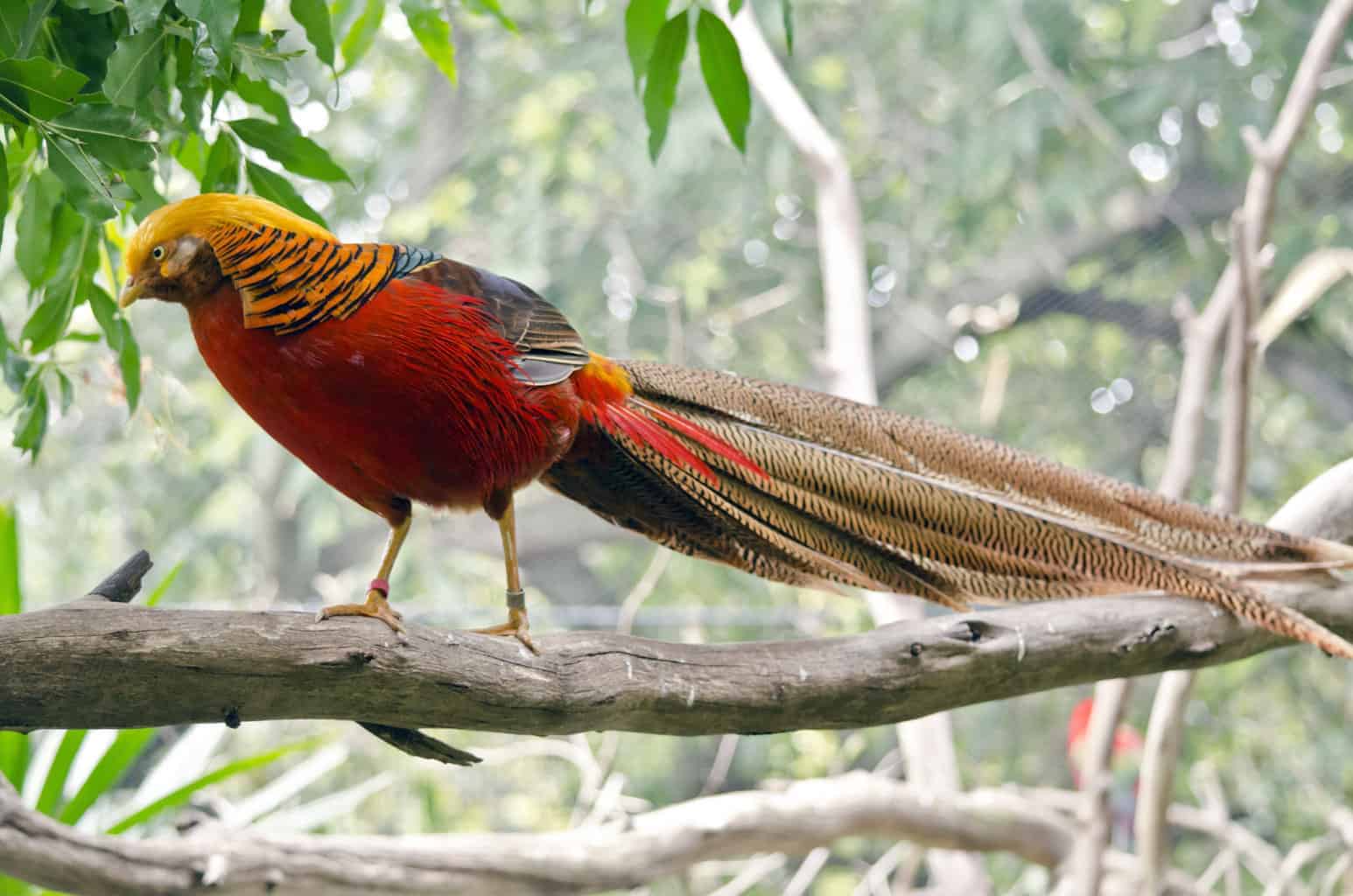 Native to China, the
golden pheasant
has been introduced to areas like Hawaii, and captive examples of these colorful birds are known to escape from places like game farms in other areas of the world. Male golden pheasants have colors as bold as any bird on this list, with hues of red, golden yellow, blue, and orange. Females, like many other bird species, are less colorful, with all brown bodies.
Tawny Frogmouth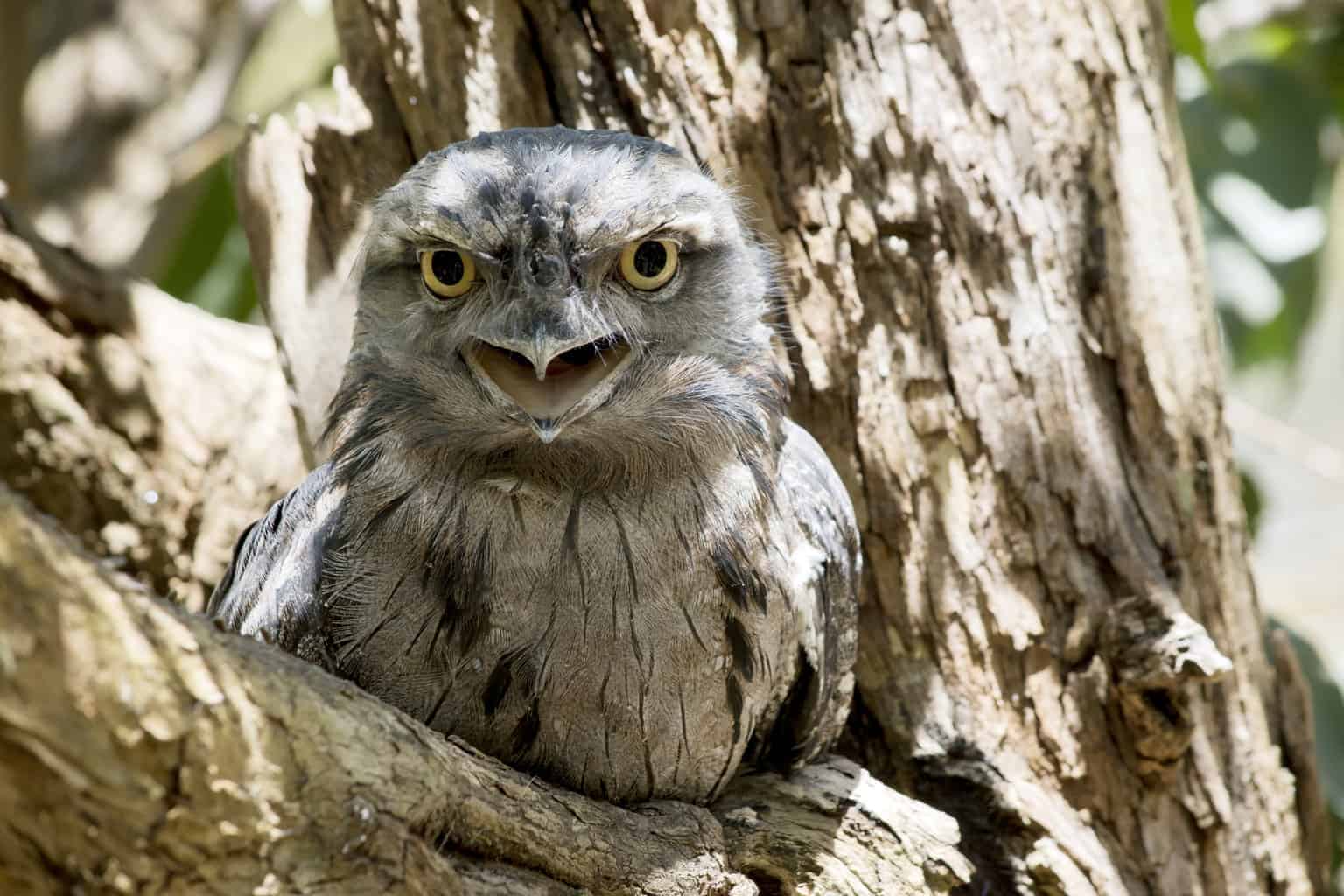 A
study
by researchers at Germany's University of Konstanz once found
frogmouths
to be one of the most-liked birds when posted on Instagram. While their facial features make them very unique birds, it's perhaps a little bit surprising, as they don't have the striking colors of some of the other popular birds. These small birds are carnivores, and while their colors and body shape are similar to owls, they're more closely related to nightjars and poor-wills.
Superb Bird-Of-Paradise
You may recognize the
superb bird-of-paradise
, native to New Guinea, for its mating display, in which it unfurls its feathers into a black, oval-shaped body marked by two glaring blue eyes and a blue chest plate. Within the last decade, the superb bird-of-paradise was split into two species: the greater superb bird-of-paradise (shown above) and the Vogelkop superb-bird-of-paradise, a genetically distinct population discovered through the Cornell Lab of Ornithology's
Birds-of-Paradise Project
. Other birds-of-paradise, including Wilson's bird-of-paradise and the King-of-Saxony bird of paradise, have a claim for a spot amongst the world's most unique-looking birds as well.
Eurasian Hoopoe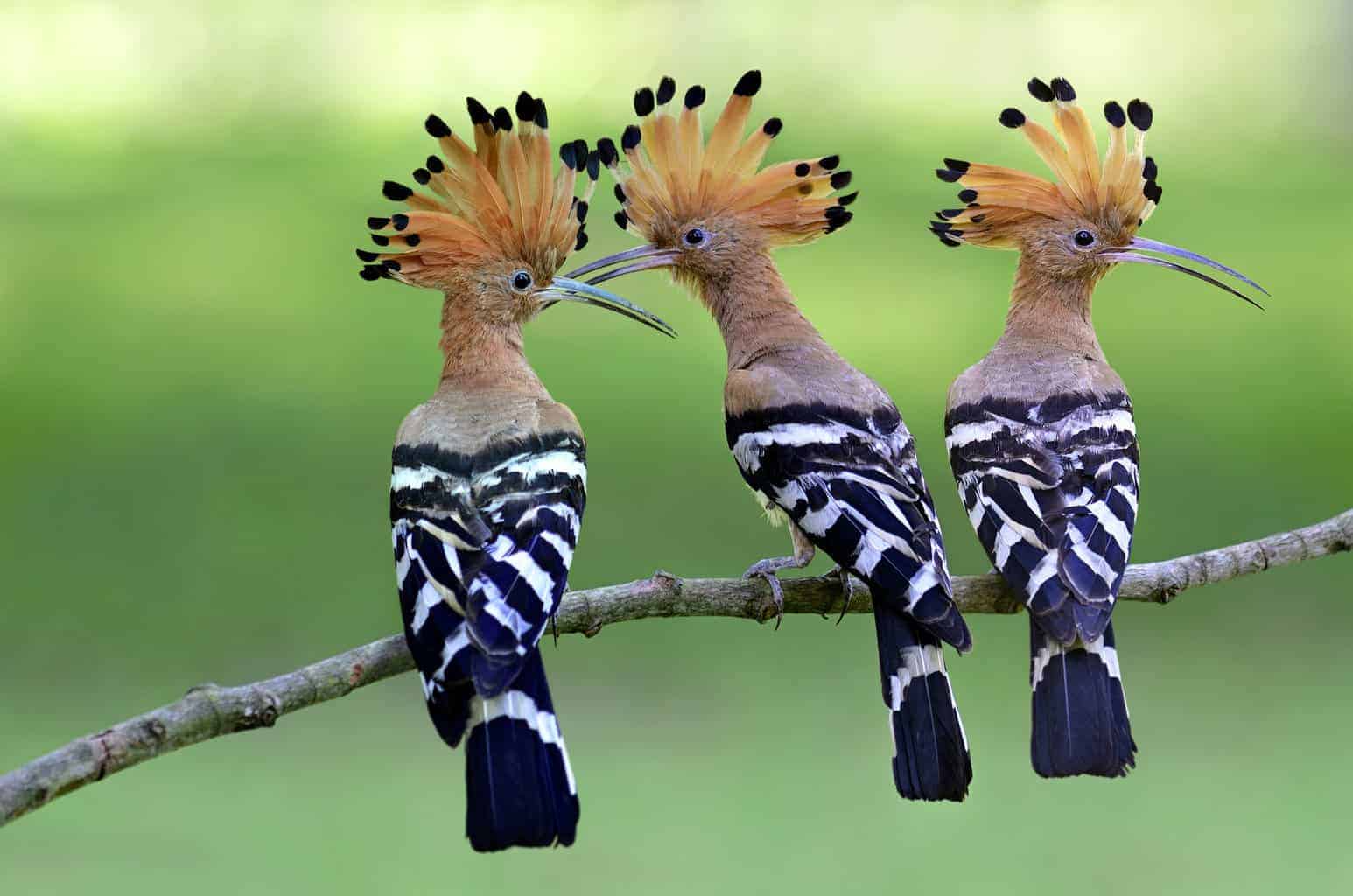 The Eurasian hoopoe is a widespread bird of Europe, Asia, and Africa known in part for its recognizable "hoop-hoop-hoop"
call
that gave the bird its name. The
Eurasian hoopoe's
signature look is its mohawk of orange, with feathers tipped in black. Despite the loss of some forest habitat that the hoopoe needs for nesting, it is considered "of least concern" by the
IUCN
. The African hoopoe, a very similar resident of southern Africa, is recognized as its own species but sometimes considered a subspecies.
Marabou Stork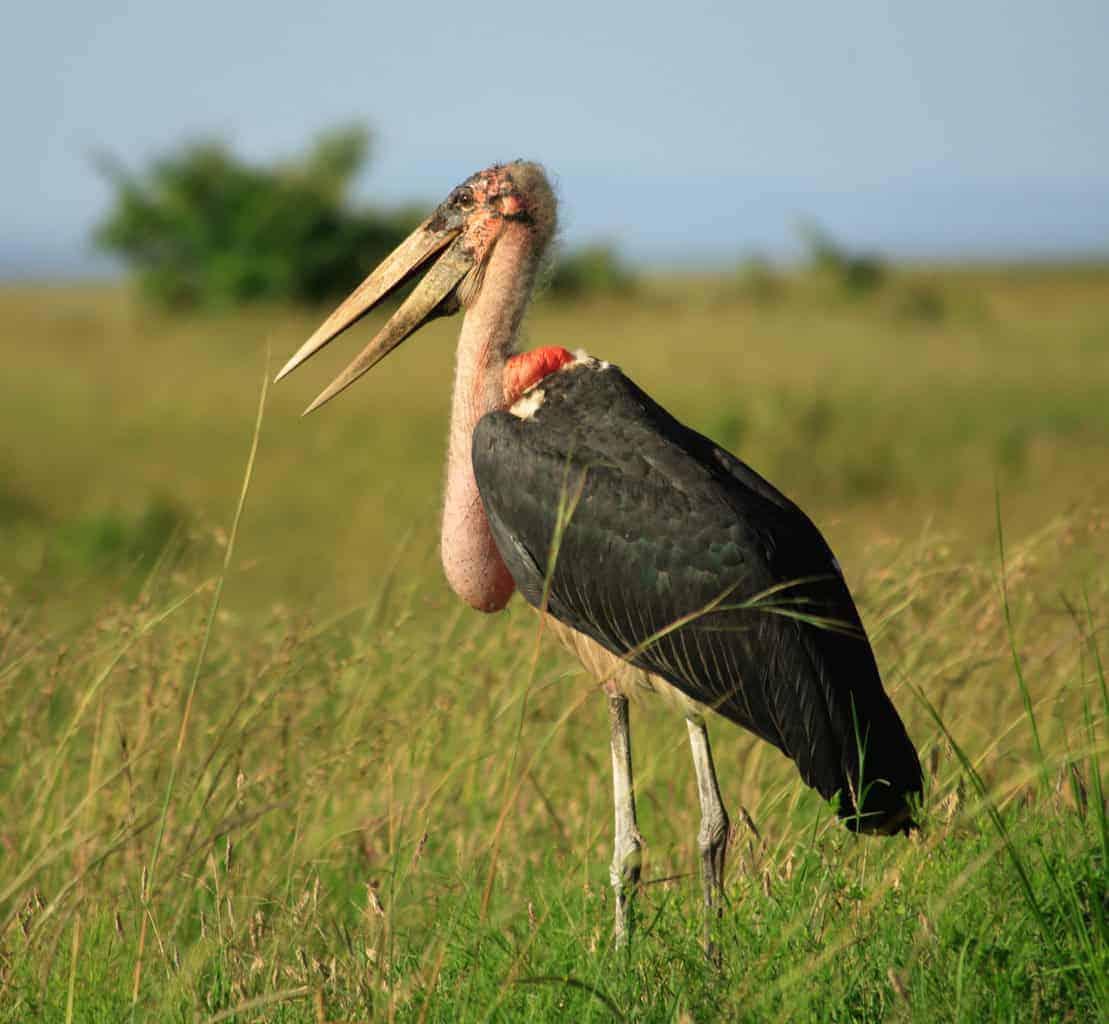 Marabou storks
are residents of sub-Saharan Africa that are frequently seen by humans, as they're known to inhabit areas near human activity. Marabou storks stand up to five feet tall, with bald heads and large, light pink air sacs that droop down below the neck. These tall birds feed mostly on carrion (the meat from dead animals), though they may also eat small live animals and other scraps from human civilization. They have long legs that look white. This color is because the storks, like some other birds including turkey vultures, defecate on themselves to help regulate their temperature.
Shoebill Stork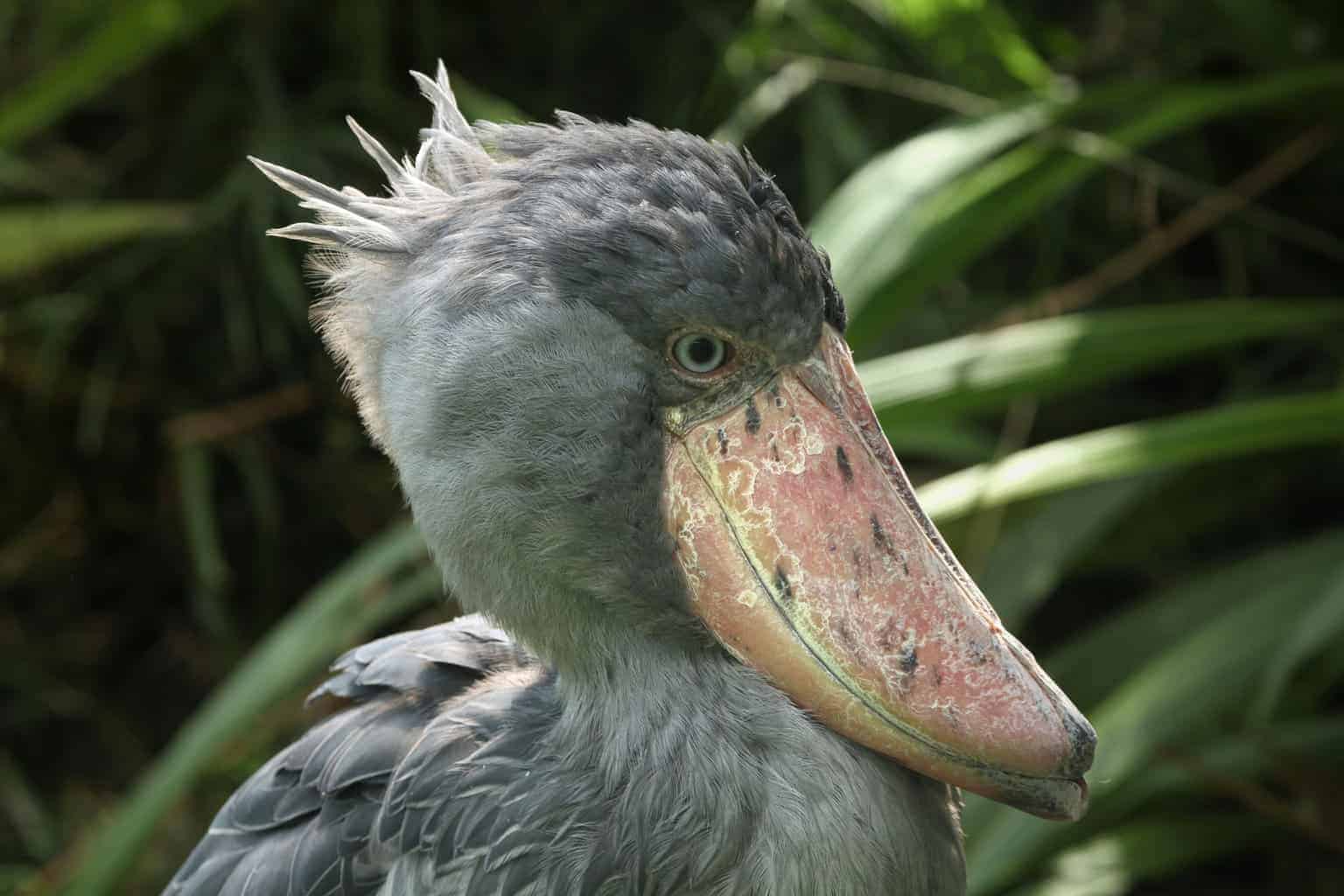 While its common name lists it as a stork, the
shoebill
is actually in its own family,
Balaenicipitidae
. It's a member of the Pelecaniformes order, which includes birds such as herons, ibises, and pelicans. The stork's bulky bill, measuring over seven inches tall and almost as wide, according to the
San Diego Zoo
, gives the stork its name and its place as one of the most interesting birds out there. Native to central and eastern Africa, shoebills occupy swamps in countries such as Sudan, Uganda, and Zambia. They have gained internet fame for their intense staring behavior as well as their loud chattering noises often compared to a machine gun.
Secretary Bird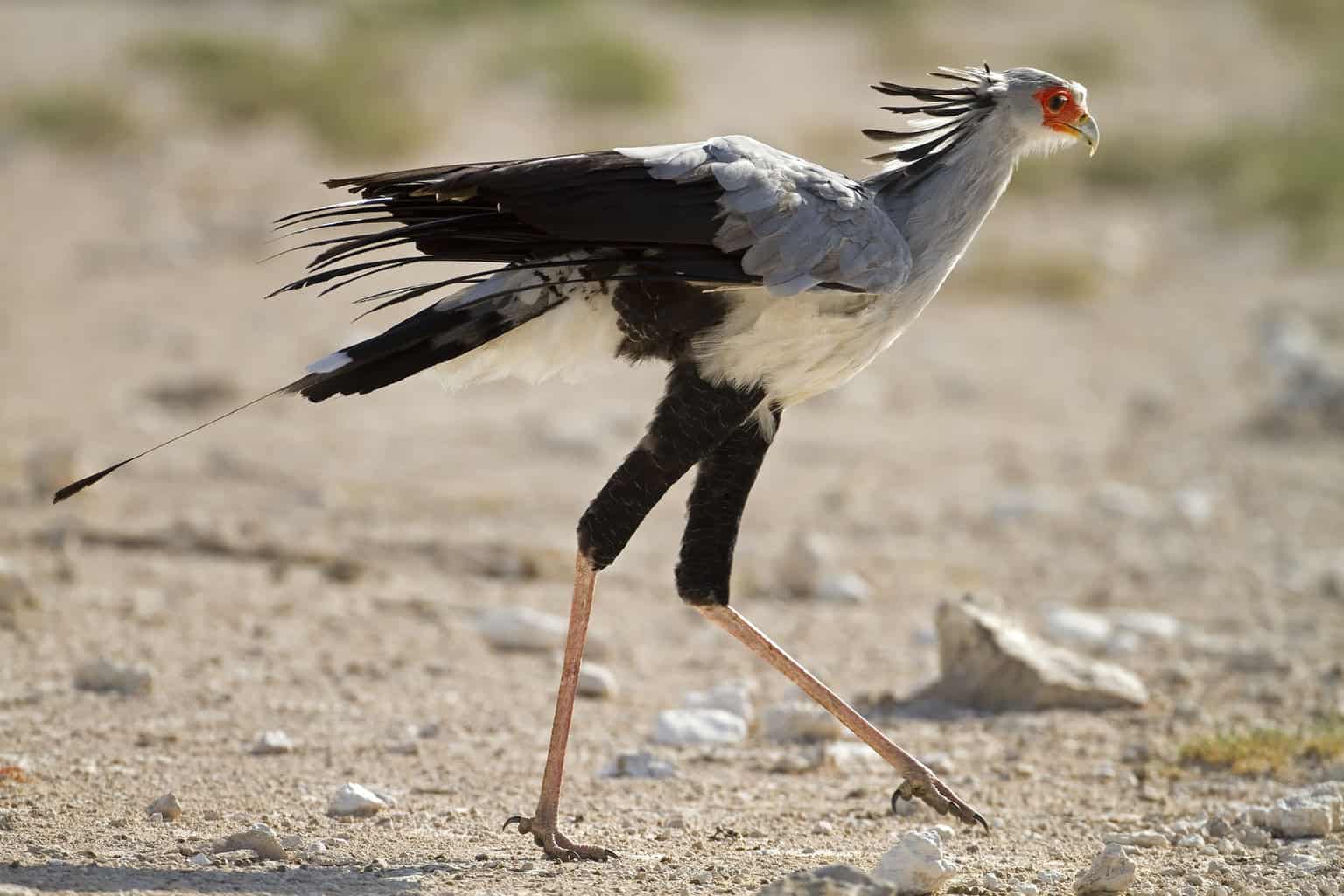 Secretary birds
, native to sub-Saharan Africa, are one of two birds of prey that do not capture their food through flight, joining caracaras, according to the
San Diego Zoo
, which states that secretary birds can cover more than 20 miles in one day of hunting. Their long strides help them cover a lot of ground in search of food, including snakes, which they kill with a lightning-quick kick of just 15 milliseconds,
according to BBC
.
Andean Cock-Of-The-Rock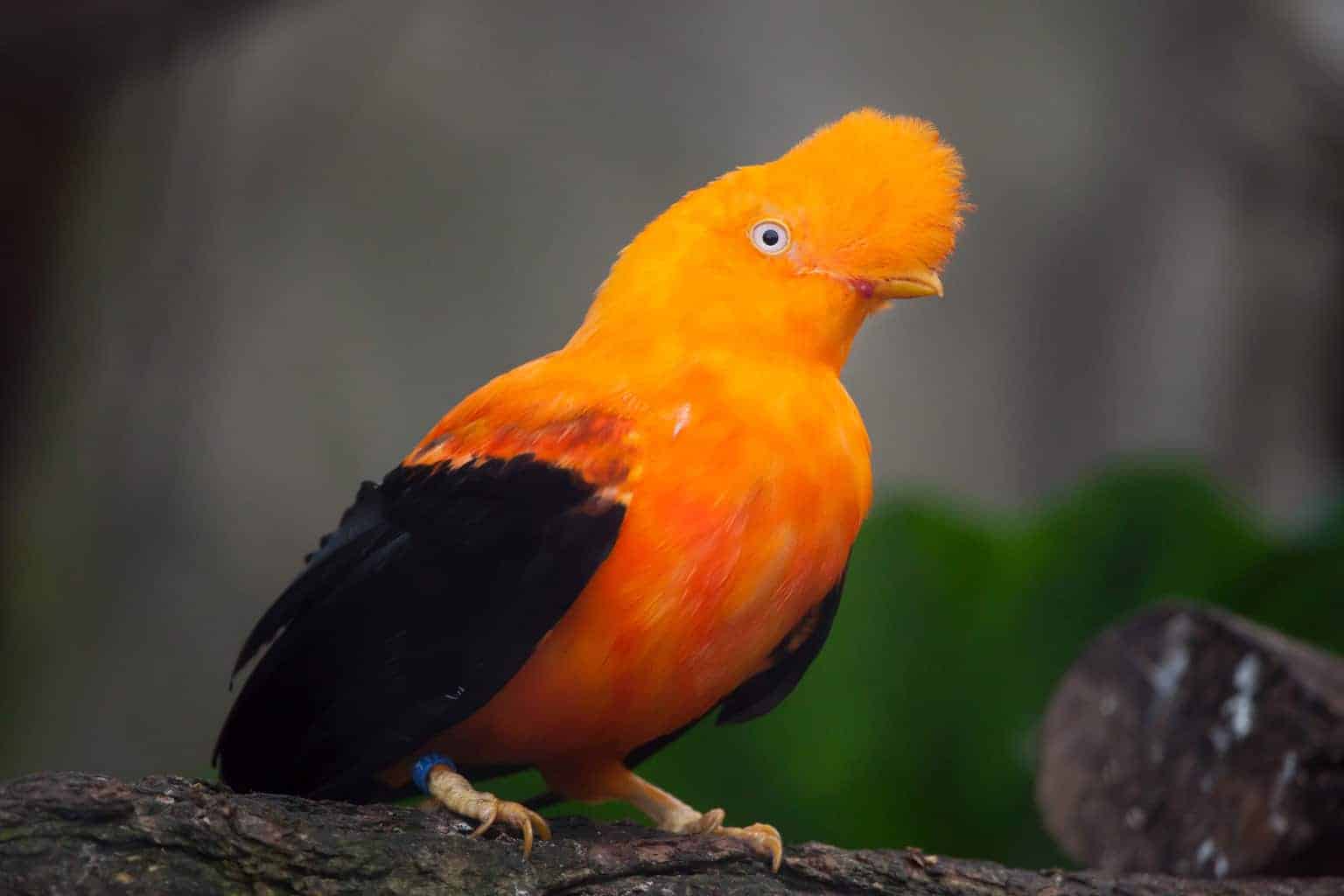 The
Andean cock-of-the-rock
, whose males feature a large orange forehead crest, is the national bird of Peru. It is one of two cock-of-the-rock birds, along with the Guianan cock-of-the-rock. They're distributed throughout the Andes Mountains where they nest in rocky areas of dense forest.
Magnificent Frigatebird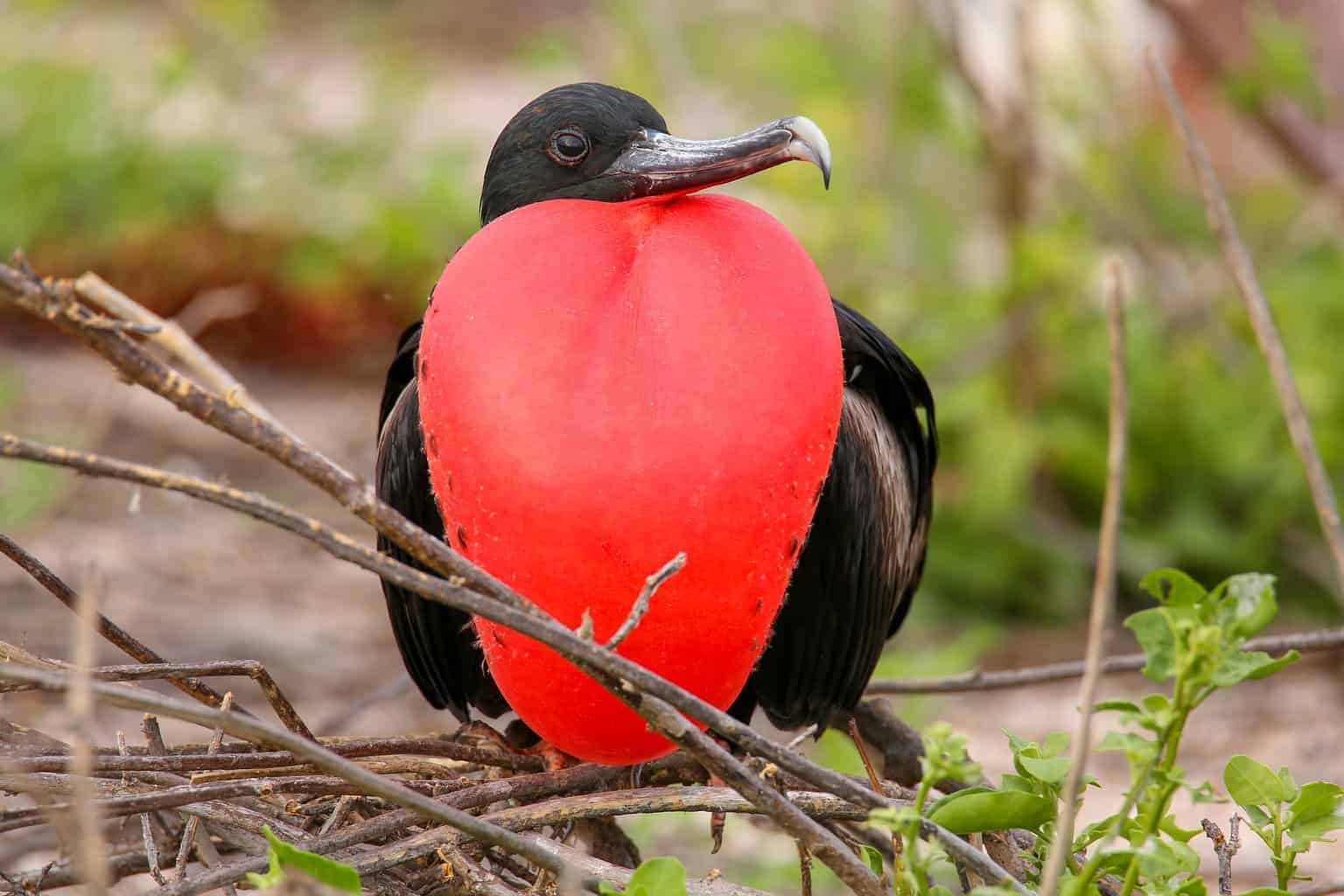 The adult male
magnificent frigatebird
features an inflatable red sack on its chest that lands it on the list of the most unique-looking birds, but if you saw a male outside of a breeding colony or an immature or female bird, these huge seabirds may look like any regular bird. Magnificent frigatebirds are residents of the Pacific and Atlantic coasts, from the Gulf coast and Maja California down to Brazil and Uruguay, where they're known to harass other birds in an effort to steal their food.
Hoatzin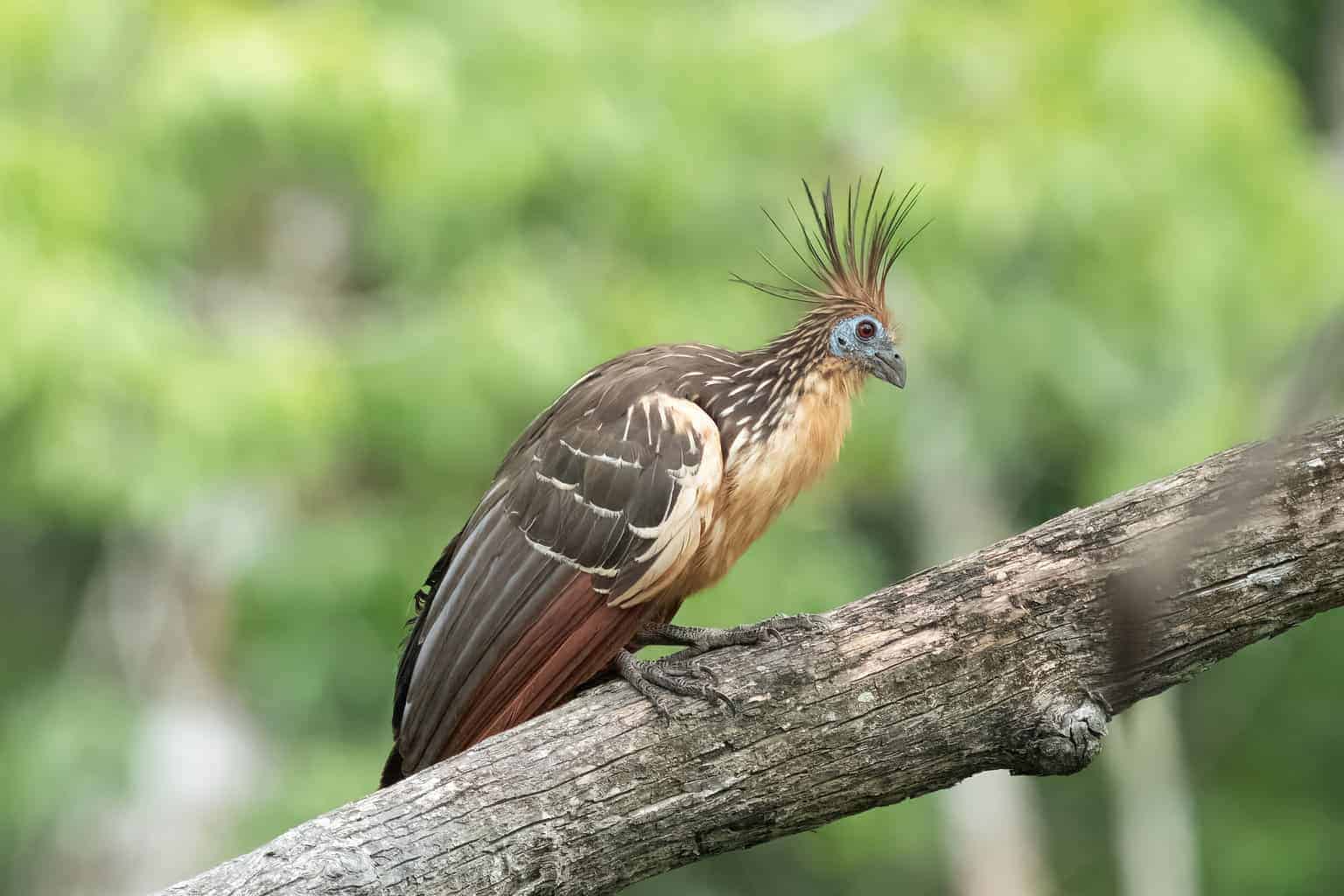 The
hoatzin
is a pheasant-sized bird native to South America reminiscent of a dinosaur in appearance, from its crested head to its relatively unfeathered, dark-colored face. This odd bird is known for the fact that babies hatch with two claws on the end of their wings, which they use to climb trees but lose as they age, despite the fact they never become great flyers. Another notable trait of the hoatzin is the fact that it is the only bird with a digestive system that ferments its food, which includes mostly leaves and other vegetation, as a cow does, according to
Britannica
.
Long-Wattled Umbrellabird
The
long-wattled umbrellabird
is a large perching bird of northwestern South America. This bird features a large head crest shaped like an umbrella above its head, as well as a black wattle hanging from the throat downward that may be nearly as long as the bird's body. There are three umbrellabird species: the long-wattled, Amazonian, and bare-necked umbrellabirds, all of which are native to South and Central America.
Blue-Footed Booby
The
blue-footed booby's
feet are, as its name suggests, blue, contrasting sharply against the whites and browns of the rest of the body. Each bird's foot color plays an important role in mating. According to
All About Birds
, those with duller feet have a harder time attracting a mate than those with more vibrant feet. There are six booby species in the genus
Sula,
including blue-footed and red-footed boobies. The word booby may have originated from the Spanish word "bobo," meaning stupid, given to the birds in reference to their lack of fear regarding humans.
California Condor
Next on our list is the
California condor
, North America's largest bird. Pushed to the brink of extinction not so long ago, condors are in the process of a long, slow comeback, with small populations in California, Utah, Arizona, and Mexico. Down to just 22 individuals in 1987, all condors were taken into captivity. Wildlife organizations began reintroducing them in 1992, and as of 2022, the wild population was just above 350, according to the
National Park Service
.
King Vulture
This mostly South American
king vulture
has a mainly featherless head, like other vultures, with a couple of interesting features. Among them is a soft knob on the top of the bill, called a caruncle. While both males and females have them, scientists don't really know what their purpose is, according to
Smithsonian's National Zoo & Conservation Biology Institute
.
Bee Hummingbird
The
bee hummingbird
is the smallest bird on the planet, measuring a mere two and a quarter inches long and weighing in at less than two grams, less than the weight of a dime, according to the
National Audubon Society
. If you want to add one to your life list, you'll have to travel to the forests of Cuba, where they're endemic.
Flightless Cormorant
Endemic to the Galapagos Islands,
flightless cormorants
look like other cormorant species you may be familiar with, except with stubby little wings that render them flightless. They're the only cormorant species of 29 that can't fly, according to the
Galapagos Conservation Trust
. While they can't fly, they're adept swimmers, diving deep into the water to feed on fish around the Galapagos Islands of Isabela and Fernandina.
Greater Sage-Grouse
The sage-grouse's mating display, like many other members of the grouse family, is a sight to behold. Males' chest pouches fill with up to a gallon of air, which they then propel out amid an interesting visual and auditory display.
Greater sage-grouse
are most commonly seen on their western United States leks, areas where males gather to try and attract mates. Prairie-chickens, the next bird on our list, are also known for their displays at leks. The Gunnison sage-grouse, a Colorado resident, was split from the greater sage-grouse into its own species in 2000.
Greater Prairie-Chicken
One of two prairie chickens in North America, these chicken-sized birds are known for males' mating displays at leks in which they puff out large orange sacks on their necks and perform a dance. Their North American range has shrunk considerably, but some of these leks have been used for over 100 years, considered "ancestral" leks, or booming grounds, according to
All About Birds
.
Greater prairie-chickens
are one of two prairie-chicken species in North America, which includes the similar-looking lesser prairie-chicken. The heath hen, a greater prairie chicken subspecies of the northeastern United States, went extinct in the 1930s. Attwater's prairie-chicken, an endangered subspecies, has a small range in Texas.
Roseate Spoonbill
The
roseate spoonbill
, a year-round resident of South America through the Caribbean up to the Gulf Coast and southern Florida, is one of six spoonbill species (genus Platelea) across the globe, and the only one native to the Americas. Roseate spoonbills look like flamingos except with large, spoon-shaped bills, which they use to forage for prey in shallow water. Like flamingos, they get their pink color from their diet, including crustaceans. They're the only one of the six spoonbill species that isn't mostly white.