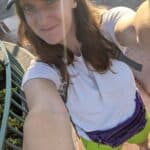 Kelsey is a freelance writer based in Southern Virginia. She enjoys traveling with her family to destinations from national parks to amusement parks and loves sharing tips and stories from along the way.
On July 22, a visitor detected the first wildfire of the open season in Yellowstone National Park. The fire was ignited by lightning and quickly extinguished before gaining ground. The fire has been confirmed by park officials and is now contained.
The fire, which was only .1 acre in size, was detected by a vigilant visitor who immediately reported it to the park authorities. The park officials' quick response helped contain the fire before it could cause any significant damage.
Fires in Yellowstone are not uncommon; the park averages 26 fires per year during fire season, which lasts from late July through September.
Fire risk in the park is currently "high," which is actually the third of five possible risk levels. This means there is a significant risk of wildfire in the park, which can be exceeded by "very high" and "extreme" fire risk levels.
When the fire risk is labeled "high," wildfires are likely, according to the National Park Service (NPS). Fires in areas with plenty of fuel, such as grassy fields or the leaf-and-twig-laden forest floor, will be hard to control.
During instances of high fire risk, campfire burning should be restricted to the early morning or late evening.
Yellowstone National Park is a fire-adapted ecosystem. This means that fire is a natural and necessary part of the ecosystem. Fire helps maintain the ecosystem's health by clearing out dead and decaying vegetation, promoting the growth of new vegetation, and creating habitat for wildlife.
Despite the benefits of fire, it is crucial to manage the risk of wildfire in the park and avoid igniting fires from unnatural sources such as campfires.
Campfires should always be cool to the touch before being left unattended. The NPS recommends that campers "soak, stir, feel, and repeat" until the site of their fire is completely cooled.
Visitors to Yellowstone National Park are reminded to be vigilant and report any signs of fire to the park authorities. With the current high fire risk, everyone must do their part to prevent wildfires and protect this ecosystem.