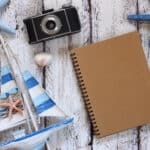 Elizabeth is an experienced traveler and writer with bylines in several popular travel publications. She currently co-owns a small digital travel publication and spends her free time writing, taking photos, and traveling.
Stuck at home and itching to hit the road? Whether you're an avid explorer or a curious armchair traveler, these 11 inspiring reads will take you on an epic adventure without ever leaving the comfort of your own home.
Into Thin Air
by Jon Krakauer
Aspiring climbers, beware: this harrowing account of Jon Krakauer's ill-fated ascent of Mount Everest will have you gripping the edge of your seat. Krakauer, a seasoned adventurer and journalist, takes readers on a breathtaking journey to the top of the world, only to describe a tragedy of epic proportions. With vivid prose and nail-biting suspense, this book is a testament to the power of the human spirit in the face of extreme adversity.
Wild
by Cheryl Strayed
For those seeking the solace of nature, look no further than Cheryl Strayed's memoir of her solo trek along the Pacific Crest Trail. With aching honesty and raw vulnerability, Strayed charts her emotional journey through grief, addiction, and personal transformation. Part travelogue, part survival tale, and wholly a testament to the resilience of the human spirit, Wild is a must-read for anyone who has ever dreamed of embarking on a journey of self-discovery.
The Lost City of Z
by David Grann
If you're a fan of Indiana Jones-style adventure, David Grann's gripping account of Percy Fawcett's search for a lost city in the Amazon rainforest is the perfect antidote to your wanderlust. With colorful characters, swashbuckling escapades, and a mystery that spans centuries, The Lost City of Z is a tour de force of adventure writing that will leave you breathless.
A Walk in the Woods
by Bill Bryson
Bill Bryson's laugh-out-loud account of his attempt to hike the Appalachian Trail with his inimitable wit and self-deprecating humor is a classic of travel literature. With vivid descriptions of the majesty and absurdity of the American wilderness, A Walk in the Woods is a delightful romp through the great outdoors that will leave you yearning for your own adventure.
Endurance: Shackleton's Incredible Voyage
by Alfred Lansing
For those who crave tales of survival against all odds, Alfred Lansing's gripping account of Ernest Shackleton's ill-fated expedition to the South Pole is a must-read. With a cast of colorful characters and heart-stopping action, Endurance is a masterclass in the power of the human spirit to endure even the most brutal conditions.
Longitude
by Dava Sobel
For aspiring explorers fascinated by the history of navigation, Dava Sobel's captivating account of John Harrison's quest to solve the "longitude problem" is a must-read. With rich historical detail and engaging storytelling, Longitude is a testament to the power of ingenuity and persistence in the face of seemingly insurmountable odds.
In a Sunburned Country
by Bill Bryson
Bill Bryson strikes again with his hilarious and insightful travelogue of Australia, a country that he describes as "the most dangerous place on Earth." With a keen eye for detail and a knack for finding the absurd in the ordinary, Bryson takes readers on a rollicking journey through the heart of the land Down Under.
The Alchemist
by Paulo Coelho
The Alchemist is a philosophical tale of adventure and self-discovery following Santiago, a Spanish shepherd boy, on a journey to find treasure in Egypt. Along the way, Santiago learns the importance of following his dreams and recognizing the signs the universe gives when guiding him toward his destiny.
In Patagonia
by Bruce Chatwin
In Patagonia offers a classic tale of exploration and adventure, following Chatwin's journey through the rugged landscape of Patagonia in South America. From colorful characters to remote towns, Chatwin's vivid descriptions bring the region to life.
Born to Run
by Christopher McDougall
Born to Run is a fascinating exploration of the science and culture of running, following McDougall as he travels to the remote Copper Canyons in Mexico to learn from the Tarahumara people, who are legendary for their long-distance running abilities.
The Great Railway Bazaar
by Paul Theroux
The Great Railway Bazaar is a classic travelogue that follows Theroux's journey by train from London to Tokyo and back again. Along the way, he encounters a cast of colorful characters and experiences a range of fascinating cultures.
8 Most Unique Places To Kayak In The US- Stunning Beauty
Looking for a unique and thrilling way to explore the natural beauty of the United States? Look no further! From the bioluminescent bays of Puerto Rico to the rugged beauty of the Apostle Islands in Wisconsin, there's something for every adventure seeker.
The 10 Most Beautiful Hikes In The US- Discovering America
This article highlights the most beautiful hikes in the US from California to Maine. Whether you're a seasoned hiker or just starting out, there's a trail on this list that will leave you awe-inspired. So, put on your hiking boots and get ready to explore the diverse and awe-inspiring landscapes of America's most beautiful hiking destinations.
10 National Parks To Skip If You Have Young Children
This article is a must-read if you're planning a national park trip with young children! Don't get stuck in rugged terrain, limited water access, or super-long hiking distances with your kiddos! Learn about the challenges and potential dangers of visiting these parks with young children and plan your trip accordingly for a safe and enjoyable experience.