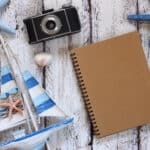 Elizabeth is an experienced traveler and writer with bylines in several popular travel publications. She currently co-owns a small digital travel publication and spends her free time writing, taking photos, and traveling.
Texas is home to some of the most breathtaking natural landscapes in the country, making it the perfect destination for camping enthusiasts. From stunning lakes to rugged mountains, the Lone Star State has something to offer for every type of outdoor adventurer. If you're looking for a night under the stars, we've rounded up the 16 best camping spots in Texas that offer unforgettable experiences for those seeking to disconnect from the hustle and bustle of city life and immerse themselves in the beauty of mother nature.
Palo Duro Canyon State Park
Ver esta publicación en Instagram

If you yearn for a blend of the wild outdoors and creature comforts, the Palo Duro Canyon in the Texas Panhandle is your destination. The second-largest canyon in the country, it offers 30 miles of scenic trails perfect for hiking, biking, or equestrian pursuits. Along the way, marvel at the balancing act of the large hoodoo rocks. To cap it all, you can indulge in 'glamping' with amenities such as air conditioning and microwaves, allowing you to enjoy the panoramic canyon views from the comfort of a covered porch.
Colorado Bend State Park
Ver esta publicación en Instagram

Colorado Bend State Park, a six-mile natural sanctuary by the Colorado River, presents a diverse range of activities against a backdrop of unspoiled, rugged beauty. The park tempts those longing for an immersive experience, whether it's cooling off in spring-fed swimming holes, hiking amongst the 70-foot Gorman Falls, or taking on some of the best mountain biking trails Texas has to offer. The allure doesn't end there, though—beneath the ground lies a network of 400 intriguing caves awaiting exploration via two distinct tours.
Padre Island National Seashore
Ver esta publicación en Instagram

At Padre Island National Seashore, a pristine 66-mile barrier island, wake up to the harmonious soundtrack of waves lapping the shore. The unique thrill of beach driving awaits those with a four-wheel drive, opening up this gorgeous coastline for exploration. An annual highlight includes the captivating spectacle of sea turtle hatchlings embarking on their oceanic journey between mid-June and August. Remember, camping is first-come, first-serve, making spontaneity a part of your adventure.
Lost Maples State Natural Area
Ver esta publicación en Instagram

Step into nature's painting at the Lost Maples State Natural Area in Texas. This leaf-peeping hotspot is home to vibrant, orange-hued Uvalde bigtooth maples along the East Trail, creating a breathtaking autumn spectacle. Beyond fall, wander through 2,174 acres of lush grasslands and limestone canyons, or fish in the serene Sabinal River. With rare green kingfishers adorning the sky, bird-watchers will find delight throughout the year.
Pedernales Falls State Park
Ver esta publicación en Instagram

A River Runs through It Pedernales Falls State Park, just 30 miles from Austin, is a riverfront hideaway that feels steeped in remoteness. The park covers 5,212 acres of former ranch land crisscrossed by the Pedernales River, presenting the perfect spot for swimming, paddling, and tubing adventures. Traverse its ten trails on foot, horseback, or mountain bike, with the 5.5-mile Wolf Mountain Loop showcasing the park's scenic grandeur. For a pure wilderness experience, choose the primitive campsites tucked away deep in the park, demanding a minimum two-mile hike to reach your own private haven.
Big Bend National Park
Ver esta publicación en Instagram

Immerse yourself in the captivating expanse of Big Bend National Park, the Lone Star State's oldest national park. Indulge your adventurous side with over 200 miles of hiking trails and 250 miles of roads to traverse. The park's boundary along the Rio Grande River, which stretches for 118 miles, provides an excellent venue for rafting, canoeing, and kayaking. Visit in March to capture the mesmerizing spectacle of Texas state flower, bluebonnets, dotting the landscape. Don't forget to plan your camping adventure in advance to secure a prime spot.
Caddo Lake State Park
Ver esta publicación en Instagram

Picture yourself paddling through calm waters surrounded by bald cypress trees cloaked in Spanish moss at Caddo Lake State Park. Spanning 26,810 acres in East Texas, it features over 50 miles of paddling trails beckoning the adventurous and a bounty of over 70 fish species for the angler – no fishing license needed if you're on shore. The park offers 46 idyllic campsites and ten charming historic cabins, with the Mill Pond Camping Area being especially favored for its closeness to the water.
Guadalupe Mountains National Park
Ver esta publicación en Instagram

In the remote expanses of the Guadalupe Mountains National Park, a hiking utopia awaits those ready to roam beyond the beaten path. Housing eight of the highest peaks in Texas, this border-straddling wilderness park offers the exhilarating challenge of summiting the 8,751-foot Guadalupe Peak. The park's three campgrounds provide an immersive experience in solitude, free from showers, limited cell service, and bursting with natural beauty.
Huntsville State Park
Ver esta publicación en Instagram

Nestled in the heart of the Sam Houston National Forest, Huntsville State Park, a 2,000-acre wonderland, sweeps you into an outdoor expedition filled with hiking, wildlife spotting, and water recreation. Meander through more than 20 miles of multi-use trails, uncovering the park's lush biodiversity, home to over 250 bird species and numerous mammals. The Nature Center serves as a valuable resource for those interested in learning more about local wildlife, while the park's ample camping facilities around peaceful Lake Raven provide the perfect backdrop for your wilderness retreat.
Garner State Park
Ver esta publicación en Instagram

Step into Garner State Park and immerse yourself in a captivating mix of history, adventure, and nature across its sprawling 1,774 acres. Along the beautiful Frio River, indulge in a wide array of activities, from invigorating hikes and serene canoeing to the charm of a traditional summer jukebox dance. When the day's exploits conclude, retreat to the comfort of your camp, cabin, or shelter, but maintain cautious vigilance over your food due to the park's feral hogs.
Oxford Ranch Campground
Ver esta publicación en Instagram

Dive into the inviting wilderness of Oxford Ranch Campground, where the flexibility to select your campsite goes hand in hand with an array of activities set under the shade of abundant trees. Whether it's a lively family picnic or a serene hammock camping experience you seek, this campground presents an opportunity to shape your own adventure, making every visit a unique exploration of leisure and tranquility.
Dinosaur Valley State Park
Ver esta publicación en Instagram

Uncover prehistoric secrets at Dinosaur Valley State Park, a unique 1,587-acre park where the echoes of dinosaurs still linger. Tread through the five areas in the park where Acrocanthosaurus and Sauroposeidon proteles left their marks along the then ocean's brink, most identifiable when water levels recede in late summer. Add a whimsical touch to your visit by posing in front of 70-foot-tall and 45-foot-tall fiberglass dinosaurs, standing tall since their display at the 1964-65 New York's World's Fair.
Balmorhea State Park
Ver esta publicación en Instagram

Balmorhea State Park is a true gem with its blend of history and outdoor activities. Here, you can dive into the world's largest spring-fed pool, scuba, or engage in a thrilling bird-watching session in the recreated desert wetlands. An indigenous site turned park, this 45.9-acre destination offers camping, geocaching, and more, making every visit a unique adventure.
Davis Mountains State Park
Ver esta publicación en Instagram

Nestled within the high peaks of West Texas, Davis Mountains State Park brims with adventurous pursuits and historical richness. Embark on a journey through layered landscapes by foot, mountain bike, or horse, and unwind beneath a vibrant night sky that promises a stargazing spectacle. The park also offers a glimpse into frontier fort history, crafting a perfect blend of education and entertainment. Whether you're a seasoned camper or a curious day visitor, the park serves as a distinctive escape into nature's grandeur.
Enchanted Rock State Natural Area
Ver esta publicación en Instagram

Embark on a journey of adventure and discovery at the colossal pink granite dome of the Enchanted Rock State Natural Area. Catering to a myriad of outdoor activities, from rock climbing across 40 unique routes to the exhilarating pursuit of geocaching, this park intricately marries thrill and tranquility. Dive deep into the celestial world during the regularly hosted Rock Star Parties and join the thousands of visitors annually who gaze at the cosmos unobstructed in this prestigious International Dark Sky Park.
Paisano Azul Ranch
Ver esta publicación en Instagram

Paisano Azul Ranch, located next to Terlingua Creek, offers an unforgettable Texas camping experience. Perfectly positioned for exploration, it's just minutes from the Terlingua Ghost Town and Big Bend National Park, offering activities from horseback riding to kayaking. Round off an adventurous day with a cozy fireside picnic under the shade sails, surrounded by breathtaking views of the Chisos Mountains. With pristine outdoor facilities, Paisano Azul Ranch perfectly encapsulates the romance of cowboy living with modern camping comforts.