Daniel is a copywriter who has well and truly been bitten alive by the 'travel bug'. After ticking off several North American National Parks and exploring Europe by train, his sights are now set on South East Asia. Usually with at least one camera locked and loaded, you'll find Daniel wherever there are mountains, lakes or beaches.
Ready for an unforgettable escape into the great outdoors? We've handpicked 12 of the best campsites near Denver, each boasting its unique charm and array of activities. Whether you're a seasoned camper or a first-timer, our curated list provides an enticing blend of semi-primitive to full-service camping spots, promising you an adventure like no other.
Chatfield State Park Campground
Situated 45 minutes from Denver, Chatfield State Park Campground offers numerous water activities amid 5,800 acres of nature. It's easy to switch between fishing, paddling, or swimming in the nearby reservoir and relaxing at your campsite, equipped with amenities like hot showers. With a panorama that includes prairie dogs, deer, and a variety of birds, this open, grassy campground is a year-round haven for outdoor enthusiasts.
Logan Ranch Campground
Dive into a rich historical and natural haven at Logan Ranch Campground, located on Highway 287 between Fort Collins and Laramie. Set within a sprawling 1000-acre landscape that doubles as a fifth-generation cattle ranch, the campground is home to an array of outdoor marvels, from bird-watching and hiking amidst balancing boulders, to glimpses of diverse wildlife such as pronghorn, antelope, and elk. Combine this with the proximity to significant landmarks like the Virginia Dale Stage Station, and your camping trip effortlessly marries the past with the present.
Little Scraggy Camp
Nestled within 95 acres of a historic 1890s family homestead, Little Scraggy Camp invites the adventurous to get back into nature. Listed on the National Register of Historic Places, this off-grid ranch, enveloped by the Pike National Forest, makes the perfect base for camping escapades, whether in RVs, tents, or even chic glamping sites. Enjoy a 4-hole disc golf putting course, a cornhole toss game, and the freedom to bring your canine buddy along for the journey.
Rainbow Lakes Campground
Venture 60 miles northwest from Denver to the Rainbow Lakes Campground, a first-come, first-served camping sanctuary. The campground encourages a step back into nature with 18 campsites equipped with fire grates, vault toilets, picnic tables, and trash services, but no drinking water or electricity, ideal for those seeking an authentic camping experience. Arrive early and stake out your spot, whether it's a small trailer area or a walk-in tent site, for a tranquil weekend escape under the stars.
Angel of Shavano Campground
Discover the allure of camping at Angel of Shavano Group Campground, one of the best-kept secrets in the Denver vicinity. The campground's location, adjacent to the North Fork South Arkansas River, makes it an excellent hub for hiking, biking, and fishing activities. With one group campsite equipped with grills, a campfire circle, and a picnic shelter, it offers a communal yet comfortable camping experience for up to 100 people.
Buffalo Campground
Located an hour southwest of Denver in the Buffalo Creek Recreation Area, Buffalo Campground serves as a gateway to a plethora of outdoor activities. From hiking trails and mountain biking to trout fishing, it caters to diverse interests. The facility provides essential amenities, including picnic tables, toilets, and parking, while maintaining an authentic wilderness ambiance. Just pack with caution, bears regularly explore the area.
Moraine Park Campground
Moraine Park Campground, part of the awe-inspiring Rocky Mountain National Park, offers a unique perspective on the area's stunning natural beauty. From its location on the park's north side, campers can take in the beautiful views and enjoy a range of activities, from hiking and backpacking to fishing and horseback riding. Offering both tent-only and RV campsites, it invites you to immerse yourself in the wild splendor of Colorado's vast landscapes.
Cherry Creek Campground
A stone's throw east of Denver, Cherry Creek Campground serves as a delightful escape for families. With the 880-acre Cherry Creek Reservoir at its heart, it's a hotspot for water sports like jet skiing and swimming. For those preferring solid ground, horseback riding trails, shooting ranges, and a model airplane area await. This versatile campsite, offering 131 spots for tents and RVs, WiFi, and a dog park, captures the essence of a well-rounded camping adventure.
Goose Creek Campground
A scenic two-hour drive from Denver will lead you to Goose Creek Campground, an outdoor haven located near the Lost Creek Wilderness. Alongside the calming sounds of Goose Creek, the campground offers diverse recreational activities such as fishing, mountain biking, and hiking, with close proximity to the Goose Creek Trailhead. This unique blend of tranquility and adventure makes it an appealing choice for camping throughout the season.
Bear Creek Lake Campground
A night under the stars awaits you at Bear Creek Lake Park, one of the nearest full-service campgrounds to Denver. It accommodates tents and RVs across 47 campsites, with the option of cabins and yurts. Recreational opportunities abound, with swimming, waterskiing, fishing, and paddling in the park's three beautiful lakes, and additional amenities like an archery range, trails, and ranger talks available to enhance your camping experience.
Indian Paintbrush Campground
Indian Paintbrush Campground, located in the Bear Creek Lake recreation area, offers a camping experience that artfully blends the urban and rural landscapes around Denver. Not only in close proximity to the city but also popular attractions like Red Rocks Amphitheater, it's a top-notch choice for varied interests. With 47 campsites, along with cabins, yurts, and a group site, it promises a versatile camping experience near the heart of the city.
Sawmill Hiker Campground
At Sawmill Hiking Campground in White Ranch Park, visitors can enjoy semi-primitive, tent-only camping within reach of Denver. The 10 designated campsites, each furnished with a picnic table and fire ring with grill, invite you to unwind in the great outdoors. Remember to secure your online camping permit at least 24 hours in advance, and enjoy amenities like restrooms and provided firewood during your stay.
The 16 Best National Parks to Visit in June For Summer Fun
Are you looking for the perfect summer adventure? Look no further than these top national parks to visit in June! From the stunning wildflower displays at Lassen Volcanic National Park to the world-class whitewater rafting at New River Gorge National Park, this article provides insider tips and recommendations for an unforgettable outdoor experience. Don't miss out on the chance to explore these breathtaking natural wonders during one of the best months of the year!
6 National Parks To Avoid This Summer (And The Alternatives)
Are you planning a summer trip to a national park but want to avoid the crowds? Look no further than this article, which provides insider tips on which popular national parks to avoid and offers recommendations for six alternative destinations that offer unique experiences and stunning natural beauty. From exploring rugged peaks and pristine lakes at North Cascades National Park to discovering the geological history of Capitol Reef National Park, this article has everything you need to plan an unforgettable outdoor adventure this summer.
Best 16 Utah Vacation Spots
Are you looking for an unforgettable vacation spot with breathtaking natural beauty? Look no further than Utah! With stunning national parks like Zion and Bryce Canyon, as well as unique attractions like the Homestead Crater and Dead Horse Point, Utah has something for everyone. This article provides insider tips and recommendations for the best places to visit in Utah, from hiking to skiing to soaking in natural hot springs. Don't miss out on the chance to explore this incredible outdoor playground!
5 Waterfalls in Zion National Park For A Fabulous Day Out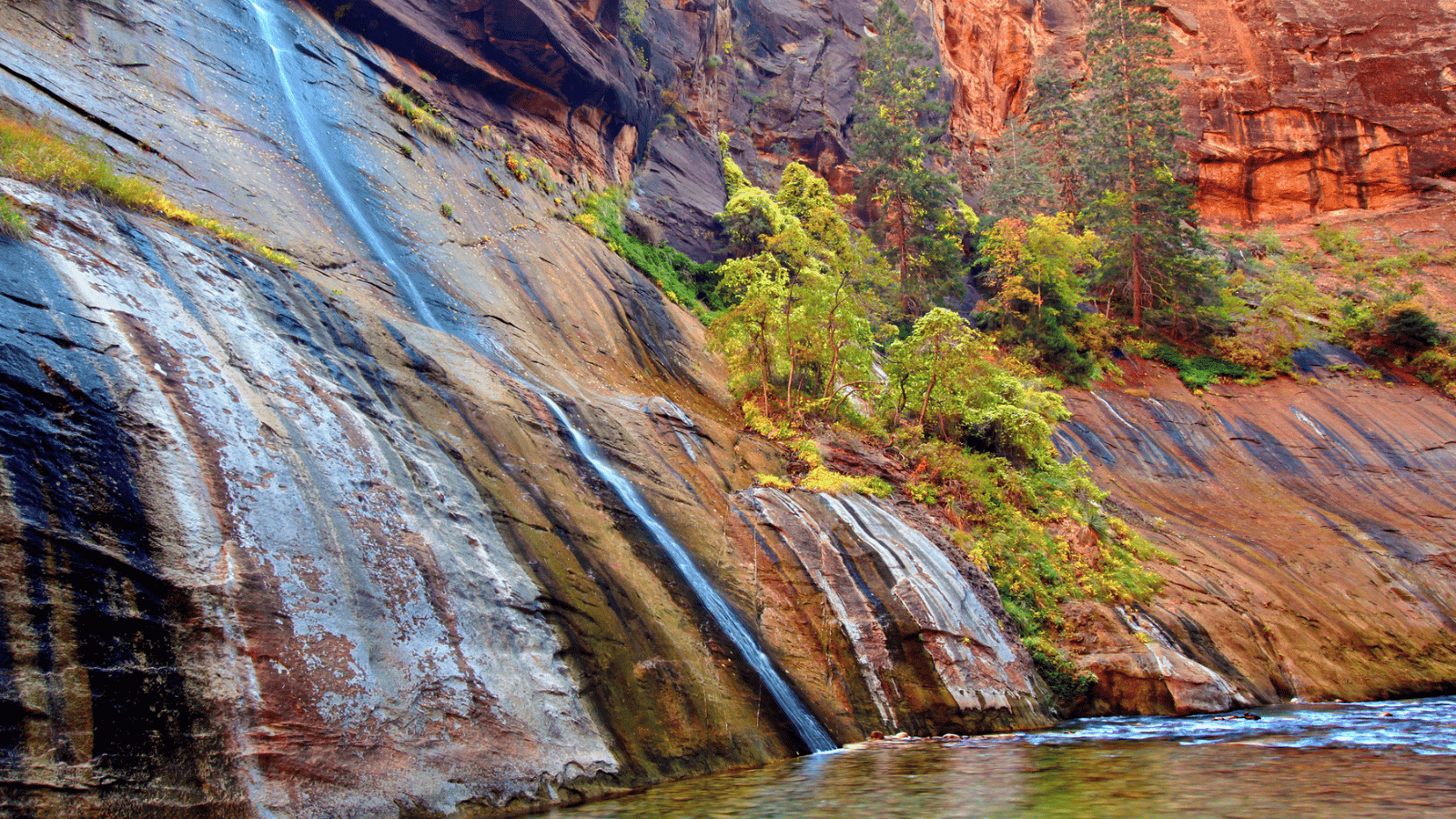 Are you a nature enthusiast looking for an outdoor adventure that will take your breath away? Look no further than Zion National Park in southwestern Utah! This article explores the park's stunning waterfalls, including the moderate hike to Archangel Falls and the more challenging Upper Emerald Pools. But that's not all – the article also highlights other natural attractions in the park, such as The Great White Throne and the Court of the Patriarchs. Don't miss out on the chance to explore this gorgeous landscape and experience the beauty of Utah's unique natural wonders!