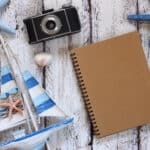 Elizabeth is an experienced traveler and writer with bylines in several popular travel publications. She currently co-owns a small digital travel publication and spends her free time writing, taking photos, and traveling.
Are you tired of staying at the usual cookie-cutter hotels or Airbnbs during your travels? Want to add a little excitement and quirkiness to your lodging experience?
Well, we've scoured the depths of Airbnb to bring you a list of the most bizarre and unique stays in the US. From a pyramid in Illinois to a mushroom dome in California, you won't want to miss these out-of-the-box accommodations.
The Treehouse — Walhalla, South Carolina
If you've ever dreamed of sleeping in a treehouse, this Airbnb is for you. The Treehouse, located in Walhalla, South Carolina, is a two-story abode that sits high in the trees. It's the perfect place to unplug and unwind with charming decor, ample space to enjoy the views, and a fire pit outside, perfect for roasting s'mores.
The Enchanted Forest — Carmel-by-the-Sea, California
With its fairytale-like charm and quaint decor, the Enchanted Forest cottage is a true gem in the heart of Carmel-by-the-Sea. The stunning garden and whimsical yet sophisticated design will leave you feeling like you've stepped into a storybook that's been updated to fit modern times.
The Silo — Bonne Terre, Missouri
Complete with a hammock and the double-decker deck, this Missouri Airbnb offers a truly unique opportunity to sleep in, well, a real silo. Don't let the rugged exterior fool you — the interior is modern and chic, making the stay all the more worth the trip out. It can fit up to five guests, so bring some friends!
The ManCave Apartment — Geneva, Florida
You've never seen a man cave quite like this one! Aside from the fact that it's located on a private airstrip, the ManCave Apartment is decked out in unique decor designed by Dan, the owner of the accommodation. Enjoy the unique retro vibes before heading out to play with the alpacas who also live nearby.
Out'n'About Treehouse — Cave Junction, Oregon
Yes, another treehouse! But it's just so cool, isn't it? Experience the magic of sleeping high up among the trees by booking a stay at Out'n'About Treehouses in Cave Junction, Oregon. While they look like little nests suspended in the trees, each treehouse is furnished and equipped with modern amenities, including heat, electricity, and a full kitchen.
Thomas Fitch Home — Tombstone, Arizona

Step back in time to the Wild West with a stay at the Thomas Fitch home (for those who don't know, Thomas Fitch was the attorney who successfully defended the Earps after the OK Corral gunfight). This charming home is located in the famed town of Tombstone and boasts antique furnishings and decor that transport you to a different era.
Bedrock Cave — Boulder, Utah
Have you ever wondered how the Flinstones lived? If so, a stay at the Bedrock Cave is your chance to get a small glimpse at what life might have been like if cavemen had comfy beds and refrigerators. Complete with a Jam Room, a fully-functioning kitchen, and some seriously stunning views, this is one of the most unique Airbnbs you'll see in America.
Underground Hygge — Orondo, Washington
Experience the minimalist Scandinavian lifestyle at Underground Hygge, an earth-sheltered home that's located on a farm in Orondo, Washington. With a footprint that's entirely engulfed by the earth, you'll find yourself disconnected from all modern hassles and transported to a simpler way of living. This cozy off-grid home distinguishes itself through exquisite design and decor that is all about functional elegance.
Twilight Swan House — St. Helens, Oregon
Twilight fans, this one's for you! You can book a stay at the Twilight House, the real home that was used when filming the popular tween movies as the home of Charlie and Bella Swan. It's a charming (and restored) 1930s home located in a quiet neighborhood in downtown Saint Helens. Enjoy recreating scenes with your friends or posing for photos with the cutouts the hosts have of the movie's characters.
Pirates of the Caribbean Getaway — Topanga, California
Ahoy, matey! Ready for the ultimate adventure on the high seas? Check-in at the Pirates of the Caribbean Getaway in Topanga, California. This amazing Airbnb is a replica of a classic pirate ship, complete with a captain's quarters, plank, and so much more. With stunning canyon views, an outdoor shower, and pirate-themed decor, this Airbnb is perfect for those seeking an adventure.
Geodesic Dome — Essex, Montana
Experience a unique and sustainable lifestyle in this geodesic dome in the mountains of Montana. This beautiful home is powered by solar energy and is constructed with natural materials. The interior boasts a minimalist style with modern amenities such as Wi-Fi and full kitchen appliances.
8 Most Unique Places To Kayak In The US- Stunning Beauty
Looking for a unique and thrilling way to explore the natural beauty of the United States? Look no further! From the bioluminescent bays of Puerto Rico to the rugged beauty of the Apostle Islands in Wisconsin, there's something for every adventure seeker.
The 10 Most Beautiful Hikes In The US- Discovering America
This article highlights the most beautiful hikes in the US from California to Maine. Whether you're a seasoned hiker or just starting out, there's a trail on this list that will leave you awe-inspired. So, put on your hiking boots and get ready to explore the diverse and awe-inspiring landscapes of America's most beautiful hiking destinations.
10 National Parks To Skip If You Have Young Children
This article is a must-read if you're planning a national park trip with young children! Don't get stuck in rugged terrain, limited water access, or super-long hiking distances with your kiddos! Learn about the challenges and potential dangers of visiting these parks with young children and plan your trip accordingly for a safe and enjoyable experience.