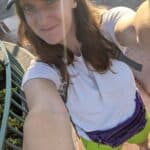 Kelsey is a freelance writer based in Southern Virginia. She enjoys traveling with her family to destinations from national parks to amusement parks and loves sharing tips and stories from along the way.
Are you ready for a week filled with awe-inspiring chubbiness? Well, it's that time of the year again! Katmai National Park, Alaska, is gearing up for its annual showdown of epic proportions – Fat Bear Week. From October 4 to October 10, 2023, you can witness the park's chunkiest bears. Your vote will decide which bear gets crowned as the fattest of them all!
The Battle of the Bulge: Fat Bear Week 2023
Let's face it; bears aren't known for their svelte figures. These magnificent creatures have been working on their winter bodies all summer long.
Hibernation season is just around the corner, and bears won't be dining at fancy restaurants during those long, cold months. In fact, they won't eat or drink at all. They can lose up to a third of their body weight while catching some Z's, so it's essential to pack on the pounds while they can.
To fatten up, they feast on the richest and most accessible foods they can find, of course! For the bears of Katmai National Park, that often means a delightful salmon buffet. Dozens of bears gather at Brooks River, where they indulge in salmon from late June until mid-October.
Fat Bears Are the Real Winners
Adult male bears in mid-summer average between 700 to 900 pounds. By late summer and fall, the big boys can tip the scales at over 1,200 pounds!
While bears are omnivores and have been known to munch on various plant and animal foods, salmon take center stage when it comes to packing on the pounds for winter. These fishy delights are crucial in helping bears accumulate enough fat to survive their winter slumber.
Fat Bear Week: Where Everyone's a Winner
Now, let's talk about the main event – Fat Bear Week itself.
Rangers set up a tournament-style bracket, pitting individual bears against each other. Then, it's up to the public to vote for their favorite roly-poly contender in each round.
Voting takes place on www.fatbearweek.org, and people can use any criteria they see fit to cast their votes. In the end, only one bear will reign supreme, wearing the crown of Katmai's fattest.
The Lineup and Exciting Events
This year, Fat Bear Week kicks off on October 4 and culminates on Fat Bear Tuesday, October 10. Besides casting your votes in the tournament, you can join a series of online chats on explore.org featuring Mike Fitz, explore.org's resident naturalist, and rangers from Katmai. These discussions dive deep into the lives of the bears and Katmai's thriving ecosystem.
Throughout the season, you can also tune in to the explore.org bear cams, which provide unprecedented access to the daily lives of the bears at Brooks River. Plus, there are special live events on various topics, hosted weekly throughout the season, to keep you entertained and informed.
Introducing Fat Bear Junior
In 2021, Fat Bear Junior made its debut – a smaller bracket where chubby cubs compete for a chance to take on the senior, burly bears. This year, Fat Bear Junior takes place on September 28-29, so don't miss out on the adorable antics of these future fat bear contenders.
So, mark your calendars, set your reminders, and get ready to embark on a hilarious and heartwarming journey into the world of Fat Bear Week.
Whether you're a bear enthusiast or just looking for some belly laughs, this is one event you don't want to miss. Stay tuned as the bracket reveal happens live on October 2, and prepare to cast your votes at www.fatbearweek.org. Fat bears, wild adventures, and unforgettable moments await!
You May Also Like:
Unlock Natural Wonders: The Best Lakes in Alaska