Daniel is a copywriter who has well and truly been bitten alive by the 'travel bug'. After ticking off several North American National Parks and exploring Europe by train, his sights are now set on South East Asia. Usually with at least one camera locked and loaded, you'll find Daniel wherever there are mountains, lakes or beaches.
Discover the incredible ghost towns near Salt Lake City, where history is preserved in silent buildings and deserted streets. Travelers can uncover the legacies of miners and pioneers who once thrived in these now-quiet enclaves. Let's go exploring!
Sego
Distance from Salt Lake City: 213 miles.
The ghost town of Sego lies hidden in the winding Sego Canyon, its abandoned foundations and lone stone building offering a silent narrative of its coal mining heritage. Visitors can explore these historical imprints, further enriched by petroglyphs that adorn the canyon walls, adding depth to the area's story.
Grafton
Distance from Salt Lake City: 307 miles.
As one of the most picturesque ghost towns near Salt Lake City, Grafton beckons just beyond the majesty of Zion National Park, offering a lens into the Wild West with its photogenic ruins and orchards. Once a flourishing settlement, the town's struggle with the Virgin River's floods is evidenced by the silent homes and irrigation canals that still stand, a testament to the tenacity of its early inhabitants.
Newhouse
Distance from Salt Lake City: 230 miles.
Discover the remnants of Newhouse, one of the mining ghost towns near Salt Lake City, where the echoes of a silver mining boom still linger among the ruins and foundations. History-seekers can stroll through what was once a flourishing settlement, reflecting on the rise and fall of an industry that shaped the West.
The town's brief yet vibrant existence, from Tent Town to a hub with an opera house and dance hall, offers a rich backdrop for photographers and explorers alike.
Silver Reef
Distance from Salt Lake City: 287 miles.
Step back into the Silver Rush era with a visit to Silver Reef, just a short journey from the natural splendor of Zion National Park. With restored relics such as the Cosmopolitan Restaurant and the iconic Wells Fargo office, this ghost town lets history buffs and curious travelers alike experience the history of the mining frenzy that once dominated this area.
The admission fee unlocks a wealth of insights, allowing visitors to delve into the rich tapestry of a town born from a sandstone silver strike.
Iosepa
Distance from Salt Lake City: 60 miles.
Iosepa, a Polynesian heritage ghost town near Salt Lake City, offers a rare historic excursion into the lives of Hawaiian Mormon settlers in Utah's Skull Valley. The enduring cemetery, with its memorial and historical marker, provides a solemn yet insightful experience for visitors.
While the settlement itself is on private property, the annual cultural celebration invites those interested in the intertwining of Polynesian and Mormon history to engage in commemoration and learning.
Frisco
Distance from Salt Lake City: 222 miles.
For those fascinated by the volatile history of the Old West, Frisco offers a peek into life during the mining boom, with structures that stand as silent witnesses to its once frenetic existence. Today, visitors can explore this Salt Lake City ghost town, wandering among the cemetery and the remnants of mining operations, including the impressive charcoal kilns now recognized as historical treasures. This former epicenter of wealth and wildness, where fortunes were made and lost, promises a day of contemplation and discovery.
Paria
Distance from Salt Lake City: 352 miles.
Paria, nestled within the dramatic scenery of Grand Staircase–Escalante, presents a captivating journey through one of the ghost towns near Salt Lake City with a twist of Hollywood history. Although the original town has faded, the area remains marked by the allure of its film set, inviting photographers and history buffs to lose themselves in a real-world Western backdrop.
The captivating canyon environment and informative signs paint an immersive picture of the town's vibrant, albeit flood-stricken, history and subsequent transformation into a movie-making icon.
Colton
Distance from Salt Lake City: 96 miles.
Colton, once known as Pleasant Valley Junction, stands among the ghost towns near Salt Lake City, offering a whisper of the past to those who visit its sparse ruins. The town's storied history, marked by mining wealth and railway developments, can be pieced together through the remains of its structures.
While the Hilltop County Store stands as a solitary reminder of more prosperous times, visitors can reflect on the eras of steam and diesel that shaped this quiet corner of Utah.
Old Irontown
Distance from Salt Lake City: 273 miles.
Old Irontown, once a bustling settlement known as Iron City, offers a window into the 19th-century iron industry, situated in the peaceful Dixie National Forest. Visitors can encounter the enduring structures, such as the "Arastra" furnace and charcoal oven, reflecting the community's attempt to forge a self-reliant existence.
Recognized for its historical significance and protected by the Sons of Utah Pioneers, this ghost town near Salt Lake City calls those with a curiosity for the pioneer era and the evolution of mining technology.
Thistle
Distance from Salt Lake City: 73 miles.
Thistle's story diverges from the typical narrative of ghost towns near Salt Lake City, with its roots firmly planted in railroad history. Urban explorers and railroad aficionados can survey the relics of train routes and the community that thrived among them until time and nature dictated otherwise. The visible aftermath of the sweeping landslides offers a compelling backdrop for visitors to reflect on the town's past and the irresistible force of change.
Castle Gate
Distance from Salt Lake City: 107 miles.
Castle Gate, a reminder of Utah's rich mining and railroading past, is now a silent enclave marked by its impressive rock formations and tales of tragedy and daring heists. The site, now a ghost town near Salt Lake City, invites history buffs and explorers to discover the echoes of Butch Cassidy's exploits and the poignant memory of the 1920s mine disaster through educational exhibits amidst a rugged landscape.
The 16 Best National Parks to Visit in June For Summer Fun
Are you looking for the perfect summer adventure? Look no further than these top national parks to visit in June! From the stunning wildflower displays at Lassen Volcanic National Park to the world-class whitewater rafting at New River Gorge National Park, this article provides insider tips and recommendations for an unforgettable outdoor experience. Don't miss out on the chance to explore these breathtaking natural wonders during one of the best months of the year!
6 National Parks To Avoid This Summer (And The Alternatives)
Are you planning a summer trip to a national park but want to avoid the crowds? Look no further than this article, which provides insider tips on which popular national parks to avoid and offers recommendations for six alternative destinations that offer unique experiences and stunning natural beauty. From exploring rugged peaks and pristine lakes at North Cascades National Park to discovering the geological history of Capitol Reef National Park, this article has everything you need to plan an unforgettable outdoor adventure this summer.
Best 16 Utah Vacation Spots
Are you looking for an unforgettable vacation spot with breathtaking natural beauty? Look no further than Utah! With stunning national parks like Zion and Bryce Canyon, as well as unique attractions like the Homestead Crater and Dead Horse Point, Utah has something for everyone. This article provides insider tips and recommendations for the best places to visit in Utah, from hiking to skiing to soaking in natural hot springs. Don't miss out on the chance to explore this incredible outdoor playground!
5 Waterfalls in Zion National Park For A Fabulous Day Out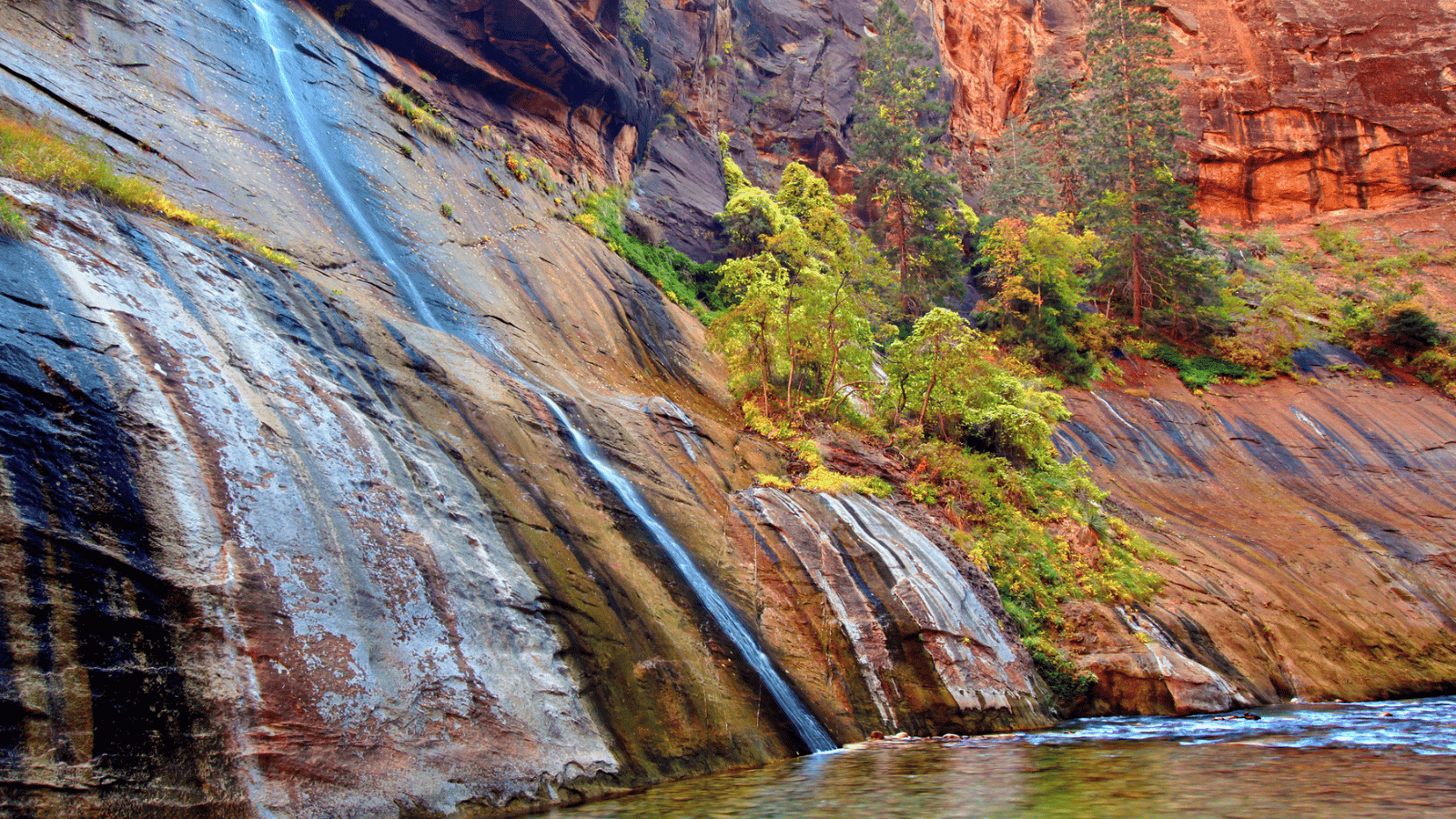 Are you a nature enthusiast looking for an outdoor adventure that will take your breath away? Look no further than Zion National Park in southwestern Utah! This article explores the park's stunning waterfalls, including the moderate hike to Archangel Falls and the more challenging Upper Emerald Pools. But that's not all – the article also highlights other natural attractions in the park, such as The Great White Throne and the Court of the Patriarchs. Don't miss out on the chance to explore this gorgeous landscape and experience the beauty of Utah's unique natural wonders!