Daniel is a copywriter who has well and truly been bitten alive by the 'travel bug'. After ticking off several North American National Parks and exploring Europe by train, his sights are now set on South East Asia. Usually with at least one camera locked and loaded, you'll find Daniel wherever there are mountains, lakes or beaches.
Discover the allure of Hawaii beyond its awesome beaches and dive into the tranquil beauty of its lakes.
From freshwater fishing reservoirs to serene spots for hiking and picnicking, these bodies of water provide a unique perspective of Hawaiian flora, fauna, and history. So, let's embark on a journey through the Aloha State to its most beautiful lakes!
Waita Reservoir
Surrounded by towering mountains and nestled near the historical Old Koloa Sugar Mill, Waita Reservoir, Kauai, is an adventure seeker's delight. While on private land, access is possible through ATV or angler tours, making it a prime spot for lovers of bass and tilapia fishing. The truly adventurous can really find their thrills here with the option to zipline over the forest and across the water.
Lake Waiau
Positioned at 13,020 ft on Mauna Kea is Lake Waiau, one of America's highest lakes. It carries historical significance, being named after snow goddesses in Hawaiian culture. Although water activities are off-limits, the hike up to Lake Waiau is a fun adventure, and you won't find a much better spot to stargaze as the sun sets and the night sky bursts into life!
Wahiawā Reservoir
The Wahiawā Reservoir, also known as Wilson Lake, lies in the heart of O'ahu and is Hawaii's second-largest artificial body of water. Surrounded by a wooded shore, it's a perfect spot for a leisurely picnic. For fishing enthusiasts, the lake provides an opportunity to catch species like bass and catfish, though it's a catch-and-release site. Boats launched from the Wahiawā Freshwater State Recreation boat ramp are welcome, making it a sought-after destination for those looking to reel in a big catch.
Violet Lake
Nestled in Maui's dense rainforest, on Mauna Kahalawai, lies Violet Lake, a must-visit site for nature lovers. The lake gets its name from its surface's color and the Maui violets that bloom along the banks. The area is full of unique wildlife and flora, attracting scientists and locals alike. For the adventurous, a hike to the Mauna summit promises breathtaking views.
Halulu Lake
Experience Hawaii's grandest natural lake, Halulu Lake, which boasts up to 150 hectares of natural freshwater surrounded by verdant trees and sandy shores on the island of Niʻihau. Avian fans can spot an array of Hawaiian bird species, including the stilt, coot, and duck. The lake bears historical scars, too. Soon after the attack on Pearl Harbor, trenches were dug to prevent Japanese aircraft from landing and using the island as a military airfield. This led to a Japanese pilot crashing and what is known as the Niʻihau incident to play out, where the pilot tried to escape by taking hostages before being killed by the island's residents.
Waiākea Pond
Waiākea Pond, located in Wailoa River State Park, is a picturesque spot for nature walks amidst ornamental gardens and stretches of lawn. Bird lovers can spot species like the Hawaiian goose and osprey. A visit to the Wailoa Center enhances the experience with displays of local art. Fishing is also a draw, with species like mullet and āholehole available, but remember to stick to the 20-fish limit.
Hālaliʻi Lake
Hālaliʻi Lake, located beside Halulu Lake on Ni'ihau Island, holds the distinction of being Hawaii's largest lake. Its name is steeped in local lore, potentially tied to a high chief or a trickster god. The shoreline, adorned with Makaloa sedge, is a refuge for wetland birds. The lake also supports fish farming, contributing to regional markets in Kauaʻi and Oʻahu.
Ka Loko Reservoir
On the northern rim of Kauai Island lies Ka Loko Reservoir, a human-made waterbody with a history as turbulent as its peaceful surroundings are beautiful. A heavy downpour in 2006 led to a dam burst, a grim event seared into local memory, where tragically, seven people lost their lives. Despite the scar, its location, with the Moloaa Forest Reserve in the backdrop, ensures it retains a certain picturesque charm.
Nuuana Reservoir
At the heart of Oahu, you'll find the serene Nuuanu Reservoir. An angler's paradise, the reservoir offers freshwater fishing, teeming with rainbow trout and catfish. Its scenic surroundings, characterized by lush greenery and majestic mountain views, make it perfect for hiking and picnicking, providing a refreshing escape into nature.
Puu Puai Reservoir
On Kauai Island, Puu Puai Reservoir offers a rewarding freshwater fishing experience stocked with species like tilapia, catfish, and largemouth bass. Its setting, encircled by stunning mountain panoramas, provides an appealing backdrop for anglers and outdoor lovers alike, making it a serene getaway for those in search of tranquility.
Lake Laysan
Lake Layson, located on Laysan Island or Kauō, is a distinctive sight. Secluded within the Northwestern Islands' Papahānaumokuākea Marine National Monument, this 100-acre hypersaline lake is nestled within a coral atoll, creating a floating island panorama. Home to nesting seabirds and migratory shorebirds and blanketed with white sand and diverse plant life, it makes for a unique exploration, but you do need special permission to visit!
The 16 Best National Parks to Visit in June For Summer Fun
Are you looking for the perfect summer adventure? Look no further than these top national parks to visit in June! From the stunning wildflower displays at Lassen Volcanic National Park to the world-class whitewater rafting at New River Gorge National Park, this article provides insider tips and recommendations for an unforgettable outdoor experience. Don't miss out on the chance to explore these breathtaking natural wonders during one of the best months of the year!
6 National Parks To Avoid This Summer (And The Alternatives)
Are you planning a summer trip to a national park but want to avoid the crowds? Look no further than this article, which provides insider tips on which popular national parks to avoid and offers recommendations for six alternative destinations that offer unique experiences and stunning natural beauty. From exploring rugged peaks and pristine lakes at North Cascades National Park to discovering the geological history of Capitol Reef National Park, this article has everything you need to plan an unforgettable outdoor adventure this summer.
Best 16 Utah Vacation Spots
Are you looking for an unforgettable vacation spot with breathtaking natural beauty? Look no further than Utah! With stunning national parks like Zion and Bryce Canyon, as well as unique attractions like the Homestead Crater and Dead Horse Point, Utah has something for everyone. This article provides insider tips and recommendations for the best places to visit in Utah, from hiking to skiing to soaking in natural hot springs. Don't miss out on the chance to explore this incredible outdoor playground!
5 Waterfalls in Zion National Park For A Fabulous Day Out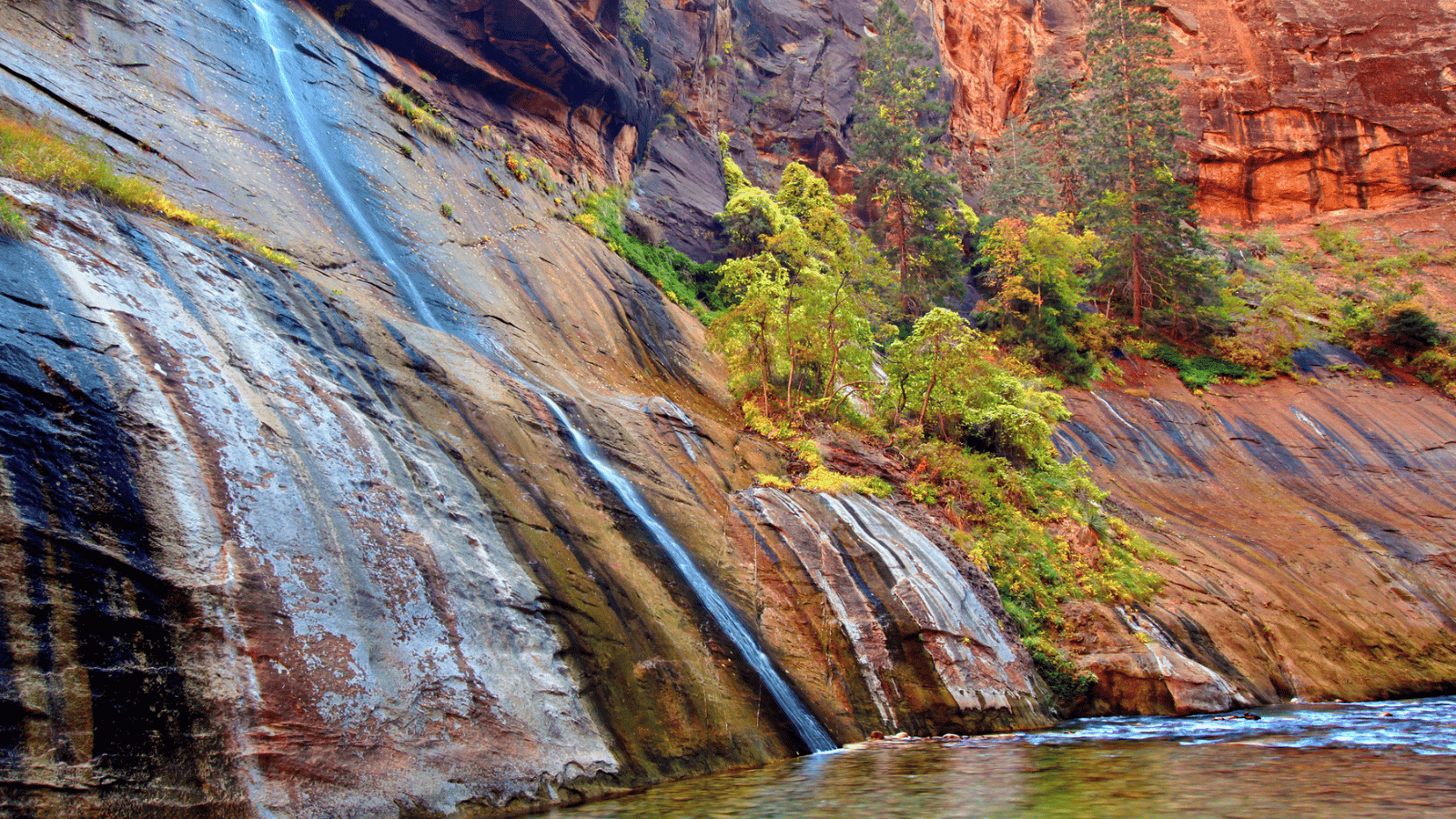 Are you a nature enthusiast looking for an outdoor adventure that will take your breath away? Look no further than Zion National Park in southwestern Utah! This article explores the park's stunning waterfalls, including the moderate hike to Archangel Falls and the more challenging Upper Emerald Pools. But that's not all – the article also highlights other natural attractions in the park, such as The Great White Throne and the Court of the Patriarchs. Don't miss out on the chance to explore this gorgeous landscape and experience the beauty of Utah's unique natural wonders!