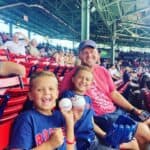 Jake Cain is an entrepreneur and writer from Cincinnati, Ohio. He spends his free time driving around the country in his late 90's conversion van, affectionately known as the "Monster Van" with his wife and 3 boys.
We started out by learning that what qualifies as "free breakfast" at a hotel has been temporarily changed for Covid-19.
Waffle makers, eggs, bacon, and all of their tasty cousins are clearly too dangerous, so we settled for cellophane-wrapped apples and Nutrigrain bars…
These are clearly first-world problems and not a big deal at all – I just had a nice morning chuckle at how any attempt at a nice-looking presentation goes out the window too.
They have this really nicely equipped breakfast area blocked off, and they had a random hightop table in the lobby with a smattering of instant oatmeal packs and breakfast bars.
It kind of looked like the front desk guy called one of his buddies from college and said "Hey man I need a favor. I forgot we told these people they get breakfast… can you just grab some stuff from your cabinets and run it over? Just throw it on a table in the lobby."
Maid Of The Mist
Feeling fully nourished, we headed towards Niagara Falls and the famed Maid of the Mist boat tour. They've been running this thing since 1846, which I found shocking.
Grayson was a little unsure about the whole thing and was admittedly nervous.
We had told them all that we were going to get wet, so he was convinced the way that happened is that our boat was going to ride underneath the waterfall and let the water dump right on top of us.
Once he got a peek at the size of the waterfalls he thought we were going to float under, he was pretty adamant that he was skipping the boat tour.
I assured him we wouldn't actually go under the falls, and we'd get wet from the mist.
Then, you have conversations like:
"Dad, what's mist?"
"Mist is like when water hits other water and there's this water that floats in the air… I don't know how to describe what mist is – but we're riding it."
Parenting is fun.
I'd done the Maid of the Mist tour with my parents years ago, and it's one of those experiences that's hard to mess up (which is probably how you stay in business for 160+ years).
They basically ride you out into the middle of horseshoe falls and you get to see them up close & personal while getting completely soaked.
It's totally worth it and was a big hit with the kids.
Cave of the Winds
The next stop we made was to the Cave of the Winds, where you walk out on this wooden deck and get close enough to touch the American Falls.
At this point, Grayson was already wet and ready for more. He was jogging ahead of us on the steps, heading up to the next level on the way to the "hurricane deck" where, as the name suggests, you get completely pounded by wind and water until the pain and discomfort becomes too much to bear.
It's really fantastic.
While Grayson was hurrying us along, I found myself wondering how they actually built this thing. It looked like a fairly standard deck, and I was looking over the edges trying to figure out how they secured this thing to moss-covered, jagged rock that has water beating down on it constantly.
I'm not Bob Vila, but as you can see below, a lot of the support boards seemed to be pointed out at random angles that made me hope this thing wasn't somebody's DIY project.
It seems like the Cave of the Winds has to come crashing down at some point, but thankfully that day wasn't today.
The Hurricane Deck was really the highlight of this thing.
They give everyone a standard-issue poncho, but if you go stand directly under the waterfall on the hurricane deck, that poncho doesn't stand a chance.
Grayson loved it so much, we could hardly get him to leave. He just stood under the pounding water and screamed and laughed as other groups of people came and went.
Eventually, we made him leave – but it was definitely the highlight of his day.
Masked Memories
Of course, masks are required in all indoor places, etc. and encouraged when you're in lines are generally unable to be socially distanced.
Before you go through the Cave of the Winds attraction, they make you take a green screen photo so they can sell you stuff later.
They said, "go ahead and take your masks off for the picture."
We started to, then I said "Nah, we're good."
Now we can treasure forever that time we went over the falls in a barrel with our masks on.
Anchor Bar Chicken Wings
Although I never had the chance to meet her in person. In 1964, Teressa Bellissimo did something that's had a profound impact on my life.
She invented the Buffalo chicken wing.
The "Buffalo wing" was created at Anchor Bar in Buffalo, NY.
We didn't make it to the original location, but we had a chance to get some wings to go at their Niagara location and they didn't disappoint.
Toll Roads & Price Gouging
Toll roads really bother me. I know it's commonplace in the Northeast, so it didn't come as a surprise – but it's still super annoying.
Unfortunately, our trip from Niagara to Albany was almost exclusively on a toll road.
I always find myself thinking, is this toll road that much better than the other free highway I was on yesterday where I should have to pay for the privilege of driving on it?
Actually, it's much worse.
It's what I imagine highways in Russia are like. You have extremely limited options for stopping – usually just a stop that has a single gas station/rest stop/restaurant all in one and they all feel exactly the same.
I foolishly decided to stop at a toll road McDonald's, and when I was about halfway done with my ordering I realized I was about to pay $7 for a Happy Meal. Yay!
I couldn't help but think of this Seinfeld bit about food prices at the airport:
Fortunately, not everything we experienced along the toll road was bad.
Bedford errr… Seneca Falls
I'm assuming that watching It's A Wonderful Life is one of your Christmas traditions.
Though the charming small town of Bedford Falls doesn't really exist, there's a pretty convincing case that the creator of the movie based the fictitious town off of Seneca Falls in New York.
(Spoilers ahead if you've never seen this 1946 classic)
In particular, the bridge where George Bailey attempts to take his own life, before meeting his angel, Clarence is a dead ringer for this old bridge in Seneca Falls.
We've probably all had a George Bailey moment in 2020 where we thought, "ok, I can't do this anymore…"
Here's my reenactment:
The town does have a museum about the movie which doesn't really have any film-used artifacts, but a bunch of history on display about the film.
It's only open on weekends, so we didn't get to walk through – but we were peeking in the window and the guy who owns the place came and opened the door and told us a little more about it.
Apparently, Zuzu and George Bailey's other kids in the movie as well as Harry Bailey's wife (yes, she's still alive) come to Seneca Falls once a year for a little It's A Wonderful Life festival the town puts on.
Other fun movie references include the streets they've renamed for various characters, and bells people have tied to the bridge:
It would be pretty cool to go back to Seneca Falls in December and get caught up in the Christmas spirit, but to me, it was one of those places that once you've seen it, you'll probably never go back.
Nevertheless, I'm glad we stopped by.
If you've never seen the movie and are feeling a little down today, let me close this post with a classic quote from the end of the movie: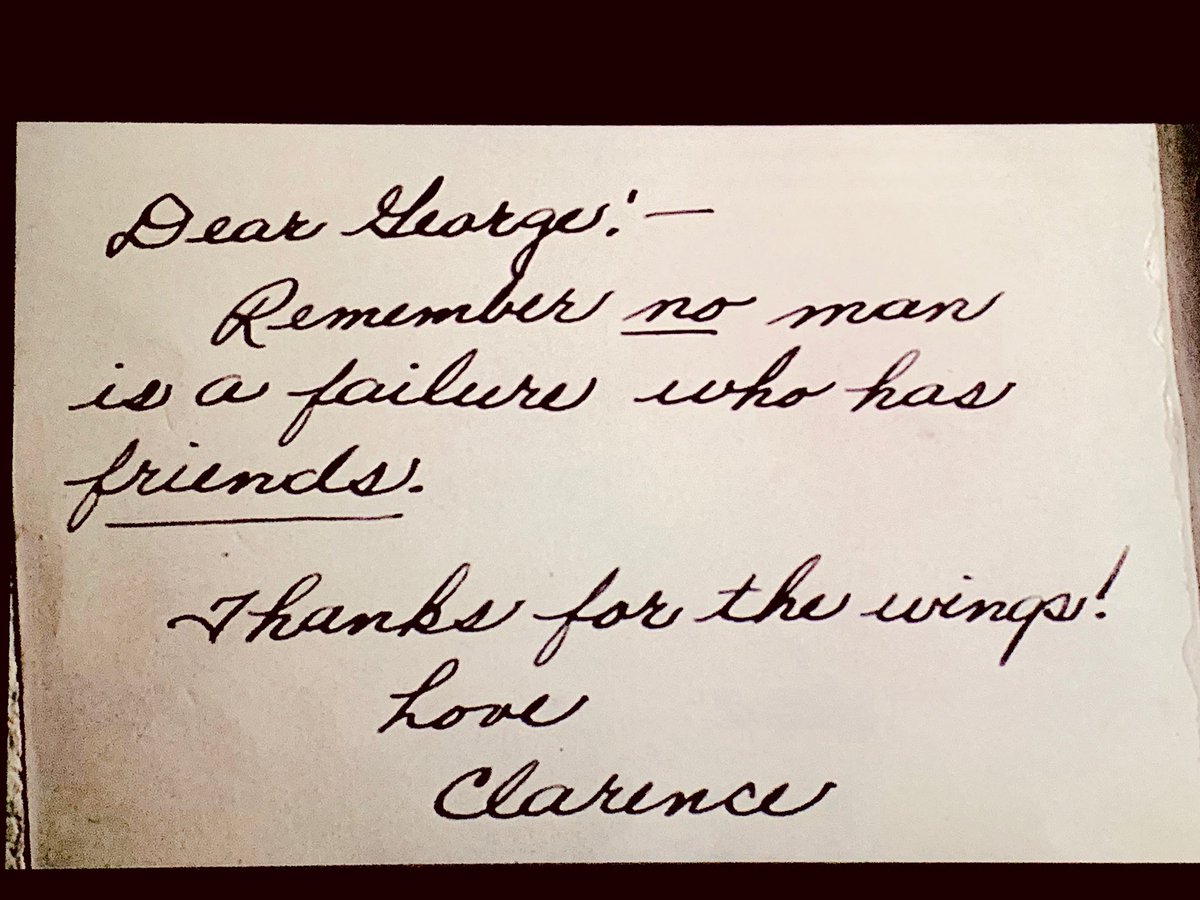 If you're reading this article because you saw it on my Facebook page, you're my friend…
So chin up.
Also, if you've never seen It's a Wonderful Life – you're completely missing out and shouldn't let one more Christmas pass without making it part of your family tradition.
Up Next
We're meeting up with some friends in a place we've never been…
From here one out, we'll be staying places for days/weeks at a time – so my updates probably won't come everyday – but I'll be sure to share more stories from the road… school.