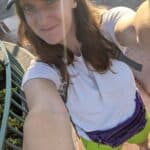 Kelsey is a freelance writer based in Southern Virginia. She enjoys traveling with her family to destinations from national parks to amusement parks and loves sharing tips and stories from along the way.
Whether you're looking for seafood, soul food, or barbeque, there's only one Food Network chef we'd trust to point out the tastiest eats in any state across the nation!
Here are ten delicious restaurants in North Carolina that Guy Fieri has visited. Try not to drool on the keyboard!
South 21 Drive-In, Charlotte
This old-fashioned eatery delivers 1950s-style driving in dining and flavorful dishes. Enjoy comfort food favorites like hamburgers, BLTs, and jumbo onion rings, and don't forget to give the Fish-O-Burger a try! South 21 Drive-In is a fun and affordable option that you definitely can't miss.
JJ's Red Hots, Charlotte
This spot's website wants to clear one thing up- JJ's Red Hots in Charlotte, NC isn't a restaurant; it's a hot dog joint. If that doesn't sound exciting to you, then you're dead wrong. This joint serves up hot dogs and sausages loaded with every topping you can imagine. If you're not a hot dog fan, you can still swing by and order one of their sandwiches, wings, or mouth-watering sides.
The Brine and Bottle, Nags Head
If you're looking for someplace a bit more upscale, head to The Brine and Bottle in Nags Head, NC. This modern restaurant offers dishes that highlight the seafood of the region, such as fried oysters and soft-shelled crab. Sip a glass of wine with your meal as you look out over the water. It's the perfect vacation destination or a great special event restaurant for locals, too.
Something Fishy, Wilmington
There are plenty of seafood restaurants out there, but Something Fishy is something special! This homey restaurant serves delicious dishes including fried shrimp, oysters, hush puppies, and more in a casual and comfortable environment.
Heist Brewery, Charlotte
If all of this delicious food has made you thirsty, head over to Heist Brewery. This watering hole has a relaxed atmosphere where you can enjoy a wide variety of craft beers. There are plenty of tasty food options too, including cheese fries and chicken waffle tacos.
Bang Bang Burgers, Charlotte
An old favorite, but make it fancy! At Bang Bang Burgers, you'll find gourmet burgers with a variety of toppings served on scratch-made local buns. To make it all even better, there's plenty of outdoor seating where you can enjoy the sunshine while you eat your food.
Bar-B-Que King, Charlotte
It's a well-known fact that the most modest exteriors house the best barbeque, and Bar-B-Que King in Charlotte is no exception. Pull up to a speaker and order your double-patty po boy, hush puppies, and more comfort classics. Guy Fieri even mentioned the chicken on the Food Network show "Best Thing I Ever Ate."
Papi Queso, Charlotte
If grilled cheese sandwiches fill you will delicious nostalgia, run, don't walk, to Papi Queso! With flavors like Bacon Jalapeno and Mushroom, these grilled cheese sandwiches are perfect for grown-up tastes, and there are plenty of kid-friendly options, too.
Ceviche's, Wilmington
At Ceviche's, you can enjoy authentic Panamanian cuisine. The chef is inspired by his childhood in Panama, fishing with his dad and preparing fresh and delicious dishes. While you're there, don't forget to try the spicy margarita!
Floyd's 1921 Restaurant, Bar, and Catering, Morehead City
No matter what you're craving, you can find it at Floyd's 1921 Restaurant, Bar, and Catering. This eatery serves up everything from ribs to blue cheese grits topped with oysters. Don't miss their Sunday Brunch, complete with fresh-made pastries!
North Carolina Restaurants Featured on Diners, Drive-Ins, and Dives
Still hungry? There's more where that came from! Check out all of these NC restaurants visited by Guy Fieri on Diners, Drive-Ins, and Dives.