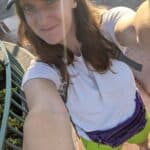 Kelsey is a freelance writer based in Southern Virginia. She enjoys traveling with her family to destinations from national parks to amusement parks and loves sharing tips and stories from along the way.
Vacations have always been a time to let loose and relax, and they're often boozy affairs. With more and more sober and sober-curious travelers out there, however, hooch-free vacation experiences are rising in popularity.
If you're looking for a way to enjoy your trip without imbibing, consider one of these sober vacation experiences.
No-Booze Bars
Also called sober bars, no-booze bars are cropping up as a fun way to meet people and enjoy the nightlife without consuming alcohol. These bars serve nonalcoholic drinks like mocktails and kombucha, and they're a neat way for sociable travelers to connect without the pressure to drink.
Outdoor Adventures
Chase an adrenaline high with exciting outdoor activities like windsurfing, kayaking, or hiking. These heart-pumping activities can be an excellent substitute for sipping a drink, and they're sure to keep you and everyone in your group entertained. In fact, there are sober tour groups who will help you schedule these types of activities.
Alcohol-Free Cruises
True, sipping a cocktail by the pool seems like a massive part of cruise culture. However, several cruise lines, including Princess, Norwegian, and Royal Caribbean, offer alcohol-free cruises. Cruisers can play games on these trips, sip nonalcoholic frozen drinks, and connect with other sober travelers. The views aren't bad, either!
Theater Events
Next time you're in a major city like New York, why not skip the bar scene and head to the world-famous concerts, plays, and Broadway shows that can be found here? Often food and drinks aren't allowed in these events anyway, so enjoying the show sober will be easy.
Yoga Retreats
As a sober traveler, you may be more focused on wellness than in your drinking days. You can connect with like-minded individuals at a yoga retreat while cultivating inner peace. Best of all, healthy eating and drinking practices will be supported by all!
Spas
Just because you're sober doesn't mean you can't treat yourself! Instead of indulging in alcoholic beverages, indulge in luxurious treatments at a spa. Without alcohol, travelers can fully indulge in the spa's amenities, from massages and facials to saunas and hot tubs, and emerge feeling refreshed and renewed.
Sunrises and Early-Morning Strolls
Vacationing without a drink in hand means waking up without a hangover. Capitalize on that clear-headed feeling to wake up early and take in the sunrise, an early-morning stroll, or the crash of waves on a beach.
8 Most Unique Places To Kayak In The US- Stunning Beauty
Looking for a unique and thrilling way to explore the natural beauty of the United States? Look no further! From the bioluminescent bays of Puerto Rico to the rugged beauty of the Apostle Islands in Wisconsin, there's something for every adventure seeker.
The 10 Most Beautiful Hikes In The US- Discovering America
This article highlights the most beautiful hikes in the US from California to Maine. Whether you're a seasoned hiker or just starting, there's a trail on this list that will leave you awe-inspired. So, put on your hiking boots and get ready to explore the diverse and awe-inspiring landscapes of America's most beautiful hiking destinations.
10 National Parks To Skip If You Have Young Children
This article is a must-read for planning a national park trip with young children! Don't get stuck in rugged terrain, limited water access, or super-long hiking distances with your kiddos! Learn about the challenges and potential dangers of visiting these parks with young children and plan your trip accordingly for a safe and enjoyable experience.