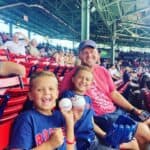 Jake Cain is an entrepreneur and writer from Cincinnati, Ohio. He spends his free time driving around the country in his late 90's conversion van, affectionately known as the "Monster Van" with his wife and 3 boys.
As the national average gas price is set to drop to $3.25 per gallon, American families are looking forward to saving a whopping $573 million during this year's holiday travel compared to last year.
Key Takeaways:
Gas prices have dropped to their lowest since February.
41% of Americans, an 8% increase from 2022, plan to take a road trip this Thanksgiving.
High gas prices affected fewer respondents' (36%) holiday plans this year than in 2022.
---
The American spirit of the open road can't be dampened, especially not during the holiday season. According to a Thanksgiving Travel survey conducted by GasBuddy, the falling gas prices are proving to be a boon for many families planning to hit the road this Thanksgiving.
In a twist of economic events, inflation seems to be cooling off, with falling gas prices acting as a significant contributor. Don't just take my word for it. The inflation cool-down has been acknowledged by NPR in a recent article, directly tying falling pump prices to a slowdown in overall inflation last month. This is a much-welcomed relief, particularly for those considering a long drive to spend Thanksgiving with loved ones.
It's indeed heartening to see an 8% rise from last year in Americans planning a Thanksgiving road trip. This trend testifies to our adaptability and resilience, even in the face of economic challenges.
However, despite the positive trend, not everyone can partake in the resurgence of Thanksgiving travel. For 19% of respondents, inflation has made it difficult to fit travel into their budget – a sobering reminder that not all are benefiting from the falling pump prices.
Interestingly, the survey also reveals a decrease in the number of people whose travel plans are affected by gas prices. It's a shift demonstrating the optimism inspired by these falling prices, giving Americans more freedom to travel and celebrate the holiday season.
And what about the environmental aspect of our travel plans? The survey shows a growing interest in electric vehicles (EVs), especially among 18- to 29-year-olds. This trend underscores a growing consideration for our environmental footprint.
However, let's not forget that while falling prices at the pump are definitely a cause for celebration, they are not a panacea for all financial concerns.
As NPR's Scott Horsley noted, falling inflation doesn't mean prices will revert to pre-pandemic levels. It merely means the price increase rate slows down. That's why, as we plan our road trips and look forward to Thanksgiving, it's crucial to be mindful of managing our finances.
As you prepare for your journey, plan wisely, travel safely, and, most importantly, enjoy the ride. After all, it's not just about the destination but the shared experiences and memories that make the Thanksgiving journey worthwhile.