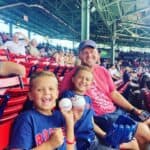 Jake Cain is an entrepreneur and writer from Cincinnati, Ohio. He spends his free time driving around the country in his late 90's conversion van, affectionately known as the "Monster Van" with his wife and 3 boys.
One of the most common questions I get from friends and family about our longer road trips is:
"How do you plan a trip like that?"
In the majority of the aspects my life, I am not a planner. However, when we're going out of town – I like to plan that out.
There's nothing worse than being in a new town and eating a crappy dinner because you didn't read enough restaurant reviews.
Planning a multi-week trip is time consuming and a daunting task. However, when it pays off with an amazing experience, it's totally worth the time invested.
In no particular order, here are some rules, tools, and thoughts that guide how I plan out extended road trips.
What's Most Important?
If you're shooting for a multi-destination trip, you've got to start with a list of the most important things you want to see.
Odds are, based on time restrictions you'll end up having to cut some stuff. So it's important to know what you REALLY want to see the most.
Then, as you're planning out your route from A to B and so on, you'll find some fun photo opps, restaurants, and quick stops along the way to round out the trip.
Use RoadTrippers
Though their free tool isn't as robust anymore, I still use Roadtrippers.com to plan long trips.
Start by creating a trip and adding some of those important points of interest. It will automatically create the ideal route for you like this:
Then, you can turn on different features like points of interest, food & drink, camping, and much more – to pull up points on the map that might interest you.
Looking for somewhere to stop during that boring Nevada desert drive?
Want to camp along your route to Bryce Canyon?
You get the idea…
Bust Out The Spreadsheets
I called this site "Sampling America" because on trips like this, we don't stay in any one place very long.
I know to some prefer to pick a single national park and stay for a week – but that's just not our style.
We like to pack in a lot of stuff.
So on our 2019 trip, we're going to be gone for 29 nights and the longest we stay in one house is 3 days.
This is where starting a spreadsheet (I use Google Docs) is super handy. Ours looks like this:
The biggest thing this helps me keep straight is where we're staying on a given night.
As I start booking hotels, AirBnB's, etc. all those check-in and checkout dates get confusing.
My worst travel nightmare is realizing that we're about to leave and suddenly discovering that I'm one day off with every date I've booked.
Here's a live look at me the night before we leave, convinced that I've screwed something up:
Some of the other notable things I put in the sheet are:
Day of the week – It's helpful with thinking about your activity planning. It's not uncommon to run into places that are closed on Sundays or other quirky scheduling details that you'd miss if you're only looking at calendar dates like "June 23rd"
Activity – I do a more detailed breakdown later, but for now just a few words about the main thing we're doing that day so I know that no day is wasted.
Do they have laundry? When you're gone for 4 weeks, it's good to have at least one place a week where you can conveniently do laundry.
Do they have an indoor pool? We could get lucky and see Halley's comet over the Grand Canyon and my kids would still be asking "when can we swim?"
I also keep track of prices for our lodging on this spreadsheet – as it's an easy way to add your total cost as you go.
Mix In Some Hotwire
We're not exactly traveling on a shoestring budget, (or we'd be sleeping in the back of the Monster Van) but I don't like spending more than I have to.
So when looking for hotels, I usually make sure I search Hotwire before I make a decision. It used to be kind of difficult to figure out which hotel you were getting – but now they give you all the Tripadvisor reviews and other details that make it very simple.
Of course with Hotwire, you're getting a discounted rate and you're agreeing to a no refund, prepayment deal.
That's not ideal, but if you're pretty much locked into your trip it's worth looking to see what deals are available.
It's weird – sometimes you're only saving $10 per night, which isn't worth it at all. Other times, you can legitimately save $50 – $80 per night on a room compared to booking on Expedia or through the hotel website.
If I can find savings that significant, I'll go ahead and book via Hotwire and put that extra money towards better food or entertainment.
My suggestion is to have TripAdvisor open in one tab and Hotwire in another as you're looking for a place to stay.
Free Breakfast is Your Friend
Judge me if you must, but we're not big camping people.
I'll camp for a night or two, but after I finish up my inevitable chiropractor visit I'm pulling out my phone to find a hotel.
Plus, I've found that most campgrounds don't leave a mint on my pillow, and that's just one of those little things I have a hard time living without.
Seriously though, when you're traveling with a family – finding those little 2.5 star places with a free hot breakfast is a huge benefit.
Everybody (except Sarah who says breakfast makes her more hungry) loads up on yogurt, fruit, waffles & more which gets our day started out right.
Many times, this also means that we can skip lunch and do a grandpa dinner at 4:30 or 5:00.
Worst case, we'll keep some snacks around to shut-up whiny kids throughout the day.
However, doing the free breakfast and skipping or snacking for lunch really opens up what's possible with dinner.
Eat Awesome Food
It was Jim Gaffigan who said "That's all a vacation is – just us eating in a place we've never been." 
I laugh because it's so true.
We tend to lean towards barbecue, Mexican, burger joints, and other offbeat or iconic road food stops when we vacation.
Perhaps your tastes are different – but the food you get to eat practically makes the vacation!
So if you've had a free breakfast and packed snacks for lunch – find yourself somewhere awesome to have dinner. Since you've kinda spent $0 on your first 2 meals of the day, you should feel a little better about splurging on a nice meal.
I usually just search Google for whatever kind of cuisine sounds good – like "best barbecue in Kansas City" and start reading reviews and menus on Google, Yelp and TripAdvisor.
That's how you find places like the legendary Joe's Barbecue situated in a gas station:
Either way – I'm good with doing quick fast food stops when we're driving between destinations, but when you're in a new city – don't you dare go to somewhere like Red Lobster!
Plan Something For Everybody
I distinctly recall when we were kids and our parents took us on some kind of colonial America themed vacation.
We wanted waterslides and instead we got audio tours of The Hermitage.
Mom and dad loved it, but we were listening to park rangers talk about challenges of 18th century farming looking like this:
I don't recall for sure, but we might have voiced our displeasure a couple of times.
When you're planning a big trip, it's important to have at least one day that everyone in your group is pumped up about.
That day might be a different day for every person in your group – and that's just fine.
For example, we've sandwiched a day at Disneyland between some national parks and scenery days that our kids won't care about.
We're going to a couple of baseball stadiums we've never been to – including Dodger Stadium – which is something me and my dad are really excited about.
For my mom we're going to the Jackson Hole Rodeo…
You get the idea.
Print Out The Details
Something I did for our 2019 trip that I'm really excited about is write down and print out a very detailed itinerary.
This includes addresses to hotels as well as restaurants and other attractions that I know we'll be stopping at on a given day.
I had a graphic designer turn my ugly Google doc into this nice looking PDF and printed it out:
This is helpful in a couple of ways:
I'm not spending parts of every day searching through emails to find out the address to put in my GPS.
I'm not preoccupied with trying to figure out what to do, where to eat, etc. every night when we're sitting in the hotel.
I love the idea of being spontaneous and just figuring it out, but I've found that lack of preparation brings more stress to your trip and can cause you to miss out on something you would have loved to have seen (if only you would have researched ahead of time.)
Wrapping Up
If you're planning a multi-destination road trip of your own, I'd recommend starting at the top – which places are "can't miss" for you?
Once you decide that, just start working through it one day at time and before you know it, you'll be well on your way to planning something really cool.