Megan Bryant is a passionate writer and traveler who has combined her two loves to help others fulfill their traveling dreams. When she isn't writing, she's usually curled up with her 3 Dachshunds and a good book or planning her next adventure—wherever that may be.
California has more National Parks than any other state, and with gorgeous beaches, desert landscapes, and forests filled with giants, it probably comes as no surprise that so many people flock to California to experience the best of America's nature.
One of the best ways to get a true feel for California's National Parks is to camp, and although you can't just pitch a tent wherever you want, there are certain areas that allow you to camp amongst the wilderness. If you want to explore and camp in some of California's National Parks, then here are ten great options.
Castle Mountains National Monument
Okay, technically, Castle Mountains National Monument isn't a National Park, but it's close enough. The National Monument sits on the outskirts of the Mojave desert and offers a combination of the landscapes you'd find in the Mojave and the Joshua Tree National Park. But what makes the National Monument a great place to camp is its three campgrounds that work on a first-come, first-served basis.
If you are planning to visit Castle Mountains, then it's recommended to take an all-terrain vehicle as well as plenty of water as the roads and temperatures in the National Monument are harsh and sweltering. With views of the Joshua Tree forests and the distant mountains, Castle Mountain—especially at sunrise and sunset—is an incredible place to camp and should be considered when choosing a National Park in California—despite it not actually being a National Park, however.
Channel Islands National Park
The Channel Islands National Park consists of five islands off the coast of California—all of which require some kind of boat to get there. Once you reach one of the islands—whether that be by private boat, kayak, or ferry—you'll be navigating the park by foot, so you may want to pack lighter than usual.
Each island has a single campground, and two of the islands—Santa Cruz Island and Santa Rosa Island—allow backcountry camping depending on the time of year. You will need to make reservations at the campgrounds on the Channel Islands, but as the park is so breathtaking, the extra planning is well worth it. No matter which island you decide to explore, you'll have views of the water, access to incredible beaches, and plenty of activities to keep you entertained for days on end.
Death Valley National Park
Death Valley may be the hottest place on Earth, and sure, its name sounds off-putting, but camping in the National Park brings with it some of the best views of the Milky Way—and don't worry, the desert really cools down come nightfall. There are campgrounds in the National Park that provide toilets, water, and trash removal. However, backcountry camping is allowed in some areas of the park.
With sand dunes and salt flats to mountain ranges and fields of wildflowers, Death Valley has a diverse range of landscapes that are just waiting to be explored. So if you can deal with the heat, you'll soon understand why Death Valley is one of the most beautiful and impressive National Parks in all of America.
Joshua Tree National Park
Joshua Tree National Park sees over 3 million visitors each year. And the reason why so many people visit the National Park, well that would be for the Joshua Trees and their unique appearance. Although many people come to the park to see the Joshua Trees, the park also has beautiful canyons, flats, and an abundance of wildlife—all of which thrive in the harsh desert conditions.
With eight campgrounds to choose from, Joshua Tree is an excellent National Park for those who enjoy camping. Just remember to pack plenty of water; you're going to need it!
Lassen Volcanic National Park
The Lassen Volcanic National Park is one of the best places to camp in California as you can secure a campsite—the park has seven campgrounds—with views of the mountains and picturesque lakes. Backcountry camping does require a permit, but it's well worth applying for as 75% of the National Park is designated wilderness with plenty of wildlife and plant species for you to gaze upon.
Mojave National Preserve
A night under the stars in the Mojave National Preserve will be a night to remember—if you can handle the heat, that is. During the day, the Mojave National Preserve can reach highs of 41°C, which is why it's important to pack plenty of water. And if camping in a tent doesn't appeal to you, then you can also camp out in an RV with your aircon blasting in one of the more developed campgrounds.
Pinnacles National Park
Pinnacles National Park is one of the best National Parks for camping if you're new to roughing it in a tent. Many National Parks throughout California have harsh climates and terrain, but the same can't be said for Pinnacles.
In the Pinnacles National Park, you'll be surrounded by rock formations, beginner to expert-level hikes, rock climbing opportunities, and some of the best sunsets you'll ever see in your life. Plus, as you have the option to take your RV or camp out in a tent in the only campground in the National Park, you can camp in comfort if you so wish.
Redwood National Park
Forest campers will be in their absolute element in the Redwood National Park as it's not every day you get to camp amongst giants. The Redwood National Park is home to both Redwood and Sequoia trees—the tallest and largest tree species in the world—and as there are a couple of campgrounds, backcountry campsites, and developed campgrounds to choose from, you can decide how far you delve into the forest and what level of comforts you'd like to have on hand.
Sequoia & Kings Canyon National Parks
Another must-visit National Park with towering Redwood and Sequoia trees is the Sequoia & Kings Canyon National Park. The Sequoia & Kings Canyon National Park has campgrounds for those who want to camp amongst the giants, but you can also backcountry camp at much higher altitudes with views of the park, its trees, and its hiking trails.
One thing we will mention, however, is that bears are common in the Sequoia & Kings Canyon National Park, so you will need to take extra caution when handling food and other scented items. If you've never been camping in the wilderness, then know that there is something so exciting about the experience, and the Sequoia & Kings Canyon National Park is one of the best places for it.
Yosemite National Park
Yosemite is one of the most famous and most visited National Parks in America, so it probably comes as no surprise that it is one of the best parks in California to camp. Yosemite National Park is undeniably beautiful, with deep valleys, high cliffs, and various hiking trails that range in difficulty.
Due to its popularity, you do need to secure a reservation to camp at Yosemite, so it's best to plan your visit as far in advance as possible.
The 16 Best National Parks to Visit in June For Summer Fun
Are you looking for the perfect summer adventure? Look no further than these top national parks to visit in June! From the stunning wildflower displays at Lassen Volcanic National Park to the world-class whitewater rafting at New River Gorge National Park, this article provides insider tips and recommendations for an unforgettable outdoor experience. Don't miss out on the chance to explore these breathtaking natural wonders during one of the best months of the year!
6 National Parks To Avoid This Summer (And The Alternatives)
Are you planning a summer trip to a national park but want to avoid the crowds? Look no further than this article, which provides insider tips on which popular national parks to avoid and offers recommendations for six alternative destinations that offer unique experiences and stunning natural beauty. From exploring rugged peaks and pristine lakes at North Cascades National Park to discovering the geological history of Capitol Reef National Park, this article has everything you need to plan an unforgettable outdoor adventure this summer.
Best 16 Utah Vacation Spots
Are you looking for an unforgettable vacation spot with breathtaking natural beauty? Look no further than Utah! With stunning national parks like Zion and Bryce Canyon, as well as unique attractions like the Homestead Crater and Dead Horse Point, Utah has something for everyone. This article provides insider tips and recommendations for the best places to visit in Utah, from hiking to skiing to soaking in natural hot springs. Don't miss out on the chance to explore this incredible outdoor playground!
5 Waterfalls in Zion National Park For A Fabulous Day Out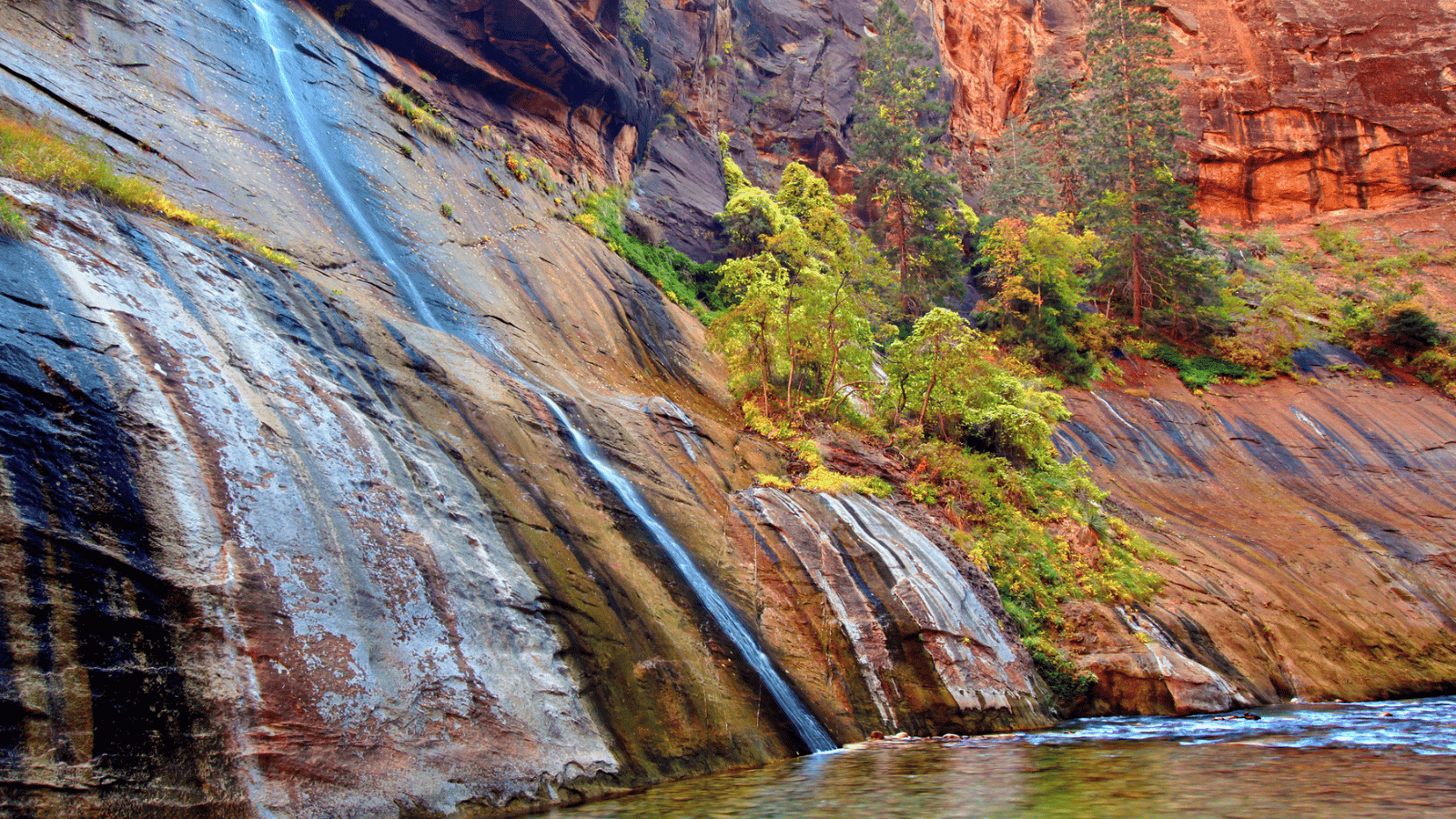 Are you a nature enthusiast looking for an outdoor adventure that will take your breath away? Look no further than Zion National Park in southwestern Utah! This article explores the park's stunning waterfalls, including the moderate hike to Archangel Falls and the more challenging Upper Emerald Pools. But that's not all – the article also highlights other natural attractions in the park, such as The Great White Throne and the Court of the Patriarchs. Don't miss out on the chance to explore this gorgeous landscape and experience the beauty of Utah's unique natural wonders!