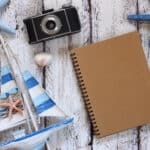 Elizabeth is an experienced traveler and writer with bylines in several popular travel publications. She currently co-owns a small digital travel publication and spends her free time writing, taking photos, and traveling.
The alluring charm of American lighthouses has captured the imagination of travelers since time immemorial. Each lighthouse represents an incredible story, a fascinating history, and a timeless elegance that leaves visitors spellbound.
If you want to explore these magnificent structures, this guide is exactly what you need. From the rugged coastlines of Maine to the sun-drenched shores of California, we've rounded up 12 of the best lighthouse tours in America that will take your breath away.
Portland Head Light, Maine
Perched atop a rocky headland overlooking the Atlantic Ocean, Portland Head Light is one of the most photographed lighthouses in the country. Built in 1791, this historic structure has guided ships through treacherous waters for over two centuries.
Cape Hatteras Lighthouse, North Carolina
Rising 198 feet above the beach, Cape Hatteras Lighthouse is the tallest brick lighthouse in the country. This iconic structure has witnessed countless shipwrecks and has been featured in numerous films and TV shows.
Nauset Light, Massachusetts
Located on the bluffs of Cape Cod, Nauset Light has been guiding mariners to safety since the 19th century. This charming red and white striped lighthouse is a must-see for anyone visiting the East Coast.
Pigeon Point Lighthouse, California
Nestled on a rugged cliff overlooking the Pacific Ocean, Pigeon Point Lighthouse is one of California's most scenic lighthouses. Built in 1871, this historic beacon has survived numerous earthquakes and sits on a stretch of coastline known for its abundant marine life.
St. Augustine Lighthouse, Florida
The oldest surviving brick lighthouse in Florida, St. Augustine Lighthouse, has been guiding sailors since 1874. Visitors can climb to the top of the tower and enjoy panoramic views of the city and the Atlantic Ocean.
Yaquina Head Lighthouse, Oregon
Perched atop a rocky bluff overlooking the Pacific Ocean, Yaquina Head Lighthouse is one of the most picturesque lighthouses in the United States. Built in 1873, this historic tower offers stunning views of the surrounding coastline and is home to a variety of marine life.
Split Rock Lighthouse, Minnesota
Located on the picturesque North Shore of Lake Superior, Split Rock Lighthouse is one of the most iconic lighthouses in the country. Built in 1910, this historic structure has been guiding mariners through the foggy waters of Lake Superior for over a century.
Thomas Point Shoal Light, Maryland
A classic example of a screw-pile lighthouse, Thomas Point Shoal Light has been guiding sailors through the Chesapeake Bay since 1875. Visitors can take a tour of this historic beacon and learn about the life of a lighthouse keeper.
Whitefish Point Light, Michigan
Located on the southern shore of Lake Superior, Whitefish Point Light has been guiding ships through the treacherous waters of the Great Lakes since 1861. This historic lighthouse is home to the Great Lakes Shipwreck Museum, which features exhibits on the area's maritime history.
Fire Island Lighthouse, New York
Flanked by sandy beaches and luscious dunes, Fire Island Lighthouse has been guarding the entrance to New York Harbor since the mid-19th century. Visitors can climb to the top of this historic tower and enjoy stunning views of the surrounding landscape.
Point Reyes Lighthouse, California
Located on the tip of the Point Reyes Peninsula, this historic lighthouse offers stunning views of the rugged California coastline. Built in 1870, Point Reyes Lighthouse is a popular spot for whale watching and scenic hikes.
Cape May Lighthouse, New Jersey
Standing 157 feet tall, Cape May Lighthouse is one of the most recognizable landmarks on the East Coast. Built in 1859, this historic tower has been guiding ships through Delaware Bay for over a century and a half.
8 Most Unique Places To Kayak In The US- Stunning Beauty
Looking for a unique and thrilling way to explore the natural beauty of the United States? Look no further! From the bioluminescent bays of Puerto Rico to the rugged beauty of the Apostle Islands in Wisconsin, there's something for every adventure seeker.
The 10 Most Beautiful Hikes In The US- Discovering America
This article highlights the most beautiful hikes in the US from California to Maine. Whether you're a seasoned hiker or just starting out, there's a trail on this list that will leave you awe-inspired. So, put on your hiking boots and get ready to explore the diverse and awe-inspiring landscapes of America's most beautiful hiking destinations.
10 National Parks To Skip If You Have Young Children
This article is a must-read if you're planning a national park trip with young children! Don't get stuck in rugged terrain, limited water access, or super-long hiking distances with your kiddos! Learn about the challenges and potential dangers of visiting these parks with young children and plan your trip accordingly for a safe and enjoyable experience.