Megan Bryant is a passionate writer and traveler who has combined her two loves to help others fulfill their traveling dreams. When she isn't writing, she's usually curled up with her 3 Dachshunds and a good book or planning her next adventure—wherever that may be.
There are 63 truly remarkable National Parks in the United States that showcase the beauty of nature. From the desert landscape in Death Valley and the glaciers in Elias to the mountains in Zion and the valleys in the Grand Canyon, visiting the National Parks of America is simply a must-do for adventurers and wildlife lovers alike.
In saying that, however, there are a few things you should know before you set off to any of the National Parks—some things that could save your life and others that will make your time in the parks far more enjoyable. Let's check them out.
Check Out the Activities Available in the National Park
Although one of the most popular activities in the National Parks is hiking, it isn't the only activity you can take part in. Some National Parks have incredible white water rafting opportunities, whereas others have rock climbing, mountain biking, or horseback riding.
Doing a bit of research before setting off on your trip can ensure that you experience the National Parks in the best way possible. After all, if you hate hiking, you aren't going to have the most enjoyable time walking around for hours on end. But that really is the beauty of National Parks—there is some kind of outdoor activity that will suit everyone.
Know the Park's Regulations
No two parks are the same, so it's important that you understand the regulations that are in place for the park you're about to visit. Some parks, for example, have parking fees, and others have restrictions on camping and what kind of camping is allowed.
Apply for a Permit or Make Reservations
Permits and reservations are another thing you'd need to think about while planning your National Park trip. If you're planning to camp or park your car at the National Park, then you may need to purchase a permit in advance.
Additionally, certain parks, like Yosemite, require permits for backpacking, overnight climbing, or any other overnight stay in the Yosemite Wilderness, whereas other parks, like the Zion National Park, require a permit to access the Angels Landing Hike—the most popular destination in the park.
Applying for a permit beforehand is inexpensive and fairly easy to do, saving you time and ensuring you aren't turned away from the park.
Book Lodging in Advance
Lodging is another thing you may need to book in advance. If you plan camping—especially in the summer months—then booking a campground is always recommended, as pitches fill up quickly. The same can be said for National Park lodges and lodges in the surrounding areas, so do yourself a favor and book accommodation as soon as possible.
Research the Park
Some people like to visit the parks with no plan in place, and although you can do that, it is always a good idea to at least research restrooms, campsites, trails, water sources, and popular sights.
Having a brief idea of where certain things in the park are will help you prepare for your trip and give you a better idea of the things you need to take along with you.
Pack the Right Things
Speaking of things you need to take along with you—packing the right things can make or break your trip. While packing, take into consideration the activities you'll do in the park, how long you plan to be there, whether you're going to camp or not, and the weather forecast.
Remember that you're going to have to carry your belongings on your back, so you'll want to pack as lightweight as possible without sacrificing essentials like water, food, warm clothing, and camping supplies.
Check the Weather
The weather can and will affect your trip as it plays a factor in the clothes and equipment you'll take to where you'll be staying. It is crucial that you check the weather forecast before you set off, and one of the best ways to do that is on the National Weather Service website.
Remember to check both daytime and nighttime temperatures and pack extra layers if needs be.
Stay Away From Wildlife
America's National Parks are teeming with wildlife—both big and small. Although in the moment, it may seem really cool that you can spot moose, bears, or bison in the distance, you should always give the animals space, as failing to do so could have deadly consequences.
Whenever you're in a National Park—or near any wild animal for that matter—do not approach or try to touch the animal as you never know what they're capable of.
Only Take Your Garbage Home With You
Did you know that removing any natural resource from a National Park is illegal? For this reason, the only thing you should be taking home with you is everything you took into the park in the first place.
National Parks have a leave-no-trace policy, which means that you should always leave the park exactly as you found it. Better yet, pick up trash as you go and dispose of it in a trash disposal area.
You Can Enjoy the National Parks in Luxury
I get it; camping isn't for everyone. But that doesn't mean that visiting the National Parks goes completely out the window. Some National Parks have lodges—-the most famous being the Old Faithful Inn in Yellowstone—with rooms that park visitors can book prior to their trip.
National Park lodges let you experience the park with all your home comforts on hand—definitely worth looking into if roughing it isn't your style.
Your Cellphone May Not Always Work
National Parks are massive—there is no doubt about that—and you may lose cell service from time to time. Although relying on your phone for maps is one of the best ways to navigate the parks, it's always wise to pack a map and a compass just in case your cell service cuts out, your battery dies, or you misplace your phone.
Follow the Park's Safety Precautions
The park has safety precautions for a reason—so listen to them! There will usually be large visible signs telling park visitors what they can and cannot do, along with any dangers.
For example, in the Everglades National Park, you'll see plenty of signs telling you not to touch the alligators. Now I know what you're thinking—isn't that common sense? Well, you'd be surprised how many people have lost their limbs or their life.
Stop by the Visitors Center
Most National Parks have at least one visitor center, and it's always a good idea to stop there before making your way into the park. The visitors center has plenty of information on the park, if there are any trail closures, recent wildlife spottings, and predicted weather that could be an issue for your upcoming plans.
Additionally, you'll be able to buy permits if you haven't already done so, use the toilet and refill your water bottle. So really, it's a win-win!
The 16 Best National Parks to Visit in June For Summer Fun
Are you looking for the perfect summer adventure? Look no further than these top national parks to visit in June! From the stunning wildflower displays at Lassen Volcanic National Park to the world-class whitewater rafting at New River Gorge National Park, this article provides insider tips and recommendations for an unforgettable outdoor experience. Don't miss out on the chance to explore these breathtaking natural wonders during one of the best months of the year!
6 National Parks To Avoid This Summer (And The Alternatives)
Are you planning a summer trip to a national park but want to avoid the crowds? Look no further than this article, which provides insider tips on which popular national parks to avoid and offers recommendations for six alternative destinations that offer unique experiences and stunning natural beauty. From exploring rugged peaks and pristine lakes at North Cascades National Park to discovering the geological history of Capitol Reef National Park, this article has everything you need to plan an unforgettable outdoor adventure this summer.
Best 16 Utah Vacation Spots
Are you looking for an unforgettable vacation spot with breathtaking natural beauty? Look no further than Utah! With stunning national parks like Zion and Bryce Canyon, as well as unique attractions like the Homestead Crater and Dead Horse Point, Utah has something for everyone. This article provides insider tips and recommendations for the best places to visit in Utah, from hiking to skiing to soaking in natural hot springs. Don't miss out on the chance to explore this incredible outdoor playground!
5 Waterfalls in Zion National Park For A Fabulous Day Out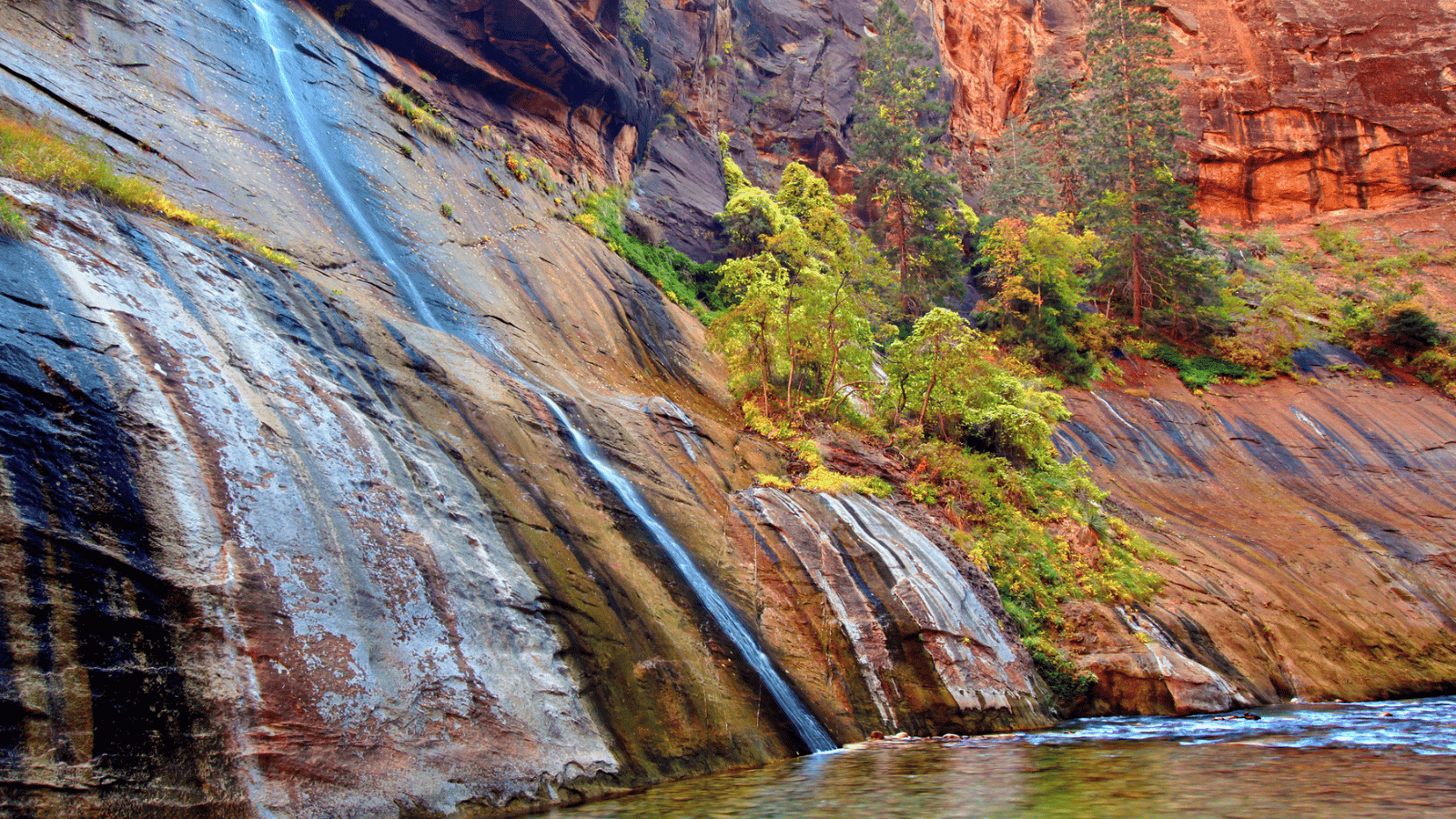 Are you a nature enthusiast looking for an outdoor adventure that will take your breath away? Look no further than Zion National Park in southwestern Utah! This article explores the park's stunning waterfalls, including the moderate hike to Archangel Falls and the more challenging Upper Emerald Pools. But that's not all – the article also highlights other natural attractions in the park, such as The Great White Throne and the Court of the Patriarchs. Don't miss out on the chance to explore this gorgeous landscape and experience the beauty of Utah's unique natural wonders!