Daniel is a copywriter who has well and truly been bitten alive by the 'travel bug'. After ticking off several North American National Parks and exploring Europe by train, his sights are now set on South East Asia. Usually with at least one camera locked and loaded, you'll find Daniel wherever there are mountains, lakes or beaches.
With the US dollar riding high and many other nations facing falling currencies, there's no better time to pack your bags and travel across the globe.
From the vibrant streets of Tokyo to the enchanting bridges of Budapest, these are the destinations you should be heading to as the dollar continues to dominate!
Lisbon, Portugal
1 US Dollar = 0.92 Euro
For the first time in almost 20 years, the US dollar is stronger than the Euro. With the war in Ukraine, fears of a recession, and the lingering impact of Brexit, the dollar is now outshining its European counterpart.
So, where to visit in Europe? If you're looking for affordability but want to stick to the west of the region, Portugal is the perfect choice. Its capital, Lisbon, offers all the quintessential Portuguese offerings – think pastel de natas, fado music evenings, and some of the best seafood in the world. Plus, it's well set up for tourists, so you'll feel right at home immediately.
Average daily cost: $140
Istanbul, Turkey
1 US dollar = 27.11 Turkish Lira
Istanbul is the only city where two continents meet, offering the chance to experience both Europe and Asia by taking a ferry across the Bosphorus and exploring Turkey's lively markets. And thanks to a strong US dollar, this once-in-a-lifetime trip won't break the bank!
Average daily cost: $60
Budapest, Hungary
1 US dollar = 353 Hungarian Forint
Located in Central Europe, Budapest is home to world-renowned thermal spas, striking architecture, and the second-longest river on the continent, the Danube. Away from the more expensive Western European nations, Hungary is generally far more affordable while still being home to some of the most beautiful areas on the continent.
Average daily cost: $90.
Hanoi, Vietnam
1 US Dollar = 23,810 Vietnamese Dong
Vietnam's capital, Hanoi, is a great starting point for your travels in Southeast Asia. With its architectural wonders and friendly locals, the city is the perfect choice for Americans right now. This trip certainly won't break the bank either; even if you want to live the premium five-star lifestyle, it won't set you back more than $150 per day!
Average daily cost: $50.
Buenos Aires, Argentina
1 US Dollar = 350 Argentine Peso
Download Duolingo and start learning Spanish; we're off to Argentina. And where else to start but the dreamy, romantic Buenos Aires? From the city's fantastic wine culture to its famed clubs where you'll dance the night away, this is an affordable destination you don't want to miss.
Average daily cost: $45.
Tokyo, Japan
1 US Dollar = 145.52 Japanese Yen
Normally a pricey destination, now is the time to make the journey to Japan. Thanks to the US dollar's dominance, you'll have more budget for extra days out or maybe even a night in a luxury hotel! Whether you're interested in the serene gardens and cherry blossoms of spring or want to explore Tokyo's Harajuku district, famous for its unique style and fashionable trends, there's something for everyone.
Average daily cost: $170.
Stockholm, Sweden
1 Dollar = 10.99 Swedish Krona
Another normally very expensive destination, a trip to Sweden is currently very affordable, historically speaking. Stockholm is a great choice for Americans looking to make the most of their dollars. With plenty of non-stop flights out of the States and a city full to the brim with history, art, and traditional Swedish cuisine, now is the time to discover more about Sweden than just Ikea!
Average daily cost: $170.
Bucharest, Romania
1 US Dollar = 4.55 Romanian Leu
Bucharest is a modern and developing capital, and the Transylvania region as a whole is breathtakingly beautiful. Getting around the city is already incredibly cheap; the same can be said for dining out, and your accommodation won't cost the earth. Add on top the strength of the US dollar, and Romania quickly turns into a must-visit destination.
Average daily cost: $120.
Mumbai, India
1 US Dollar = 83.12 Indian Rupee
While India has always been an affordable place to visit, with the US dollar flying high, it's even cheaper! You will, of course, need to fork out for the flights, but once you step off that plane, your bank account will breathe a sigh of relief. With some of the best cuisine in the world, world-renowned historical buildings, and the Arabian Sea close by, Mumbai is a great city to start your Indian adventure.
Average daily cost: $60.
London, United Kingdom
1 US Dollar = 0.79 Pound Sterling
Hear us out here; it might be the most expensive place on the list, but for years, the British pound was worth up to double that of the US dollar. Finally, the dollar has grown in strength, making it the most affordable time to visit London! If you're still a bit strapped for cash, make use of London's many, many free museums, galleries, and parks. England's capital is also home to many hostels where you can pay as little as $40 a night for accommodation!
Average daily cost: $200.
The 16 Best National Parks to Visit in June For Summer Fun
Are you looking for the perfect summer adventure? Look no further than these top national parks to visit in June! From the stunning wildflower displays at Lassen Volcanic National Park to the world-class whitewater rafting at New River Gorge National Park, this article provides insider tips and recommendations for an unforgettable outdoor experience. Don't miss out on the chance to explore these breathtaking natural wonders during one of the best months of the year!
6 National Parks To Avoid This Summer (And The Alternatives)
Are you planning a summer trip to a national park but want to avoid the crowds? Look no further than this article, which provides insider tips on which popular national parks to avoid and offers recommendations for six alternative destinations that offer unique experiences and stunning natural beauty. From exploring rugged peaks and pristine lakes at North Cascades National Park to discovering the geological history of Capitol Reef National Park, this article has everything you need to plan an unforgettable outdoor adventure this summer.
Best 16 Utah Vacation Spots
Are you looking for an unforgettable vacation spot with breathtaking natural beauty? Look no further than Utah! With stunning national parks like Zion and Bryce Canyon, as well as unique attractions like the Homestead Crater and Dead Horse Point, Utah has something for everyone. This article provides insider tips and recommendations for the best places to visit in Utah, from hiking to skiing to soaking in natural hot springs. Don't miss out on the chance to explore this incredible outdoor playground!
5 Waterfalls in Zion National Park For A Fabulous Day Out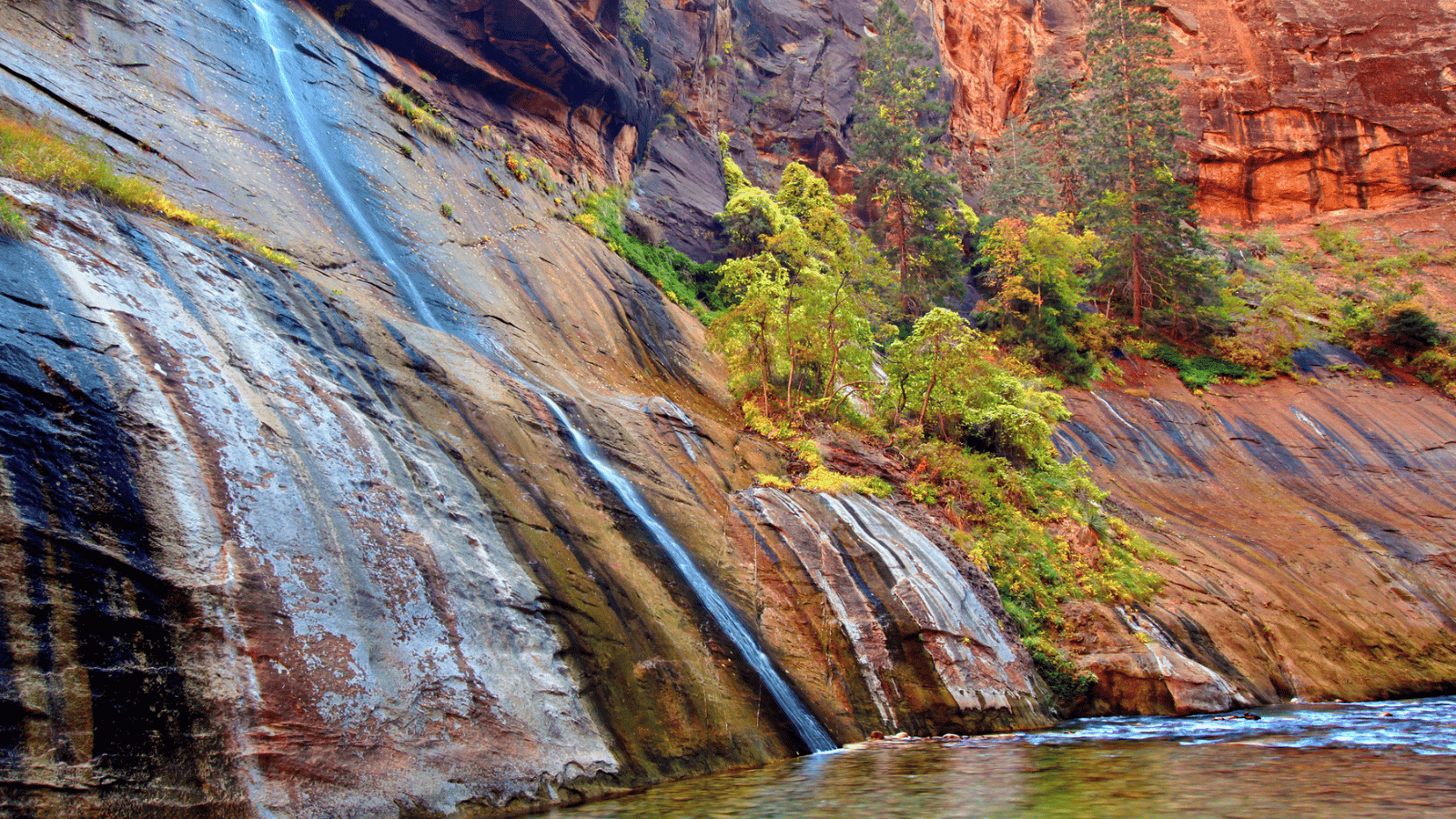 Are you a nature enthusiast looking for an outdoor adventure that will take your breath away? Look no further than Zion National Park in southwestern Utah! This article explores the park's stunning waterfalls, including the moderate hike to Archangel Falls and the more challenging Upper Emerald Pools. But that's not all – the article also highlights other natural attractions in the park, such as The Great White Throne and the Court of the Patriarchs. Don't miss out on the chance to explore this gorgeous landscape and experience the beauty of Utah's unique natural wonders!