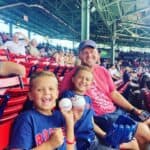 Jake Cain is an entrepreneur and writer from Cincinnati, Ohio. He spends his free time driving around the country in his late 90's conversion van, affectionately known as the "Monster Van" with his wife and 3 boys.
Key Takeaways:
Expedia's 2024 forecast suggests a significant rise in travel motivated by music concerts.
This trend underlines the evolving intersection of travel and music, offering unique experiences for passionate concert-goers.
The reshaping of travel preferences opens up intriguing opportunities for the tourism industry and previously underexplored destinations.
In the harmonious crossroads between music and travel, Expedia Group's Unpack '24 report strikes a note. The predictions suggest that by 2024, approximately 70% of travelers will be eager to venture out for concerts, highlighting a fascinating trend that's capturing the imagination of music enthusiasts worldwide.
This developing predilection is fueled by an increased demand for live concert experiences. As per a 2023 survey by Allianz Partners USA, 63% of Americans plan to attend at least one ticketed event. Accompanying this surge in demand is a rise in ticket prices and a parallel hike in hotel room prices in cities hosting large concerts.
This trend signifies more than just a statistical insight; it represents a cultural shift in the way people travel. Modern concert-goers combine their love for live music with the excitement of exploring new places, making connections with like-minded fans, and creating memories that extend beyond the concert venue.
The industry should take note. The rising popularity of concert-driven travel offers a plethora of opportunities for the tourism sector. It could lead to the creation of music-focused travel packages, generate tourism interest in lesser-known locales, and spark collaborations between travel agencies, event coordinators, and artists.
Potential destinations have a crucial role to play in this symphony. They are more than just venues; they contribute significantly to the overall concert experience. The local culture, food, and tourist attractions can enrich the travel journey, creating an enriching fusion of music and exploration.
To capitalize on this trend, travel services and destinations should prioritize understanding the needs and preferences of these music-driven voyagers. Offering flexible travel arrangements, special deals tailored to concert-goers, or curating localized experiences can be powerful incentives.
Looking ahead to 2024, the rhythm of music-inspired travel promises to bring an exciting evolution in the travel industry. As music enthusiasts and destinations worldwide adapt to this melody, it's clear that this favorable alignment of music and travel is set to redefine our travel narratives.
After all, the future of travel may be only a concert ticket away.
The blending of travel and music reminds us all that our journey is not just about the destination; it's also about the soundtrack that accompanies us along the way.