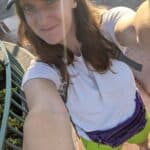 Kelsey is a freelance writer based in Southern Virginia. She enjoys traveling with her family to destinations from national parks to amusement parks and loves sharing tips and stories from along the way.
With prices on everything higher than ever, you can't afford to let travel mistakes drain your bank account! It's time to stop making these common travel blunders. Read on to learn how to avoid these costly travel missteps and save money on your next adventure.
Overlooking Travel Insurance
When booking a major trip, it may seem like travel insurance is an added expense you just can't afford. In this case, you couldn't be more wrong! Travel insurance can save you big bucks in the event of unforeseen circumstances like trip cancellations, medical emergencies, or even lost baggage.
Overpacking
If you're the type of person who has to sit on the suitcase to zip it shut, you might find yourself paying a hefty price! Exceeding the weight or size limitations set by airlines can result in shockingly large fees. On top of that, you'll find yourself shelling out cash for every bag you check on most airlines and may even pay for your carry-on bags when flying with some budget airlines. Do your wallet a favor and consider your packing list carefully.
Overlooking Transportation Costs
You've probably factored the cost of flights, rental cars, and gas into your overall trip budget. However, it's easy to forget other transportation costs, such as shuttles, taxis, or public transportation. Dropping unexpected cash on these travel options can add up, so don't forget to consider all of your transportation costs ahead of time.
Disregarding National Park Fees
America's national parks are federally owned but not all free. Many parks require per-vehicle entrance fees, and national monuments often charge a per-person price. If you visit many parks on your trip, these costs become significant. Don't make this mistake; instead, opt for an annual pass, which will get you entrance to any national park for one flat fee.
Booking Hotels Without Considering Resort Fees
In many popular tourist destinations, hotels charge an additional "resort fee" on top of the nightly rate. These fees cover amenities like Wi-Fi and pool access, but you can't simply opt out, and you often won't see these hidden fees reflected in your original booking price. To avoid this money-draining mistake, read the fine print of your hotel booking carefully and consider calling the hotel directly to ask about hidden resort fees before booking.
Not Checking For Extra Fees On Budget Airlines
The low fares on budget airlines look appealing, but not all that glitters is gold! These companies often charge fees for everything from baggage and seat selection to the water you drink onboard! To make an accurate price comparison, research the extra fees charged by your budget airline before booking the ticket- you may find that it's no longer such a bargain after all.
Not Using Credit Card Rewards
It may seem counterintuitive, but not scanning your credit card could cost you big bucks! Many credit cards offer travel rewards programs that allow users to earn cash back, points, or miles that can be redeemed to offset travel expenses like flights, hotels, and car rentals. You may be missing out on significant savings by not using these rewards.
Not Taking Advantage Of Loyalty Programs
Did you know that many airlines, hotels, and car rental companies offer loyalty programs that can save you money on future trips? You may miss discounts, free upgrades, and other rewards by not taking advantage of these programs. Next time you book a flight, hotel, or rental car, don't leave that money on the table- be sure to check if they offer a loyalty program and sign up to start earning rewards.
11 Day Trips From Reno: Desert Stops For Everyone To Enjoy
Are you planning a day trip from Reno, Nevada, and looking for some exciting options? Look no further than this article, which highlights the best day trips from Reno. There's something for everyone, from skiing in Mount Rose to relaxing in Steamboat Hot Springs. So, pack your bags and get ready to explore the beautiful Sierra Nevada mountains and beyond!
Fly-Fishing, Skiing, Hiking, and Much More: 10 Montana Vacation Spots
Looking for an outdoor adventure in Big Sky Country? Look no further than this article, which highlights the top vacation spots in Montana. From Yellowstone National Park's famous geysers to Glacier National Park's breathtaking scenery and Bozeman's skiing and whitewater rafting, there's something for everyone. So, pack your bags and get ready for an unforgettable trip to Montana's beautiful wilderness, abundant animal life, and incredible national parks.
Best 16 Utah Vacation Spots
If you're looking for a vacation spot that offers breathtaking natural scenery and exciting outdoor adventures, then Utah is the place to be! This article highlights the top places to visit in Utah, from the stunning Zion National Park to the unique Homestead Crater. Whether you're interested in hiking, skiing, or simply soaking in a hot spring, Utah has something for everyone. So, pack your bags and get ready to explore the diverse and awe-inspiring landscapes of Utah!
10 National Parks To Skip If You Have Young Children
If you're planning a national park trip with young children, this article is a must-read! Discover the top 10 national parks to skip if you have young children, from the rugged terrain of Denali National Park to the limited access to Isle Royale National Park. Learn about the challenges and potential dangers of visiting these parks with young children and plan your trip accordingly for a safe and enjoyable experience.