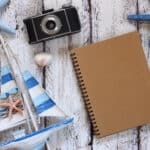 Taylor is a versatile writer and member of the Sampling America team, sharing enthralling narratives inspired by journeys across the country and beyond.
With the hottest season making its appearance, it can be hard to decide where to spend your vacation days without suffering the heat. When it comes down to it, some places are better to be during certain seasons than others. Whatever you have on your itinerary for your summer vacation, there are plenty of places in America perfect for days filled with fun sans heat exhaustion.
Portland, Oregon
For a blissful city summer experience, Portland, Oregon, is the way to go. It is a gorgeous city full of delicious eats and humidity-free weather that usually sits between temperatures of 70° – 80°. There are plenty of farmers' markets and festivals to visit, but you can also choose to kayak along the Willamette River or even go hiking to the waterfalls outside the main city.
Seattle, Washington
A little further up north, Seattle, Washington, is a beautiful city that's full of fun activities and sightseeing. The weather there during the summer sits at around the high sixties and low seventies. You can't visit without experiencing the infamous Space Needle and Ferris Wheel, but there are also some other great attractions, such as the Seattle Aquarium and the Washington Park Arboretum, for a fun outdoor activity.
San Francisco, California
Going down the Pacific Coast, you'll find San Francisco at the top of California, where you're in for beautiful sunsets, foggy mornings, and nice cool weather in the low seventies. Apart from the gorgeous Golden Gate Bridge, there's an array of stunning museums and other fun educational activities. Plus, you can't forget the island of Alcatraz, where you can take a sightseeing cruise too. If that's not for you, the Bay itself is definitely something worth seeing!
San Diego, California
Another California destination, San Diego, is further down the coast and offers some fun and memorable experiences. With breezy mornings and a temperature that varies in the 70° range, you can find many things to do there. Attractions such as the San Diego Zoo and Balboa Park are must-sees, but you should also take some time to visit the coast and enjoy the beautiful water.
Honolulu, Hawaii
A venture from the mainland, Honolulu, Hawaii, may have higher temperatures within 80°, but compared to other places, this isn't too bad, especially when you get to enjoy the nice blue waters and sandy beaches! From snorkeling, boating, surfing, and more, the water activities here are endless. Of course, it's worth visiting one of the amazing museums while you have a chance to learn more about the island.
Colorado Springs, Colorado
Going more inland, Colorado Springs, Colorado, is something that may surprise you as a summer destination. Temperatures can hit the eighties, but with a cool wind and beautiful sites, passing this one up is hard. Apart from fun things to do in the city, there are tons of nature sites to explore. The Cheyenne Mountain Zoo, located on a mountain, is one of the most gorgeous zoos in the country. Places such as the Garden of the Gods and Seven Falls are also hard to pass up!
Chicago, Illinois
A real city site, Chicago, Illinois, is a beautiful place to visit for the attractions within the big town. During the summer, the weather isn't too cold or too hot, sitting within 80°. There are several places here that you simply can't miss, such as Millennium Park, The Art Institute, and Lincoln Park Zoo. Museums and similar attractions are plentiful here, as well as a gorgeous Riverwalk.
Minneapolis, Minnesota
Another gorgeous city, Minneapolis, Minnesota, is full of stunning museums, art, and theater. At a range of temperature between the high seventies and low eighties, there's really not much to complain about. Plus, it's home to the infamous Mall of America. If you're still looking for an outdoor adventure, you can always visit Minnehaha Falls or the Minnesota State Fair, which starts at the end of August, as a nice way to end the summer fun.
Boston, Massachusetts
Moving to the East Coast, you'll find that Boston, Massachusetts is a beautiful city with summer temperatures of 70° – 80°. This is another town filled with museums, but apart from the great variety of those, you can also discover stunning sites such as the Arnold Arboretum of Harvard University. Along stunning beaches, you can relax, take cruises on the Boston Harbor, or even climb aboard a sailboat.
Charleston, South Carolina
Further down the East Coast, Charleston, South Carolina, is home to several gorgeous tourist attractions that are perfect for an easy-going summer day. Temperatures are usually consistently in the high eighties, but with places such as Rainbow Row and stunning sunset cruises, it's hard not to want to spend a lovely summer vacation there.
20 Thrilling Florida Vacation Spots
Ready to plan your next vacation in sunny Florida? Here are the highlights of the 20 best vacation spots in the state! From the vibrant nightlife of Miami to the laid-back charm of Clearwater, there's something for everyone. Whether you're looking for family-friendly activities, high-end experiences, or unique adventures, this article has got you covered. So, pack your bags and get ready to soak up the sun and fun in the Sunshine State!
15 Virginia Vacation Spots Perfect For Exploring History
Explore the best vacation spots in Virginia with this must-read article! From the historical charm of Williamsburg to the breathtaking beauty of Shenandoah National Park, there's something for everyone. Don't miss out on the top attractions, outdoor adventures, and unique experiences that Virginia has to offer.
Top 15 Ohio Vacation Spots: Vibrant Cities & Aesthetic Parks
Ready to discover the best vacation spots in Ohio? Look no further than this article, which highlights the top destinations in the state, from the vibrant cities of Cleveland, Cincinnati, and Columbus to the scenic Hocking Hills State Park. Explore the great outdoors, enjoy cultural activities, and indulge in local cuisine and attractions. So, pack your bags and get ready to experience the diverse and exciting vacation spots that Ohio has to offer!
Picturesque Lake And Mountain Top Views: 16 Michigan Vacation Spots
Discover the best Michigan vacation spots with this ultimate guide! From the charming university town of Ann Arbor to the breathtaking Pictured Rocks National Lakeshore, there's something for everyone. Whether you're looking for outdoor adventures, cultural experiences, or romantic getaways, Michigan has it all.