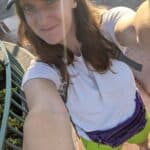 Kelsey is a freelance writer based in Southern Virginia. She enjoys traveling with her family to destinations from national parks to amusement parks and loves sharing tips and stories from along the way.
If you've ever sat in front of the TV with your mouth watering while watching Guy Fieri chows down on Diners, Drivers, and Dives, it's time to take the next step and try out some of those featured Triple D restaurants for yourself! From beachy seafood shacks to hidden gems tucked into strip malls, Guy has visited tons of Florida restaurants. Here are 10 that are guaranteed to take you straight to Flavortown.
Castaway Waterfront Restaurant & Sushi Bar
If you're in Florida with hopes of eating a delicious meal while a sea breeze rolls over you, here's the perfect place to do it! This waterfront restaurant in Marathon, Florida offers a varied menu that includes the unique Lionfish. Between the fresh seafood and the 32 beers on tap, it's possible you'll never want to leave!
Mr. and Mrs. Bun
This Miami, Florida Peruvian restaurant is bursting with flavorful eats- it's no wonder the Mayor of Flavortown himself paid a visit! Here, Gian Carlo Accinelli and his wife serve up Peruvian flavors with a twist, served on their own freshly baked bread. Guy claimed their sandwich was "actually giving [him] goosebumps," and if that doesn't send you running to try one yourself, nothing will!
Herbie's Bar And Chowder House
As the oldest continually operated restaurant in Marathon, Florida, Herbie's is an institution! Though the name has changed over the years, one thing has stayed the same- the food, especially the fresh seafood, is worth coming back to again and again. Don't be afraid to try this spot's non-seafood offerings too- the fried chicken smashed potatoes that Guy tried here are an amazing option!
The Fish House
If you're looking for the quintessential fish restaurant, complete with its own in-house fish market, you'll want to make the trip to The Fish House in Key Largo. This Keys staple serves up only the freshest catches, and Guy referred to it as one of the best seafood experiences he's ever had!
Arepita Beach
Tucked away in Daytona Beach, Arepita Beach is a Venezuelan restaurant that offers fresh, flavorful cuisine. Dishes such as empanadas, tequenos, and arepas will be sure to draw you back for more. This restaurant is open for carryout if you can't bear to be away from the beach, but the upstairs deck offers a great place to eat while taking in the view, too.
Mrs. Potato
Don't be fooled by the name; this restaurant's offerings are anything but bland or simple! Mrs. Potato, located in Orlando, serves up a varied menu of flavor-packed Brazilian-inspired dishes. Sure, there are plenty of baked potatoes, but each one is loaded with tasty toppings. Their signature Rosti, a potato cake, can be ordered with fillings that range from Brazilian cured meat to broccoli and cheese. Don't forget to end your meal with a dessert- I'd go for the Banana Dulce de Leche Roll!
Sonny's Famous Steak Hogies
Looking for a classic and mouthwatering meal in Hollywood, Florida? Look no further than Sonny's Famous Steak Hogies! With over 60 years of history, this restaurant offers traditional hoagies, pasta, pizza, cheesesteaks, and sandwiches that will satisfy your cravings. Don't miss out on their must-try homemade sauce on their steak subs and the fan-favorite #90 sandwich. Plus, their commitment to quality shines through in their homemade bread, sauces, and mouthwatering meatballs. Come and taste why generations have been returning to Sonny's for over 64 years!
Pirate Republic Seafood Restaurant
For a truly one-of-a-kind seafood dining experience, head to The Pirate Republic Seafood Restaurant in Ft. Lauderdale, Florida. A favorite among locals and travelers alike, this restaurant offers original and unique seafood dishes inspired by family traditions and recipes the owners have gathered during over 30 years of sailing the world. From mouthwatering starters like fried Calamari and Hummus with Pita to delectable main courses like Seafood Pasta, Coconut Shrimp, and Brazilian Capresa Salad, every dish is cooked to perfection. To add to the magic, the stunning view from the dock, especially during sunset, adds an extra touch of enchantment.
3 Sons Brewing Co
Sometimes an ice cold beer is the only thing that will truly hit the spot. Satisfy that craving at 3 Sons Brewing Co. in Dania Beach, where you'll find creative craft beers that are made from locally sourced ingredients whenever possible. You won't have to drink on an empty stomach, either, because this restaurant also serves tasty eats including wood-fired pizza (go for the shrimp!) and shrimp pasta.
The Meatball Stoppe
Craving a taste of non-traditional Italian goodness? Look no further than The Meatball Stoppe in Orlando, Florida. Created by Jeff and Isabella Morgia, this cozy restaurant is all about sharing their passion for family traditions and fresh, unique flavors. Awarded as the 'Best of the Best Meatballs' in Central Florida, The Meatball Stoppe is a top-rated Orlando restaurant that guarantees a mouthwatering experience. From their extensive menu featuring a variety of meatballs to their standout vegan options, every dish is prepared with care and served with a smile.
Where Else Has Triple D Visited In The Sunshine State?
Hungry for more? Check out this list of restaurants in Florida where Diners, Drive-Ins, and Dives has been filmed. From seafood to pizza and everything in between, you're sure to find just the thing you're craving!