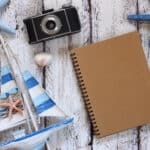 Elizabeth is an experienced traveler and writer with bylines in several popular travel publications. She currently co-owns a small digital travel publication and spends her free time writing, taking photos, and traveling.
Ready to embark on an epic outdoor adventure in the beautiful state of Colorado? With its stunning landscapes and pristine lakes, Colorado is a haven for nature lovers and adventure seekers.
From high-altitude fishing spots to thrilling water sports, click through to uncover the 15 best lakes in Colorado that guarantee an unforgettable experience.
Hanging Lake
The journey to this magnificent lake, located in the heart of Glenwood Canyon in the White River National Forest, is as satisfying as the destination itself. Navigate through the steep, rugged trail and find yourself in awe of the beauty of the gentle waterfalls and stunning views. Embrace this rare example of a travertine geological formation, a national natural landmark that adds depth to Colorado's rich landscape history.
Blue Mesa Reservoir
Embark on a journey through the high-mountain desert of Colorado, where the road opens up to the sparkling blue waters of the Blue Mesa Reservoir, the state's largest artificial lake. Formed by the Blue Mesa Dam, this reservoir is a playground for lovers of the great outdoors, with options for windsurfing, waterskiing, hiking, and horseback riding.
Twin Lakes
For those craving a blend of thrill and serenity, Twin Lakes Reservoir is a unique find. Nestled between Leadville and Buena Vista, this pair of connected alpine lakes invites summer boaters to glide across their surfaces, framed by the majestic Mount Elbert. Moreover, the surrounding San Isabel National Forest offers choice spots for camping at five different lakeside campgrounds.
Crater Lake
Perched at a soaring 10,075 feet elevation in the Maroon Bells Snowmass Wilderness lies Crater Lake, a stunning spot in the Colorado Rocky Mountains. Reachable via a popular, rugged, two-mile hiking trail, this pristine lake offers a unique spectacle as it changes size throughout the year, eventually drying out in October. Hikers are rewarded with panoramic views of the Elk Mountains' most iconic peaks, making it a must-visit for those who cherish both the journey and the destination.
Grand Lake
Plunge into Colorado's historical Grand Lake, the largest and deepest natural reservoir in the heart of the Colorado River's headwaters. Immerse yourself in its captivating blend of activities, from exploring the enigmatic Rocky Mountain National Park that surrounds it on three sides to strolling through the charming, eponymous lakeside town. Discover why the Ute Tribe reverently called it Spirit Lake, and create your own tales in the timeless landscape bathed by its icy, soulful waters.
Lake Estes
Located on the fringes of Estes Park, the tranquil Lake Estes is more than just a 185-acre water reservoir; it's a veritable playground for outdoor enthusiasts. Boasting an altitude of 7,522 feet and a serene four-mile shoreline, Lake Estes offers an invigorating opportunity for bird watchers to spot an impressive variety of species, from goldeneyes to violet-green swallows. It also invites lake-goers to peacefully traverse its wake-less waters, whether by pontoon boat, paddle boat, or stand-up paddleboard, all available for rent right from the marina.
Lake San Cristobal
Lake San Cristobal is a historic jewel nestled high in Colorado's San Juan Mountains. Formed 700 years ago by a monumental landslide known today as the Slumgullion Earthflow, this 2.1 miles long and up to 89 feet deep lake offers a plethora of activities for travelers of all ages. Whether you're a summer enthusiast who thrives on boating, camping, and fishing or a winter adventurer ready for ice-fishing and skating, Lake San Cristobal is bound to fulfill your wanderlust.
Dream Lake
Scaling the heights in Rocky Mountain National Park, Colorado's Dream Lake offers an invigorating journey for adventurers. Accessible via an inviting 2-mile trail from the Bear Lake trailhead, the lake unfurls amidst breathtaking views of Longs Peak, Hallett Peak, and Flattop Mountain. Here, winter is a charm as the trail remolds into a delightful snowshoe trek, weaving past the serene Nymph Lake.
Lake Granby
If you take a scenic 5-mile drive outside the town of Granby, you'll discover Lake Granby, Colorado's third-largest reservoir that was born out of the Colorado-Big Thompson Project in 1950. With 7,256 acres of surface water, together with its sister lakes, it unfolds over 150 miles of picturesque shoreline for various activities, including camping, fishing, and hiking. Summer brings boating and paddleboarding enthusiasts, while winter unveils an extensive network of snowmobile trails.
Horsetooth Reservoir
Located at an impressive 5,420-foot elevation, Horsetooth Reservoir, just west of Fort Collins, offers its visitors six and a half miles of shimmering water, surrounded by nearly 2,000 acres of public lands to explore. Dubbed Colorado's third busiest reservoir, it plays host to a cool million visitors annually, entranced by the wide range of activities from camping to scuba diving.
Dillon Reservoir
Within the picturesque Summit County lies the Dillon Reservoir, or Lake Dillon as some like to call it. The reservoir boasts a panoramic paved trail for biking or hiking and unhindered views of the sublime Ten Mile Range. The lake, bordered by major ski areas, transforms into a winter wonderland every year, inviting ice fishing enthusiasts, whilst the summer months see a flurry of boating activities. Amidst all, remember that while the clear waters may tempt you, swimming here is off-limits!
Monarch Lake
Discover the captivating beauty of Monarch Lake, one of the five 'Great Lakes' tucked away in Colorado's Arapaho National Recreation Area. At 8,400 feet, this reservoir offers more than just resplendent views—it's a hiker's paradise, with several trails like the Continental Divide National Scenic Trail crisscrossing its terrain. As you begin your journey, prepare to be enchanted by fluttering wildflowers, elusive wildlife, and tranquil creeks.
Boulder Reservoir
The Boulder Reservoir is a 700-acre multifunctional gem where water conservation meets bustling recreation. On any given day, its waters teem with permitted watercraft, from inflatable rafts to windsurfers, encouraging friendly challenges amongst boaters, swimmers, and fishers. On land, the reservoir is a lively arena for running, cycling, and wildlife spotting, serving as a favorite picnic spot for those seeking a blend of tranquillity and thrill.
Shadow Mountain Lake
Embrace the allure of Shadow Mountain Lake, an underrated sanctuary of over 1,300 acres between Grand Lake and Lake Granby. From kayaking through the tranquil waterway—a serene connection to Grand Lake—to casting a line in the cool, clear waters teeming with brown trout, there's an outdoor activity for every adventurer. Witness the beauty of the Rockies from the lake's namesake peak standing over 10,000 feet in elevation, and you'll see why this is one of the best lakes in Colorado.
Green Mountain Reservoir
Situated along the Blue River near Kremmling, Green Mountain Reservoir is a product of the historical Colorado-Big Thompson Project that entices travelers seeking adrenaline and adventure. With over 2,000 acres of untouched water, you can enjoy everything from power boating to sailboarding, canoeing, and especially fishing, given the abundance of the rainbow, lake, brown trout, and kokanee. Venture beyond the lake to explore cycling trails and seven campgrounds.
8 Most Unique Places To Kayak In The US — Stunning Beauty
Looking for a unique and thrilling way to explore the natural beauty of the United States? Look no further! From the bioluminescent bays of Puerto Rico to the rugged beauty of the Apostle Islands in Wisconsin, there's something for every adventure seeker.
The 10 Most Beautiful Hikes In The US — Discovering America
This article highlights the most beautiful hikes in the US from California to Maine. Whether you're a seasoned hiker or just starting out, there's a trail on this list that will leave you awe-inspired. So, put on your hiking boots and get ready to explore the diverse and awe-inspiring landscapes of America's most beautiful hiking destinations.
10 National Parks To Skip If You Have Young Children
This article is a must-read if you're planning a national park trip with young children! Don't get stuck in rugged terrain, limited water access, or super-long hiking distances with your kiddos! Learn about the challenges and potential dangers of visiting these parks with young children and plan your trip accordingly for a safe and enjoyable experience.