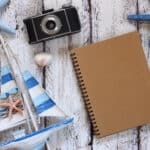 Elizabeth is an experienced traveler and writer with bylines in several popular travel publications. She currently co-owns a small digital travel publication and spends her free time writing, taking photos, and traveling.
Are you ready to dive into the natural wonders of Florida? While many people flock to the Sunshine State for its beaches, it's also home to some of the country's best lakes.
From crystal-clear waters to breathtaking landscapes, these 16 lakes offer the perfect escape for nature enthusiasts and water lovers alike.
Lake Okeechobee
Imagine casting your line in Florida's Inland Sea, where angling for large-mouth bass and speckled perch becomes a tale of adventure itself. Graced with the Seminole name meaning "big water," Lake Okeechobee reveals its vastness in such a way that the opposite shore looks nothing more than a distant mystery. This majestic lake in Florida is a gateway to the Greater Everglades, a thriving ecosystem that paints a backdrop of breathtaking natural beauty.
Crescent Lake
Home to sparkling waters and lush vegetation, Crescent Lake stretches over 30 square miles across Florida's Putnam and Flagler counties. It's not just the impressively diverse bird life, including a notable population of American Bald Eagles, that makes this destination intriguingly unique. Its waters lure fishing enthusiasts with promises of largemouth bass, speckled perch, and blue gill. And for those with a heart for wildlife, the sight of manatees and American alligators amidst serene cypress swamps might make the visit a surreal experience.
Lake Tohopekaliga
In Osceola County lies Lake Tohopekaliga, also known as Lake Toho, inviting explorers to gather and lose themselves in 23,000 acres of Florida's wilderness. Renowned for its bass fishing competitions and abundant wildlife, it's a vibrant hotspot for outdoor enthusiasts. Here, scenic walking trails offer peeks into the lives of alligators, otters, and waterfowl, while the park's amenities provide a welcoming retreat for a day of grilling, playing, or simply basking in the lakeside atmosphere.
Lake George
Nestled between Jacksonville, Daytona Beach, and Orlando, Lake George provides a quiet retreat along the slow-moving St. Johns River. This 6-mile wide brackish lake, often referred to as Lake Welaka, is a paradise for both freshwater and saltwater fish enthusiasts. Its unique proximity to the expansive Ocala National Forest further enriches the destination, offering a tranquil escape that perfectly balances lakeside leisure and forest exploration.
Lake Harris
Immerse yourself in the captivating charm of Lake Harris, the largest lake in the appropriately named Lake County. Its unique topography, with deeper holes and ledges than its southern counterpart, Lake Okeechobee, invites water enthusiasts to explore its depths. As part of the historical Harris Chain of Lakes, its inviting boat docks, barbecue areas, and tranquil natural surroundings nestled within the highest elevations of Central Florida make it a must-visit addition to your Florida itinerary.
Lake Eola
Located smack-dab in the middle of bustling Downtown Orlando, Lake Eola Park offers tranquility amidst urban energy. This lake, surprisingly a sinkhole, is a unique spectacle with its famous color-shifting fountain and a circumference just under a mile, perfect for leisurely strolls or invigorating runs. From paddling through the waters in whimsical swan boats and photographing diverse birdlife to enjoying live performances under the stars, Lake Eola offers an idyllic blend of nature and city life.
Blue Cypress Lake
Blue Cypress Lake, tucked in Indian River County, is one of the best lakes in Florida for your next adventurous getaway. This ten-square-mile haven is not only alive with bass, catfish, alligators, and ospreys, but it's also home to majestic cypress trees and serene landscapes. Unleash your inner fisherman in Florida's premier largemouth bass fishing location, or find tranquillity canoeing in one of the cleanest lakes in the St. Johns District.
Lake Dora
Lake Dora, located next to the historic town of Mount Dora, offers a unique blend of leisure and adventure, making it a top pick among the Harris Chain Lakes and easily one of the best lakes in Florida for tourists and locals alike. The year-round buzz of sidewalk cafes, upscale restaurants, and quaint antique shops is matched by the annual spectacle of vintage wooden boats at the Sunnyland Antique Boat Festival.
Lake Apopka
Venture beyond Orlando to the captivating shores of Lake Apopka, Florida's fourth-largest lake. Home to an astounding 367 species of birds and a myriad of wildlife that includes alligators and bobcats, it's a haven for birdwatchers, photographers, and nature aficionados alike. As the headwaters of the Ocklawaha River, Lake Apopka is more than just a scenic spot; it's a living testament to Florida's rich biodiversity and commitment to protecting cultural and natural resources.
Lake Griffin
For the angler at heart, Lake Griffin, the most preserved of the Harris Chain Lakes, offers a serene fishing experience. Its bountiful waters, enriched by a successful large-mouthed bass stocking project, make it a favorite for bass and crappie enthusiasts. After a fruitful day of casting, travelers can soak in the lake's tranquillity, distinguished by a sparse shoreline and the embracing Griffin State Park.
Lake Seminole
Lake Seminole, the second-largest freshwater lake in Pinellas County, Florida, hosts a rare urban-nature fusion, offering a unique alternative to the state's familiar coastal attractions. About 20 miles west of Tampa, you'll find it teeming with fish like the striped bass or chain pickerel. Listen to the songbirds hidden among the mixed pines and hardwoods while you walk along the water's edge, the home of a rich assortment of plants, including hydrillas, waterlilies, and cattails.
Lake Kissimmee
Unearth the untamed charm of Lake Kissimmee, one of Florida's best lakes just about 15 miles east of Lake Wales. Here, every turn promises an encounter with nature, be it spotting bald eagles or alligators or identifying shorebirds at the globally-known Joe Overstreet Road access. As the day ends, step back in time at the "cow camp," absorbing tales of 1876-era Florida cowboys, or explore the lake's islands like the secluded Brahma—each offering a fresh, historical perspective on this picturesque destination.
Lake Tarpon
On the north side of Tampa, nestled near Tarpon Springs, lies Lake Tarpon, an oasis of untouched fishing waters. This 2,534-acre Fish Management Area is not only renowned for its abundant largemouth bass, bluegill, and crappie populations but also offers a serene retreat from the city's hustle and bustle. Just don't forget to explore the rustic marinas, get charmed by the lakeside restaurants, and delve into thrilling nocturnal life (albeit with a watchful eye for the lake's alligator inhabitants).
Lake Talquin
Lake Talquin invites travelers to redefine their idea of a Florida adventure. Its waters, sculpted by the historic Jackson Bluff Dam, are a paradise for fishermen, rippling with possibilities from bluegill to striped bass. This proud emblem of the Florida Greenways and Trails System is home to majestic birds of prey, wading birds, and over 100 nesting bird species. Additionally, an adventure into Talquin's surroundings brings you closer to hidden gems of Florida's wilderness, like deer, turkeys, and alligators
Lake Eustis
Immerse yourself in the alluring beauty of Lake Eustis, a treasured component of the expansive Harris Chain of Lakes in central Florida's Lake County. Known for its abundant bass at the enigmatic 'Gator Hole,' this 7806-acre lake invites anglers and boating aficionados alike. Unaffected by seasonal droughts, thanks to its depth, you can journey through its meandering channels to discover more of Florida's water wonderland pretty much year-round.
Lake Eloise
As a treasured gem of Winter Haven, Lake Eloise offers a refreshing dive into Florida's old-world charm. Visitors can relish the tranquil moments amid the Spanish moss-draped bald cypress trees and quaint cottages dotting the shoreline or embark on a lively adventure at Legoland Florida. This vast freshwater lake, encompassing an impressive 1,174 acres, is a delightful fusion of serene natural beauty and animated enjoyment.
8 Most Unique Places To Kayak In The US — Stunning Beauty
Looking for a unique and thrilling way to explore the natural beauty of the United States? Look no further! From the bioluminescent bays of Puerto Rico to the rugged beauty of the Apostle Islands in Wisconsin, there's something for every adventure seeker.
The 10 Most Beautiful Hikes In The US — Discovering America
This article highlights the most beautiful hikes in the US from California to Maine. Whether you're a seasoned hiker or just starting out, there's a trail on this list that will leave you awe-inspired. So, put on your hiking boots and get ready to explore the diverse and awe-inspiring landscapes of America's most beautiful hiking destinations.
10 National Parks To Skip If You Have Young Children
This article is a must-read if you're planning a national park trip with young children! Don't get stuck in rugged terrain, limited water access, or super-long hiking distances with your kiddos! Learn about the challenges and potential dangers of visiting these parks with young children and plan your trip accordingly for a safe and enjoyable experience.