Stephanie is a cherished member of the Sampling America writing team, dedicated to crafting captivating narratives that transport readers to thrilling adventures across the country and beyond.
Located on the west side of Missouri is Kansas City, a place known for its barbecue, jazz music, and Midwest charm.
The name of the city might seem like the country for those not in the know, but Kansas City is actually home to many jazz and fine art museums; it's a beautiful place for artists to gather and share ideas.
The city also hosts wonderful outdoor activities set in the thick forests that surround the town. Read on to discover the best lakes that Kansas City offers.
Longview Lake
Just 25 minutes outside of Kansas City sits the stunning outdoor recreation area called Longview Lake.
The lake was initially created to provide flood control and create a safe haven for wildlife. Along with the excellent conservation methods, the lake is also a pleasant place to spend a day fishing, boating, kayaking, or just having a picnic with the family.
Wyandotte County Lake
Wyandotte County Lake is a short drive northwest of the downtown core of Kansas City. The lake and park provide water management for the nearby homes as well as plenty of fun outdoor activities for locals and tourists alike.
A marina and a boat ramp provide ample space to launch a watercraft. Guests can enjoy water skiing, fishing, wakeboarding, and more.
Lake Jacomo
This man-made reservoir was first opened in 1959 to provide much-needed outdoor fun for nearby residents.
Along with boating, fishing, windsurfing, and sailing, the park surrounding the lake also has plenty of well-maintained trails ready for hiking and mountain biking. The area is an all-around fun outdoor destination.
Prairie Lee Lake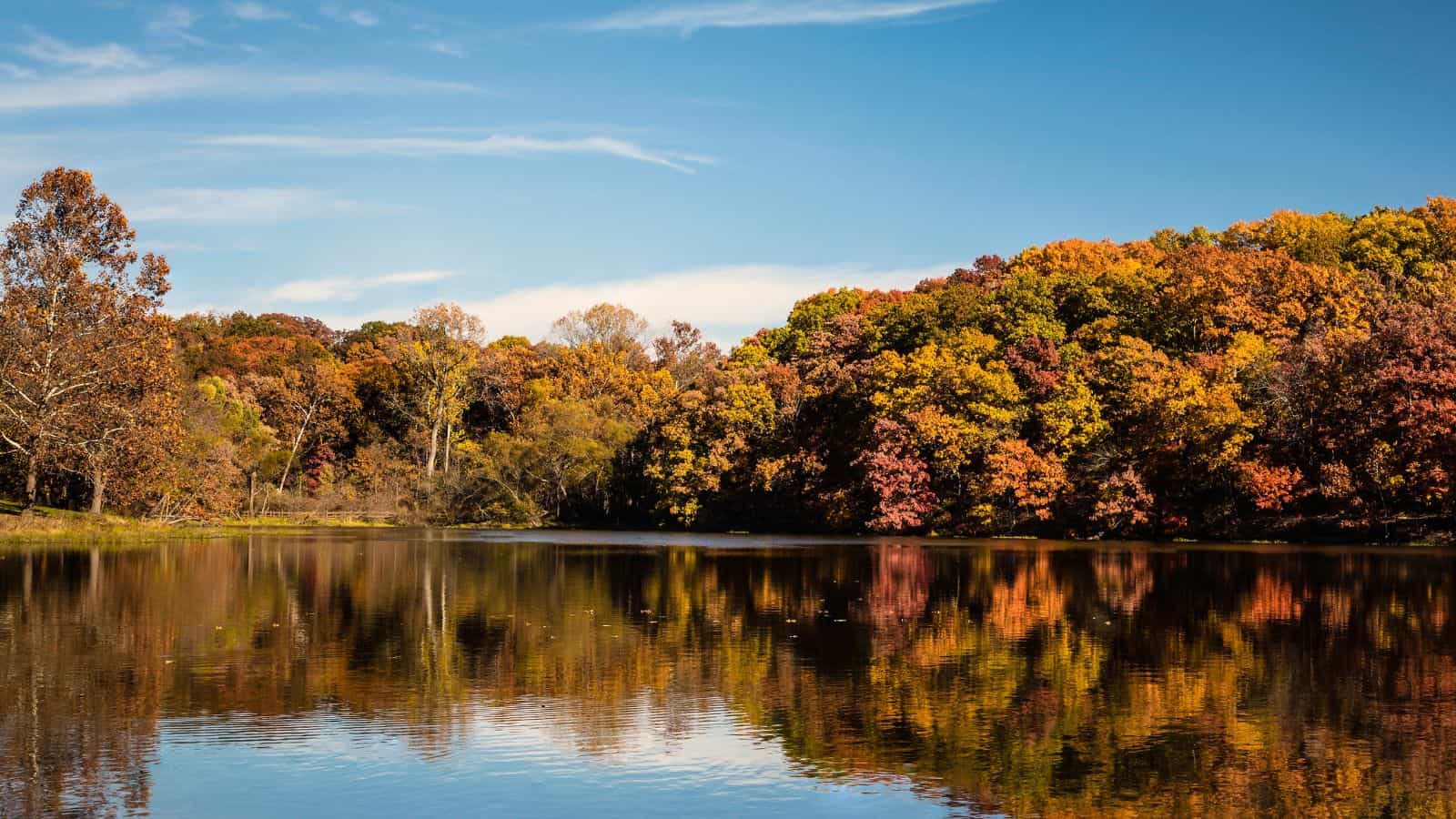 Prairie Lee Lake is a small 154-acre reservoir shaped like a U, similar to the oxbow pattern found along the Mississippi River.
Although small, this lake is filled with fun water sports, like fishing, boating, kayaking, and canoeing. As well the lake also has an ample recreation area with hiking trails and picnic tables.
James A. Reed Memorial Wildlife Area
The James A. Reed Memorial Wildlife Area is a stunning area of 3,084 acres of conservation land, including small lakes and wilderness.
The small lakes are named Jackrabbit, Plover, Cottontail, Gopher, Coot, and Prairie Hollow – a throwback to Kansas City's 1853 nickname "Rabbitville". The city was nicknamed this due to the love for rabbit meat as a delicacy.
Pleasant Hill Lake
This 100-acre lake certainly lives up to its name. This dammed lake is flanked by large parks and recreation areas with walking trails and picnic sites.
The recreation area also hosts plenty of camping sites and even a disc golf course on the lake's east side for anyone looking to take up a fun, new activity.
Hillsdale Reservoir
Almost an hour outside Kansas City, Hillsdale Reservoir is located south of the metropolitan area. The reservoir was initially created as a flood control project, but today, it offers plenty of fishing and water sports for guests.
The forest surrounding the reservoir is filled with unique wildlife, such as bobwhite quail, whitetail deer, and different types of water foul; it can be a popular area for bird watching.
Watkins Mill Lake
Located north of the downtown core of Kansas City, this 100-acre lake is surrounded by stunning forest in the historic Watkins Mill State Park.
The camping spots are well-known among locals at this amazing outdoor area. Along with picnic areas, the park features a wool processing factory and a homestead.
Smithville Lake
Smithville lake is one of the largest lakes in the area with 175 miles of shoreline and 7,200 acres of water coverage.
Along with a comprehensive hiking trail system, there are also specific trails for horseback riding and mountain biking, making this lake the perfect destination for everyone.
Why Was The Yellowstone Bison Calf Rejected and Euthanized?
Discover the story behind the controversial euthanization of a bison calf in Yellowstone National Park and the consequences of human intervention in wildlife conservation efforts. Learn about the incident that occurred when a Hawaii man tried to help a newborn bison calf but ended up causing its herd to reject it, resulting in the calf's euthanization. Learn about the park's regulations and guidelines and the importance of respecting wildlife and their natural behaviors in protected areas.
When Bison Selfies Go Wrong: Highlighting The Internet's Funniest Reactions
Get ready for a good laugh and a friendly reminder to keep your distance from bison with this hilarious article about a viral bison selfie gone wrong. From National Park Service selfie stats to witty Twitter reactions, this article has got it all. Learn from this woman's mistake and avoid winning a Darwin Award by keeping your distance from these majestic creatures.
How To React If You Encounter A Bear: A Safety Guide
A bear sighting while hiking can be exciting but also frightening! Discover the dos and don'ts of bear encounters, including how to make noise to avoid encounters, how to react if you see a bear, what to do if a bear attacks, and wildlife viewing etiquette. Gain valuable insights into how to stay safe in bear country and respect wildlife and their natural behaviors in protected areas.
Interacting With Wildlife In National Parks: Wildlife Safety
Wildlife sightings are one of the most exciting parts of visiting a national park! Keep yourself and the animals both safe with these dos and don'ts of wildlife encounters, including how to stay at a safe distance, never feed or touch the animals, and specific guidelines for interacting with bears, moose, bison, and elk. Gain valuable insights into how to respect wildlife and their natural behaviors in protected areas, and enjoy a safe and enjoyable wildlife viewing experience.