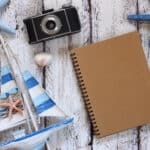 Elizabeth is an experienced traveler and writer with bylines in several popular travel publications. She currently co-owns a small digital travel publication and spends her free time writing, taking photos, and traveling.
Get ready to make a splash in one of the Lone Star State's aquatic paradises! Texas is home to some of the most stunning lakes in the country, offering endless opportunities for water enthusiasts and nature lovers alike.
From the sparkling waters of Lake Travis to the serene beauty of Caddo Lake, we're about to unveil some of the best lakes in Texas to help you plan your next outdoor adventure.
Lake Texoma
Bridging the gap between Oklahoma and Texas, Lake Texoma mesmerizes locals and travelers alike with its sheer size and plethora of activities. Just an hour's drive south of the bustling Dallas-Fort Worth Metroplex, this water haven garners the attention of six million explorers annually. Whether sailing across Texoma's vast expanses, fishing in its deep waters, or delving into the fascinating history of the Denison Dam, every moment here offers a plethora of unforgettable memories.
Lake Travis
Imagine immersing yourself in the waters of Lake Travis, a reservoir on the Colorado River, renowned for being one of the largest among the seven Highland Lakes of central Texas. Beyond its utilitarian functions, it is a prized recreational hotspot. With businesses in West Austin, Lakeway, and nearby towns curating delightful water-based activities, Lake Travis invites you to relax, have fun, and escape into an unforgettable staycation.
Canyon Lake
Nestled between Austin and San Antonio, Canyon Lake invites travelers seeking an outdoor respite. Its 8,200-acre expanse boasts an 80-mile shoreline, teeming with vibrant picnic spots, inviting swim beaches, and multiple campgrounds for the adventurous. Embark on the trail of the meandering River Road, where the beauty of the Guadalupe River unfolds, creating a journey as intriguing as the destination.
Lake Conroe
Lake Conroe, a 21,000-acre jewel in Montgomery County, Texas, is a tapestry of shimmering waters and towering pine trees, offering an idyllic blend of outdoor pursuits. Its clear waters, averaging 20.5 feet deep, are a playground for anglers and boaters. The shorelines, dotted with campgrounds and veined with trails, run along the stunning Sam Houston National Forest, offering splendid hiking and camping adventures. As one of the best lakes in Texas, it's a true embodiment of Texan natural beauty.
Possum Kingdom Lake
Dive into Possum Kingdom Lake, a gem nestled amidst the Palo Pinto hills. Its waters echo with stories from 1941 when the lake was birthed by the Works Progress Administration and christened by a fur trader in awe of the many possums in the area. From spectacular cliffside views to the tranquility of its unusually clear waters, Possum Kingdom Lake welcomes you to enjoy a distinctive Texan escapade.
Lake Buchanan
Lake Buchanan, a sprawling 22,333-acre marvel nestled within Texas's Burnet and Llano counties, extends an exciting invitation to aquaphiles and history enthusiasts. Initially known as the Hamilton Dam and Reservoir, this enclave of recreation—renamed after the pioneering James P. Buchanan—pulsates with untamed energy from the Colorado River it's fed by. Whether fishing or simply appreciating its 124 miles of privately owned shoreline, Lake Buchanan offers a rich and unique Texan adventure.
Lewisville Lake
Unfurling over 29,000 acres in North Texas, Lewisville Lake's 233 miles of textured shoreline speak of both size and adventurous possibilities. This recreational paradise lures both thrill-seekers and serenity-seekers, offering activities that include fishing, skiing, swimming, and boating. Its parks, generously laden with beautiful beaches, serene campgrounds, enticing trails, and golf courses, serve as the perfect escape from the hustle and bustle of nearby cities.
Caddo Lake
If you're looking for a truly unique experience, explore the unspoiled beauty of Caddo Lake. Its dark, enchanting sloughs, fluctuating shorelines, and flooded cypress forests present an intriguing maze for paddlers. Embark on one of the ten marked kayak/canoe trails like the mystically named Hell's Half Acre or the serene Turtle Shell Trail, and dive in the symphony of nature resonating with the voices of 200 bird species and more than 90 fish species.
Lady Bird Lake
A testament to Austin's vibrant outdoor lifestyle, Lady Bird Lake is a river-like reservoir originally created in 1960 for cooling a city power plant. Now, it serves as a bustling hub for activity seekers and tourists eager to cool down in the hot summer months. Amidst the city's skyline, you can paddle across its 416 surface acres or chart your own route along the designated lake trails. As a part of the renowned Texas Highland Lakes, Lady Bird Lake promises a fulfilling day on the water steeped in authentic Austin charm.
Lake Whitney
Witness the confluence of scenic landscapes and engaging outdoor pursuits at Lake Whitney, a captivating fixture of the Texas Lakes Trail Region. Spread across 23,500 acres and boasting 225 miles of diverse shoreline, the lake offers an expansive playground for activities such as swimming, golfing, and camping. You can also find tallgrass prairies and hardwood forests, with the conveniences of major cities just a short drive away.
Lake Granbury
Discover the magic of Lake Granbury, a captivating water body in the heart of Granbury in North Texas. Formed by the De Cordova Bend Dam and flanked by 103 miles of shoreline, the lake extends a warm welcome to guests to try their hand at fishing, camping, or water sports like jet skiing. Rent a kayak, paddleboard, or bike, and experience the breathtaking sights and sounds of the lake and its surrounding town.
Lake Sam Rayburn
Enter the captivating territory of Lake Sam Rayburn, where 750 miles of shoreline offer countless adventures in the backdrop of the East Texas Piney Woods. Renowned for its bass fishing (it ranks among the top ten spots in the United States), it's one of the best lakes in Texas for fishing enthusiasts. As the sun dips below the horizon, enjoy a range of dining options nearby.
Lake Amistad
A testament to international camaraderie (bordered by the US on one side and Mexico on the other), Lake Amistad mirrors not just the clear Texan sky but a rich blend of activities and biodiversity. Situated 12 miles northwest of Del Rio, this reservoir is home to several camping sites and hiking trails embellished with traces of ancient rock art.
Eagle Mountain Lake
Offering a picturesque fusion of recreation and tranquility, Eagle Mountain Lake in North Texas is a desirable destination for those drawn to water-based pursuits and captivating landscapes. Covering an impressive 8,694 acres, the lake is an idyllic setting for fishing, skiing, and wakeboarding, and the surrounding parks house numerous inviting hiking trails.
Lake Austin
Unveiling a vibrant facet of Austin, Texas, Lake Austin is a bustling reservoir birthed by the construction of the Tom Miller Dam in 1939. Apart from its historical roots, the lake is a sanctuary for watersports enthusiasts, adorned with motorized boats, pontoons, and waterskiers, creating ripples across its surface. Visitors looking to get a true taste of the local fare can savor meals at dockside restaurants.
Lake O' the Pines
Situated away from the hustle of city life, this 18,700-acre lake and 9,000-acre land area boast a medley of outdoor activities, from camping and boating to birdwatching—bald eagles in winter being a particular treat. Anglers can indulge in the thrill of capturing a diverse range of fish, including large-mouth bass and catfish. As darkness descends over the waterways, the skies open up to a star-studded spectacle viewed through a canopy of pines.
Lake Fork
Famed as one of the world's premier trophy bass fishing locations, Lake Fork is the stage for angling exploits, holding 15 of the top 20 Texas State Record largemouth bass. Just 70 miles east of downtown Dallas, this reservoir, fed by the Sabine River's Lake Fork Branch, offers a captivating blend of serenity and excitement, set against a backdrop of rolling, tree-lined hills.
Inks Lake
Inks Lake, a tranquil reservoir tucked within the beautiful contours of the Texas Hill Country, is home to a treasure trove of outdoor activities. Since its birth from the construction of the historic Inks Dam in 1938, the lake has transitioned from a flood control mechanism to a vibrant center for fishing, boating, camping, and picnicking.
8 Most Unique Places To Kayak In The US — Stunning Beauty
Looking for a unique and thrilling way to explore the natural beauty of the United States? Look no further! From the bioluminescent bays of Puerto Rico to the rugged beauty of the Apostle Islands in Wisconsin, there's something for every adventure seeker.
The 10 Most Beautiful Hikes In The US — Discovering America
This article highlights the most beautiful hikes in the US from California to Maine. Whether you're a seasoned hiker or just starting out, there's a trail on this list that will leave you awe-inspired. So, put on your hiking boots and get ready to explore the diverse and awe-inspiring landscapes of America's most beautiful hiking destinations.
10 National Parks To Skip If You Have Young Children
This article is a must-read if you're planning a national park trip with young children! Don't get stuck in rugged terrain, limited water access, or super-long hiking distances with your kiddos! Learn about the challenges and potential dangers of visiting these parks with young children and plan your trip accordingly for a safe and enjoyable experience.