Megan Bryant is a passionate writer and traveler who has combined her two loves to help others fulfill their traveling dreams. When she isn't writing, she's usually curled up with her 3 Dachshunds and a good book or planning her next adventure—wherever that may be.
I'm sure you're well aware of America's diverse National Parks. But did you know Canada is also home to some incredible natural areas—38 to be exact—that could compete for the best National Park top spot?
Canada boasts an impressive array of natural wonders and offers a kaleidoscope of experiences for outdoor lovers, wildlife enthusiasts, and those who simply enjoy being immersed in beauty.
From the world-famous Banff National Park and its iconic vibrant lakes to the Grasslands National Park with expansive mixed grass prairies, here are some of Canada's top National Parks that you'll soon be adding to your bucket list.
Banff National Park
Canada's first, most famous, and arguably most beautiful National Park is the Banff National Park, which is nestled in the heart of the Canadian Rockies. Every year, over 4 million people visit the Banff National Park to witness the vibrant turquoise lakes, its rugged mountain peaks, and its abundant wildlife that walks freely around the park's 6,641 square kilometer wilderness.
But beautiful sights aren't the only thing to experience at Banff, as the park is also home to plenty of outdoor activities thanks to its countless walking trails and world-class ski hills. Whether you're after a relaxing trip in nature or an adrenaline-pumping adventure, there is something to suit all preferences at Banff. And remember, no trip to Banff is complete without visiting one of its iconic landmarks—Lake Louise and Moraine Lake.
Bruce Peninsula National Park
The Bruce Peninsula National Park in Ontario, Canada, blends geological wonders and ecological diversity to create an unforgettable experience for those who venture into its boundaries. With towering limestone cliffs, turquoise waters, and unparalleled wildlife spotting opportunities, the Bruce Peninsula National Park is a haven for those who enjoy the great outdoors.
The park's biggest attraction—Lake Huron and its huge sea cave, the Grotto—is not to be missed. But there are also plenty of walking trails for all you hikers out there, including Canada's oldest and longest footpath, the Bruce Trail.
Cape Breton Highlands National Park
At the northern tip of Nova Scotia lies Cape Breton Island and its national park, the Cape Breton Highlands National Park. Due to its coastal location, the Cape Breton Highlands National Park offers a mix of coastal beauty and majestic highlands that span over 950 square kilometers.
With a scenic drive down the Cabot Trail, you don't even need to leave the comfort of your car to experience the beauty of Cape Breton Highlands. But as the park has 26 hiking trails—including the Skyline Trail, which takes you to viewpoints overlooking the sea—we highly recommend you do so. While in the park, be sure to keep your eye out for the moose, bald eagles, and elusive lynx that call this stretch of nature home.
Fundy National Park
New Brunswick's very own Fundy National Park is home to the highest tides on the entire planet—a testament to the power of nature that you won't see anywhere else. The water levels in Fundy can rise an astonishing 12 meters in a matter of hours to alter the landscape entirely.
But although many people come to see this ocean marvel, the Fundy National Park also has spectacular waterfalls, hiking trails, and ancient forests for visitors to enjoy. One of the most mesmerizing sights in the entire park is the "flowerpot rocks," which have formed over centuries thanks to tidal erosion.
Grasslands National Park
The Grasslands National Park spans over 900 square kilometers providing an unspoiled oasis for countless wildlife species. Located in Saskatchewan, the Grasslands National Park receives under 20,000 visitors a year, making it an excellent National Park option for those in search of serenity.
With wandering bison herds, dozens of hiking trails, and one of the best opportunities to star gaze, the Grasslands National Park, in my opinion, deserves more recognition than it's given.
Gros Morne National Park
On the west coast of Newfoundland lies the UNESCO World Heritage Site of Gros Morne National Park. With 1,805 square kilometers of scenery shaped over millions of years, the Gros Morne National Park and its captivating fjords, cliffs, and glacial valleys is not to be missed.
Exploring Gros Morne takes you through a tapestry of natural wonders, including the Tablelands, where you can see the Earth's exposed mantle, and the famous Western Brook Pond fjord, surrounded by cascading waterfalls. In the park, you'll also find a designated Dark Sky Preserve for stargazing and hiking trails that will take you from Gros Morne's highest point all the way down to the water's edge.
Jasper National Park
Jasper National Park is part of UNESCO's Canadian Rocky Mountain Parks World Heritage Site, and its 11,000 square kilometers of wilderness does not disappoint. With its soaring snow-capped peaks, ancient glaciers, emerald lakes, and abundant wildlife, Jasper is one of those parks you can visit all year round.
Understandably, the park is busier during the summer months as visitors set off on hiking trails and pitch a tent in one of the park's campsites. But even in winter, plenty of people flock to Jasper to snowshoe, cross-country ski, and even ice skate in the frozen canyons.
Kluane National Park
In the southwestern corner of Canada's Yukon Territory sits the Kluane National Park and the country's highest peak—Mount Logan, which stands 5,959 meters tall.
But Mount Logan isn't the only draw to the park, as Kluane has glaciers, turquoise lakes, and a rich array of wildlife, including grizzly bears and wolves that lure wildlife lovers into some of the park's most remote corners.
Kootenay National Park
Kootenay National Park in British Columbia has a mix of rugged mountains, pristine rivers, and dense forests that act as the perfect outdoor playground for adventurers. Walking down the park's hiking trails takes you past thundering waterfalls and meadows with vibrant wildflowers while the area's hot springs offer up a soothing respite right out in nature.
Home to a huge selection of wildlife species, including elk, bighorn sheep, and grizzly bears, the Kootenay National Park also serves as a sanctuary making it the perfect park choice for those who appreciate wildlife.
Pacific Rim National Park Reserve
On the western edge of Vancouver Island lies the Pacific Rim National Park Reserve, which stretches along the shores of the Pacific Ocean. Encompassing over 511 square kilometers of wilderness, the Pacific Rim National Park is a haven for both nature enthusiasts and surfers alike.
With its three distinct regions – Long Beach, the Broken Group Islands, and the West Coast Trail – Pacific Rim offers an unparalleled experience of the rugged Canadian coastline.
Whether you walk along the sandy shores of Long Beach, venture to the Broken Group Islands, an archipelago of over 100 islands and islets, or set off on the West Coast Trail that beckons visitors with its challenging terrain and breathtaking vistas, your time in the Pacific Rim National Park will be well spent, leaving you wanting more.
Prince Edward Island National Park
The Prince Edward Island National Park is a coastal gem with iconic lighthouses and red, sandy shores. Spanning 65 kilometers along the Gulf of St. Lawrence, the Prince Edward Island National Park is one of the best National Parks for families who want to get outdoors and enjoy beaches, dunes, and captivating landscapes.
Yoho National Park
Another Canadian National Park with breathtaking turquoise lakes is the Yoho National Park in British Columbia. Offering challenging and beginner-friendly hiking trails, cascading waterfalls, and a UNESCO World Heritage Site—the 500-year-old Burgess Shale Fossils—Yoho is a National Park that everyone can enjoy.
Waterton Lakes National Park
Waterton Lakes National Park—as its name suggests—is home to some of Alberta's most beautiful sapphire lakes with Rocky Mountain backdrops that will leave you in awe. A popular choice for kayakers, canoers, and paddle boarders, the UNESCO World Heritage Site is best visited in the summer. However, come winter, a blanket of snow falls over the park bringing a new level of beauty to those brave enough to visit.
The 16 Best National Parks to Visit in June For Summer Fun
Are you looking for the perfect summer adventure? Look no further than these top national parks to visit in June! From the stunning wildflower displays at Lassen Volcanic National Park to the world-class whitewater rafting at New River Gorge National Park, this article provides insider tips and recommendations for an unforgettable outdoor experience. Don't miss out on the chance to explore these breathtaking natural wonders during one of the best months of the year!
6 National Parks To Avoid This Summer (And The Alternatives)
Are you planning a summer trip to a national park but want to avoid the crowds? Look no further than this article, which provides insider tips on which popular national parks to avoid and offers recommendations for six alternative destinations that offer unique experiences and stunning natural beauty. From exploring rugged peaks and pristine lakes at North Cascades National Park to discovering the geological history of Capitol Reef National Park, this article has everything you need to plan an unforgettable outdoor adventure this summer.
Best 16 Utah Vacation Spots
Are you looking for an unforgettable vacation spot with breathtaking natural beauty? Look no further than Utah! With stunning national parks like Zion and Bryce Canyon, as well as unique attractions like the Homestead Crater and Dead Horse Point, Utah has something for everyone. This article provides insider tips and recommendations for the best places to visit in Utah, from hiking to skiing to soaking in natural hot springs. Don't miss out on the chance to explore this incredible outdoor playground!
5 Waterfalls in Zion National Park For A Fabulous Day Out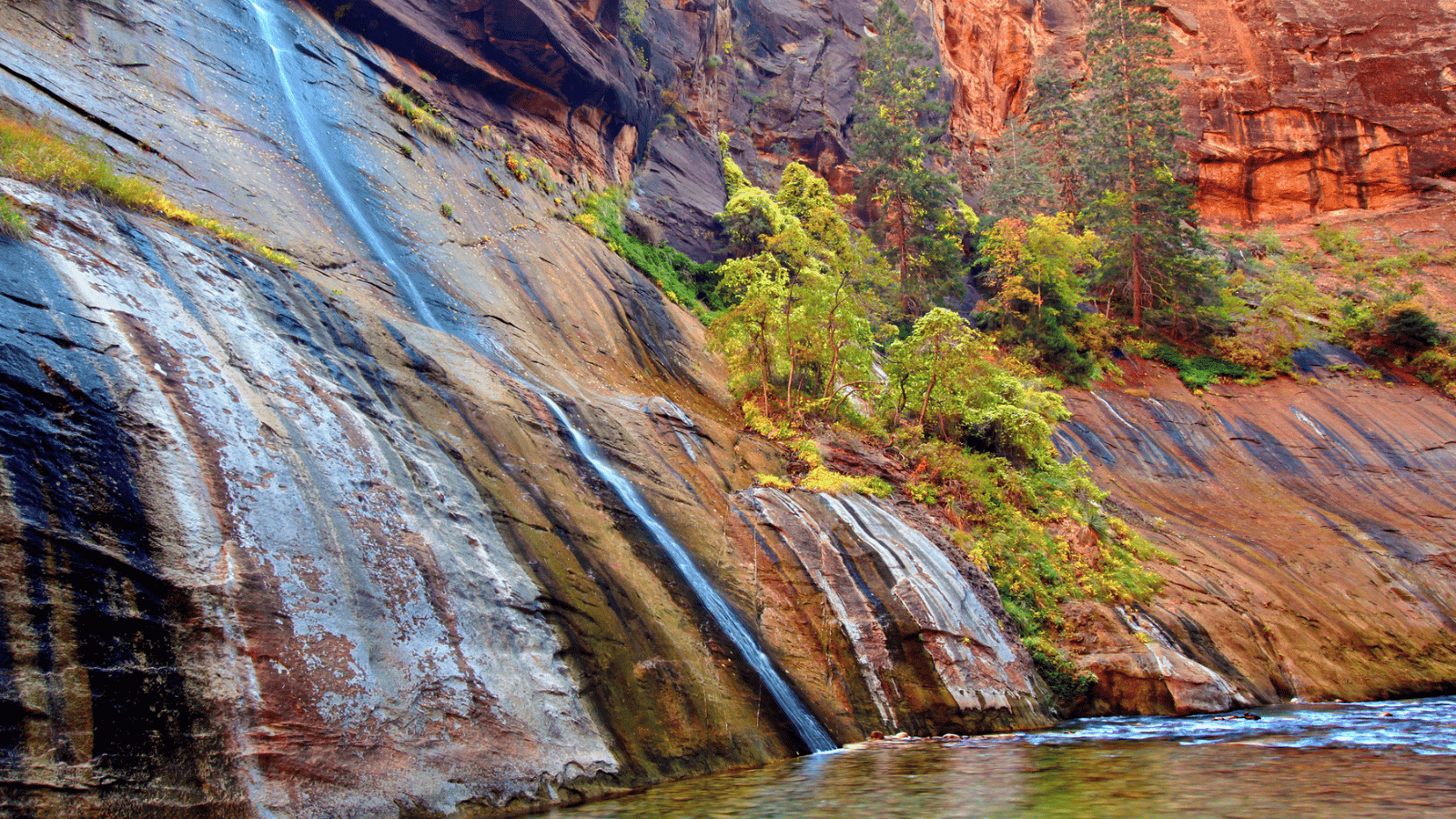 Are you a nature enthusiast looking for an outdoor adventure that will take your breath away? Look no further than Zion National Park in southwestern Utah! This article explores the park's stunning waterfalls, including the moderate hike to Archangel Falls and the more challenging Upper Emerald Pools. But that's not all – the article also highlights other natural attractions in the park, such as The Great White Throne and the Court of the Patriarchs. Don't miss out on the chance to explore this gorgeous landscape and experience the beauty of Utah's unique natural wonders!