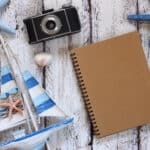 Elizabeth is an experienced traveler and writer with bylines in several popular travel publications. She currently co-owns a small digital travel publication and spends her free time writing, taking photos, and traveling.
Ready to jet-set but don't want to be weighed down by bulky luggage? We've got the ultimate guide to packing light for your next adventure. Our expert packing tips for carry-on luggage will have you breezing through security with ease.
1. Roll, Don't Fold Your Clothes
The first step to maximizing your space is to roll your clothing items instead of folding them. Not only does rolling save room, but it also prevents wrinkles. If you have a lot of lightweight shirts or undergarments, you can sometimes save space by stacking those items on top of each other and rolling them into one compact bundle to pack.
2. Get Compression Packing Cubes
Compression packing cubes allow you to sort and compress your clothing, creating more room for additional items. Plus, they make unpacking a breeze by keeping everything organized. Plan ahead and pack by day so you only have to unpack items when you need them.
3. Choose Versatile Clothing Pieces
One of the biggest challenges when packing light is choosing clothing items that can be mixed and matched. Opt for versatile pieces that can be dressed up or down and that can be worn in a variety of ways. Bonus points if they can be layered or worn in different seasons.
4. Use Lightweight and Quick-Drying Fabrics
Comfort is key when traveling, and packing lightweight and quick-drying fabrics can make all the difference. Not only will these fabrics keep you cool and comfortable in hot climates, but they also dry quickly if you get caught in the rain. Plus, they weigh less in your luggage than heavier materials, meaning you won't be at risk of going over the carry-on weight limit.
5. Use Clear Quart-Sized Toiletry Bags
Don't let TSA regulations cause undue stress during your travels. Keep your toiletries in a clear, quart-sized bag to ensure they pass through security without issue. This will also make it easier to find what you need without having to dig through a messy toiletry bag.
6. Buy Travel-Sized Toiletries
Investing in a good travel-sized toiletry kit can save you space and hassle. These kits often include all the essentials in mini sizes, preventing you from having to bring full-sized toiletries. Plus, they're usually sold in clear, TSA-approved bags, making it even easier to pass through security. If you can't find a kit you like, buy travel-sized toiletries from top stores like Walmart or Target.
7. Wear Your Bulkiest Items
If you're traveling with a heavy jacket or bulky shoes, save space in your luggage by wearing them on the plane. This will also ensure you stay warm during your flight without having to pack too many extra layers. Plus, it frees up space in your carry-on bag for additional items.
8. Plan Ahead
An easy way to avoid overpacking is to plan your outfits ahead of time. Consider the activities you'll be doing and what clothing items you'll need. Lay out each outfit, and then pack accordingly. This will prevent you from bringing unnecessary items and save you space in your carry-on bag.
9. Use a Luggage Scale
Avoid extra fees and stress at the airport by using a luggage scale to weigh your carry-on bag. Many airlines have strict weight limits for carry-on luggage, and exceeding them can lead to unwanted fees.
10. Leave Non-Essential Items at Home
Last but not least, consider leaving non-essential items at home. Do you really need that big book or bulky electronic device? Probably not. By cutting out non-essential items, you'll save space in your carry-on bag and make traveling even easier.
20 Thrilling Florida Vacation Spots
Ready to plan your next vacation in sunny Florida? Here are the highlights of the 20 best vacation spots in the state! From the vibrant nightlife of Miami to the laid-back charm of Clearwater, there's something for everyone. Whether you're looking for family-friendly activities, high-end experiences, or unique adventures, this article has got you covered. So, pack your bags and get ready to soak up the sun and fun in the Sunshine State!
15 Virginia Vacation Spots Perfect For Exploring History
Explore the best vacation spots in Virginia with this must-read article! From the historical charm of Williamsburg to the breathtaking beauty of Shenandoah National Park, there's something for everyone. Don't miss out on the top attractions, outdoor adventures, and unique experiences that Virginia has to offer.
Top 15 Ohio Vacation Spots: Vibrant Cities & Aesthetic Parks
Ready to discover the best vacation spots in Ohio? Look no further than this article, which highlights the top destinations in the state, from the vibrant cities of Cleveland, Cincinnati, and Columbus to the scenic Hocking Hills State Park. Explore the great outdoors, enjoy cultural activities, and indulge in local cuisine and attractions. So, pack your bags and get ready to experience the diverse and exciting vacation spots that Ohio has to offer!
Picturesque Lake And Mountain Top Views: 16 Michigan Vacation Spots
Discover the best Michigan vacation spots with this ultimate guide! From the charming university town of Ann Arbor to the breathtaking Pictured Rocks National Lakeshore, there's something for everyone. Whether you're looking for outdoor adventures, cultural experiences, or romantic getaways, Michigan has it all.