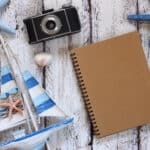 Elizabeth is an experienced traveler and writer with bylines in several popular travel publications. She currently co-owns a small digital travel publication and spends her free time writing, taking photos, and traveling.
Are you looking for a spine-chilling adventure? New Hampshire is home to several abandoned towns that once thrived but are now full of eerie ruins, creaky buildings, and spine-tingling stories.
From deserted mines to abandoned mills and crumbling cities, these 13 ghost towns near New Hampshire are sure to give you the creeps. Dare to explore? Join us on a journey of ghostly proportions.
Isles of Shoals
Ver esta publicación en Instagram

Step off the beaten path and delve into the spectral allure of the Isles of Shoals, a collection of deserted islands straddling the border between New Hampshire and Maine. These privately owned islands, reached by a serene harbor cruise from Rye Harbor, still echo the chilling aftermath of the Smuttynose Murders of the 19th century. With their blend of grim history and captivating natural beauty, the Isles provide the backdrop for a journey that goes beyond just sightseeing.
Old Hill Village, New Hampshire
Ver esta publicación en Instagram

Venture into the ghostly remnants of Old Hill Village, New Hampshire, and witness a forgotten chapter of New England history. Trace the invisible outlines of businesses, a main road, and even a railway from the early 1900s, now replaced by scattered stone foundations after being sacrificed to a flood control reservoir. Here, amidst solitude, they find echoes of the town's brave transition uphill, a bold decision that saved their community from disappearing entirely.
Livermore, New Hampshire
Ver esta publicación en Instagram

Deep within the White Mountain National Forest lies the desolate town of Livermore, New Hampshire. Once a bustling logging hub birthed in 1876, a string of misfortunes has since stripped it of life, leaving behind a captivating ghost town. Amidst the majesty of the forest, visitors can discover the allure of its silent mill, obsolete railroad, and the stories they carry.
Madame Sherri's Castle Ruins, Chesterfield, New Hampshire
Ver esta publicación en Instagram

Imagine stepping into a storybook as you approach the stone staircase and medieval-inspired ruins of Madame Sherri's Castle in Chesterfield, New Hampshire. Once a party haven for the eclectic crowd of the 1920s, these remains evoke a sense of curiosity and mystery, tucked unexpectedly in the Granite State's southwest corner. Whether a history buff, nature lover, or an aspirant ghost hunter, this tranquil destination offers an enriching exploration. Let the ancient stones narrate the tale of lavish parties, lost grandeur, and, if you listen closely, faint echoes of bygone laughter.
Zealand, New Hampshire
Ver esta publicación en Instagram

In the heart of New England lies Zealand, New Hampshire, a testament to the impermanence of industry. Once brimming with men employed at a grand 200-horsepower mill and served by a sprawling railway, this logging town now sits eerily quiet. Zealand invites the curious traveler to explore this forgotten landscape, from the remnants of historic buildings to the poignant quiet of the vanished forest, and mull over a chapter in history that resides in silence.
Monson Village, New Hampshire
Ver esta publicación en Instagram

Venture into the heart of New Hampshire's history at Monson Village. As one of the first inland settlements in the state, this ghost town encapsulates the aura of the colonial era with its fields of ancient ruins and a network of trails stretching across a 200-acre park. Each stop along the way is clearly marked, offering a glimpse into the lives of the settlers. After a day of solitary exploration, snatch the opportunity to discover the fascinating historical landmarks of nearby Hollis. The best part? You get to enjoy all these without the bustling crowds found at more common tourist destinations.
Roxbury, New Hampshire
Ver esta publicación en Instagram

In the hushed silence of Roxbury, New Hampshire, history whispers tales of a prosperous mining town from the 1830s. Today, visiting this ghost town is like tiptoeing through a poignant narrative, unraveling how the Great Depression and the rise of concrete over stone shaped its fate. Amid the evocative remnants awaits an intriguing exploration for those drawn toward history and the intangible thrill of deserted places.
Carrigain, New Hampshire
Ver esta publicación en Instagram

Step into the silent chapters of New Hampshire's history in Carrigain, an erstwhile lumber town that invites you to meander amongst the foundations of Garman's mill and the obsolete railroad. The journey continues to Hill, founded by the river and reborn in the heights, its old town resting under the Franklin Falls Reservoir, ready to unveil footpaths and foundations to the adventurous. These ghost towns of New Hampshire offer more than just a walk through creepy forests—they offer a hauntingly beautiful interaction with the past.
Freetown, New Hampshire
Ver esta publicación en Instagram

As you journey through New Hampshire, Freetown provides an opportunity to step into another era. Founded in the 1700s, this ghost town, once sustained by a flourishing mill, now invites travelers to explore what remains and piece together its intriguing past.
Kilkenny, New Hampshire
Ver esta publicación en Instagram

Set foot in Kilkenny, a ghost township nestled in Coos County, New Hampshire, and immerse yourself in an intriguing blend of the past and the unexplored. Let the rugged trails of Mount Waumbek and the serenity around Priscilla Brook guide you through a history that transformed this place from a thriving community to a quaint solitude. Conjure up visions of the vanished Willard Bowl, a once-planned ski area, as you traverse along the footprints of the vanished railway tracks.
Hanton City, Rhode Island
Ver esta publicación en Instagram

Embark on a unique trek to Hanton City, Rhode Island's local 'Lost City,' a colonial-era ghost town that time and vegetation have claimed. Wander through a labyrinth of stone remnants, a silent dam, and the haunting Alfred Smith Cemetery. Peel back the layers of mystery surrounding this forgotten settlement, whether it was an exile for Loyalists during the American Revolution or a haven for three English families after King Philip's War.
Dogtown, Cape Ann, Massachusetts
Ver esta publicación en Instagram

Embark on an unexpected journey to Dogtown, Cape Ann, Massachusetts, a captivating spectacle of suspense and history. Traverse paths that once harbored a thriving community in the 18th century, only to find yourself immersed in an atmosphere thick with tales of witchcraft, feral dogs, and ominous echoes. The curious can further explore the intriguing terrain featuring enigmatic inscriptions on boulders and scattered relics of the Great Depression, punctuating an expedition sure to challenge the faint-hearted.
East Weare, New Hampshire
Ver esta publicación en Instagram

East Weare, New Hampshire, isn't your typical ghost town. Once a prosperous farming community, home to 60 families, churches, a school, and a train depot, it now rests underwater, a legacy of the 1960 Everett Flood Control Project. Visitors can explore Clough State Park today, where stunning views of the dam and a peaceful beach on the backdrop of the submerged town serve as a silent testament to an era lost to time.