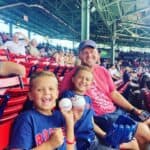 Jake Cain is an entrepreneur and writer from Cincinnati, Ohio. He spends his free time driving around the country in his late 90's conversion van, affectionately known as the "Monster Van" with his wife and 3 boys.
As we approach the holiday season, the Transportation Security Administration (TSA) gears up for an unprecedented surge in passenger traffic, predicting record-breaking numbers this Thanksgiving.
Key Takeaways:
TSA projects to screen 30 million passengers during the Thanksgiving travel period.
The single busiest day could see as many as 2.9 million passengers.
TSA has implemented advanced technologies to expedite the screening process.
TSA PreCheck, a special program that expedites security checks, is recommended for frequent flyers.
These staggering projections have us bracing for a unique kind of holiday chaos, particularly for business travelers who need to adhere to tight schedules. But a deeper look into the TSA's preparations reveals that this chaos can also be an opportunity to discover new efficiencies in our travel routines.
The TSA has indeed set some ambitious goals. They're aiming to maintain wait times under 10 minutes for TSA PreCheck lanes and under 30 minutes for standard screening lanes. While these targets showcase the TSA's readiness, we as travelers need to be realistic and anticipate potential delays.
Technology is a central player in TSA's strategy. They're leveraging the Credential Authentication Technology (CAT-2), already operational at 25 airports, which speeds up identity verification and reduces the need for physical boarding passes. There's also the deployment of advanced Computed Tomography (CT) scanners making security checks faster and less cumbersome.
No amount of technology, however, can completely eliminate the unpredictability of holiday travel. This is where strategic personal planning comes into play.
The TSA PreCheck program is an excellent tool for business travelers looking to navigate airport chaos. For a modest fee of $78 for a five-year membership, you can enjoy expedited security checks, with most members reporting wait times under five minutes.
To delve deeper into the TSA's preparedness for this year's holiday travel season, check out the original article on PR Newswire.
In conclusion, while the upcoming holiday season is set to be a test for both the TSA and travelers, with the right planning and utilization of programs like TSA PreCheck, we can navigate this holiday frenzy with minimal stress. Remember, every challenge presents an opportunity. This holiday season, let the opportunity be about discovering a smoother, more efficient travel experience.