Daniel is a copywriter who has well and truly been bitten alive by the 'travel bug'. After ticking off several North American National Parks and exploring Europe by train, his sights are now set on South East Asia. Usually with at least one camera locked and loaded, you'll find Daniel wherever there are mountains, lakes or beaches.
Voyages don't always go as planned, turning the ocean's depths into museums of maritime history. These underwater sites have drawn the intrigue of adventurers worldwide, each shipwreck telling a tale of its own.
Grab your diving gear and get ready to embark on a thrilling journey exploring some of the world's most remarkable shipwrecks.
RMS Lusitania, Ireland
Despite being warned of the potentially deadly dangers that await any passenger that boarded the RMS Lusitania, 1,266 people decided to take the risk and climbed aboard the ship as it set sail from New York to Liverpool. Why was such a warning issued in the first place? It was May 1915, and war was ravaging Europe. As the ship approached Ireland, it was struck by a solitary torpedo, which sunk her in 18 minutes. Remarkably, a fair number of survivors emerged – 761 individuals were rescued from the 1,266 passengers and 696 crew on board.
HMS Vixen, Bermuda
Constructed in London in 1864 as an armored gunboat for the Royal Navy, HMS Vixen had only had a brief stint in military service as her speed was deemed too sluggish for combat. Along with her sister ship, Viper, they were hauled to Bermuda in 1888 to function as stationary protection for the Royal Naval Dockyard and later served as housing for dock workers.
Over time, the ship's engine and other valuable components were sold. Eventually, Vixen was intentionally sunk in a tight strip of water close to Daniel's Head Beach to guard against potential torpedo assaults. Today, Vixen's bow protrudes above the water's surface, transforming the remains into a local attraction. Regular visitors to the site include divers, tour boats, and jet-ski safaris.
Eduard Bohlen, Namibia
On September 5th, 1909, Eduard Bohlen met its unfortunate end after its captain was unable to see through the dense fog and ran the ship aground. Now found in a desert, over time, shifting sands have relocated the ship approximately 1600 meters inland from the coastline, burying it partially in the process. The result is a surreal, mirage-like spectacle in the heart of the desert.
RMS Titanic, North Atlantic Ocean
This list wouldn't be complete without including the most famous ship, and shipwreck, in history, the RMS Titanic. Built in Ireland, the ship was deemed "unsinkable." Tragically, it fell to the bottom of the North Atlantic Ocean on its maiden voyage from Southampton to New York City on April 14th, 1912, claiming 1,517 lives. The wreckage was discovered in 1985 by a Franco-American expedition, leading to the excavation of numerous artifacts by archaeologists.
The RMS Titanic has continued to make headlines thanks to the 1997 Hollywood blockbuster starring Leonardo Dicaprio and the tragic explosion of the Titan submersible in June 2023.
Sweepstakes, Canada
This unexpectedly stunning schooner, resting just 20 feet underwater in the pristine waters of Fathom Five National Marine Park in Ontario, Canada, is a sight to behold. The Sweepstakes, constructed in 1867 in nearby Burlington, was injured in 1885 and subsequently hauled to Big Tub Harbour, where plans for repairs were dismissed.
Soon after, Sweepstakes met its watery end in the harbor. Today, it attracts diving and snorkeling enthusiasts eager to explore its incredibly well-preserved relics. This includes an almost unscathed hull, visible even from above the water's surface.
MS World Discoverer, Solomon Island
Over 100 passengers found themselves terrified as the captain of the MS World Discoverer sent out a distress call after the ship hit a large uncharted rock or reef outside the Solomon Islands. Thankfully, disaster was averted thanks to the captain's quick thinking, and all passengers safely boarded a passenger ferry.
The vessel was then transported to Roderick Bay and left in a position with a 20-degree tilt to maintain partial buoyancy. Since then, it has been plundered of its goods and valuable materials. As of now, the vessel leans at an angle near forty-six degrees and makes for an eerie site.
Fujikawa Maru, Federated States of Micronesia
As Japan was gearing up to join WWII, the Japanese Navy decided to transform the Fujikawa Maru to help its wartime efforts. Previously used to transport silk and cotton, as well as passengers on commercial trips, the ship was soon ready for war. The newly transformed vessel only lasted three years before being struck by an American torpedo.
Despite the damage, the Fujikawa Maru managed to fight on for one more year before another attack saw its sinking. Substantial portions of the ship remain intact, and its wreckage has gained international fame as a diving spot.
SS Francisco Morazan, United States
Originally named Arcadia when constructed in Hamburg in 1922, this cargo ship underwent numerous name changes over nearly forty years, passing from one country and continent to another. In 1960, en route from Chicago to Rotterdam in the Netherlands, the vessel—then known as Francisco Morazan—ran aground near the coastline of the deserted South Manitou Island in Lake Michigan amidst heavy snow and fog. Rescue operations were promptly initiated, ensuring the safe evacuation of the ship's captain, his expectant wife, and the crew over the subsequent days.
Since then, the ship has remained marooned in shallow waters, attracting divers and hikers due to its visibility from the shore. It has also become a haven for various sea birds, who have found a new purpose for the abandoned vessel.
Giannis D, Red Sea
Built in Japan in 1969, the Giannis D was originally christened "Shoyo Maru." Following its resale, it became the possession of the Dumarc Shipping and Trading Corporation in Piraeus, Greece. The freighter's final voyage occurred in 1983 when it was transporting lumber from Jeddah to Yemen. Reportedly, the ship ran aground. As indicated by The Red Sea Project, the vessel had veered off course in the open waters and "collided at full speed with the northwest boundary of the Sha'ab Abu Nuhas Reef." Consequently, the ship fragmented into three sections, now rests roughly 32 feet beneath the water's surface.
Cabo Santa Maria, Cape Verde
The exact cargo that the Spanish ship Cabo Santa Maria was carrying on its way to Brazil in 1960 is a subject of contention. Some assert it was ferrying church bells alongside commodities such as oil, vinegar, and vegetables. Others speculate that the ship was loaded with gifts (including sports cars) and supplies from Spanish dictator Francisco Franco.
Regardless of the disputed cargo, it never reached South America, as Cabo Santa Maria ran aground off the coast of Boa Vista, an island in Cape Verde. The crew was safely rescued, and a tugboat made an unsuccessful attempt to salvage the remains. The ship remains a huge, heavily rusted structure on the shores of Praia de Atalanta.
The 16 Best National Parks to Visit in June For Summer Fun
Are you looking for the perfect summer adventure? Look no further than these top national parks to visit in June! From the stunning wildflower displays at Lassen Volcanic National Park to the world-class whitewater rafting at New River Gorge National Park, this article provides insider tips and recommendations for an unforgettable outdoor experience. Don't miss out on the chance to explore these breathtaking natural wonders during one of the best months of the year!
6 National Parks To Avoid This Summer (And The Alternatives)
Are you planning a summer trip to a national park but want to avoid the crowds? Look no further than this article, which provides insider tips on which popular national parks to avoid and offers recommendations for six alternative destinations that offer unique experiences and stunning natural beauty. From exploring rugged peaks and pristine lakes at North Cascades National Park to discovering the geological history of Capitol Reef National Park, this article has everything you need to plan an unforgettable outdoor adventure this summer.
Best 16 Utah Vacation Spots
Are you looking for an unforgettable vacation spot with breathtaking natural beauty? Look no further than Utah! With stunning national parks like Zion and Bryce Canyon, as well as unique attractions like the Homestead Crater and Dead Horse Point, Utah has something for everyone. This article provides insider tips and recommendations for the best places to visit in Utah, from hiking to skiing to soaking in natural hot springs. Don't miss out on the chance to explore this incredible outdoor playground!
5 Waterfalls in Zion National Park For A Fabulous Day Out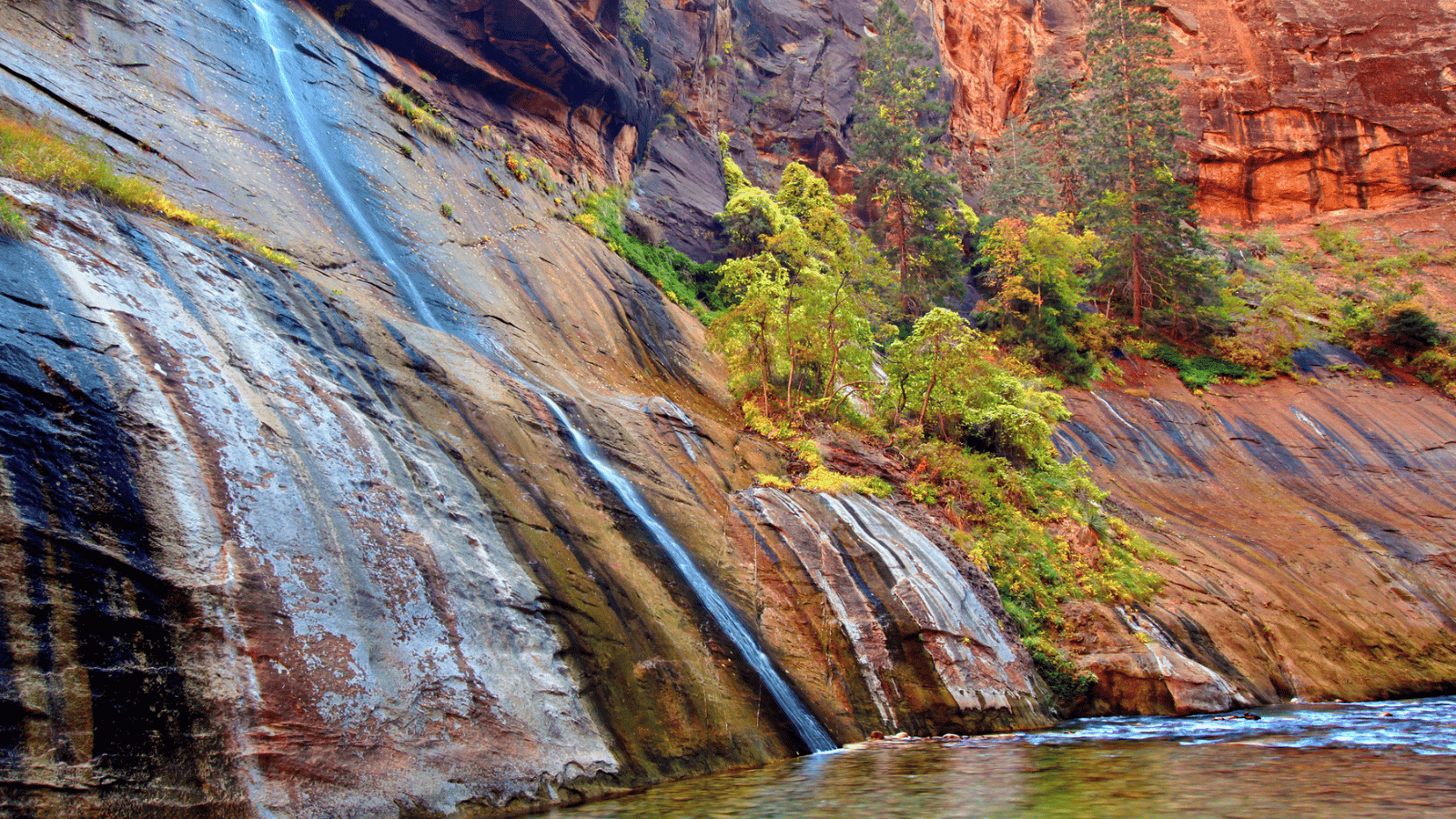 Are you a nature enthusiast looking for an outdoor adventure that will take your breath away? Look no further than Zion National Park in southwestern Utah! This article explores the park's stunning waterfalls, including the moderate hike to Archangel Falls and the more challenging Upper Emerald Pools. But that's not all – the article also highlights other natural attractions in the park, such as The Great White Throne and the Court of the Patriarchs. Don't miss out on the chance to explore this gorgeous landscape and experience the beauty of Utah's unique natural wonders!