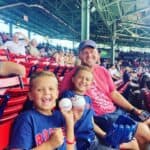 Jake Cain is an entrepreneur and writer from Cincinnati, Ohio. He spends his free time driving around the country in his late 90's conversion van, affectionately known as the "Monster Van" with his wife and 3 boys.
We had the great pleasure of going to Jackson, WY on our last cross-country trip and we absolutely loved it. The town is fun and the Tetons are truly breathtaking.
Here's a look at the couple of days we spent in the Jackson Hole area.
Casper, Wyoming Stop Over
In case you're planning a similar trip, I should mention that I picked the Casper, WY area to break up our drive from Mt. Rushmore to Jackson, WY.
This gave us about a 4 hour drive after Rushmore, and then about 5 hours into Jackson the next day.
We stayed at the C'mon Inn – which is such a goofy name I almost didn't book it out of principle. However, it had an incredible pool, 5 hot tubs and above average free breakfast.
We also found time to eat at HQ BBQ in Evansville, WY – which was very good, with the mac & cheese being the star of the show.
I'm Going To Jackson
Even though I'm pretty sure Johnny Cash wasn't talking about Wyoming in his song "Jackson" – I still pulled it up on Spotify as we drove into town.
Any time I can pretend I'm Delilah and play the perfect song for a given moment – I take advantage of it.
We had let the kids stay up late the previous night, so as we approached town we turned on Andy Griffith to keep the adults entertained and encourage the kids to nap. It worked beautifully for everyone except Hudson, who is seemingly nap-proof.
As we arrived in town, we had to take a picture of Jackson by the incredibly cool Jackson, WY sign:
Then, we headed into town to check out some fun stuff like the elk antler arches on the town square and the pretend gun fight they do every night at 6:00.
Even though you know fake guns will be fired, that first shot never fails to jolt my pacemaker.
Jackson Hole Rodeo
This year, we got tickets to the famous Jackson Hole Rodeo and it turned out to be a ton of fun. They've been running this rodeo for over 100 years, and it's only done twice a week during the summer – so I actually planned the first part of our trip to make sure we could do the rodeo.
The boys got in the spirit by riding the mechanical bull:
The boys (and my mom) were super into the bull rides and the bucking broncos. The humor from the mic'd up rodeo clown was mostly typical family fun stuff, but he definitely made us suffer through some cringe-worthy jokes. 
He also had some pre-planned joke about what their mule had in common with Hillary Clinton. I don't remember the setup, but the punchline was something about them both being a "jackass."
It got a couple of cheap chuckles.
Immediately after the joke I happened to look to my left at a couple of older ladies sitting next to me and based on their facial expression I'm pretty sure they were staffers with the 2016 Clinton campaign.
They didn't approve of that joke AT ALL.
Their outrage was way funnier than the joke.
The Jackson Hole Rodeo was a bunch of fun, and we'd definitely do it again if in the area. The whole venue and experience just feels very Wyoming.
Our Hotel in Jackson
It's tough to find a nice hotel in Jackson for a decent price. I ended up booking a family suite at the Mountain Modern Motel and just wanted to share how cool it was.
It has this modern ski lodge vibe going on, and the price is right. I loved the lobby so much, I busted out the Osmo Mobile 2 and took a video:
Here's a look at our room with double queen beds and 2 loft bunks:
They also had free soft serve ice cream in the evenings, as well as a great indoor pool & hot tub that was a nice bonus. We were also walking distance from the town square – so you really can't beat this place in terms of value if you want to stay in Jackson.
A Day In The Tetons
Day one was dedicated to the town of Jackson.
The rodeo, the shopping, town square, etc.
Our next day was spent in the Grand Tetons National Park.
Last time we came, we didn't see a moose. So we decided to get up around 5:30 AM and get out on the road, hoping to see a moose.
Wildlife spotting can be a little bit of an emotional roller coaster.
You're ready to park at a good spot and sit there quietly and patiently, while you're kids are saying things like "Dad, why aren't we moving?" 
"Dad, what are we doing?"
"How long till we get there?"
"We ARE there, shut up!." 
I love my kids…
We were fortunate enough to spot a moose right by the road about 10 minutes into our drive.
Here he is just moments before I ran him over with the Monster Van.
I'm joking, of course. I brake for all God's creations (except cats.)
We didn't get photos, but for a fleeting moment we saw another moose walking around with a baby – which was a fantastic surprise.
Grand Teton Photo Opps
The Grand Tetons are perhaps the most photogenic backdrop I've ever seen.
Every time you stop, you feel like you should take a picture.
"Look at those mountains behind the porta-potty! Hand me my phone…" 
One of my favorite views is from the famed T.A. Moulton barn. I mixed up the still shots and took a pretty sweet video using my new favorite toy:
From the kids perspective, we probably stopped at one photo opp too many.
At the last one, we told the kids to get out of the van and Jackson said "can we just stay in the van?"
I said "no, get out."
Then, as Hudson was begrudgingly exiting the van he said "ughhh… I hate this stuff!"
#MakingMemories
Despite the opposition, here are a few others we took along the way.
And no, the pictures don't do this place any kind of justice..
Food Near The Tetons
If you're interested, I stopped by Cowboy Coffee in the morning (near Jackson town square) and the coffee was slightly better than Wall Drug's.
Actually, the coffee was excellent and it's a cool little shop. I highly recommend stopping by.
In fact, I didn't even know Sarah was about to take this picture. I was just sitting there all happy and she snapped this without my knowledge.
For lunch, we went to the restaurant with perhaps the best view of all the restaurants…
Dornan's Pizza & Pasta. 
We snagged outdoor patio seating, and the weather was absolutely perfect. All the food is slightly above average, but the real star of the show is the backdrop to your meal:
We were fortunate to land an amazing hotel for our second night in Jackson Hole – at the Teton Mountain Lodge & Spa in Teton Village.
Believe it or not, getting a one bedroom suite at a high class place like this was slightly cheaper than grabbing 2 separate rooms at a fairly typical hotel in Jackson during the summer season.
So if you're traveling with an awkward number of people, I've found that sometimes it pays to shop around.
I'm sitting in our living room right now writing this blog post, and when you add in the mountain views from our balcony and rooftop hot tub, it's probably the nicest hotel I've ever stayed in.
Teton Village is all about skiing, so give this hotel a look if you're headed to the Tetons in the summer and you just might get a deal on an amazing place.
Tomorrow, we'll sadly have to check out of this place and head to Yellowstone. I'll do some wildlife watching there, even if I have to leave my kids at the hotel.