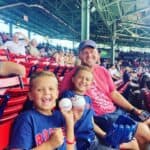 Jake Cain is an entrepreneur and writer from Cincinnati, Ohio. He spends his free time driving around the country in his late 90's conversion van, affectionately known as the "Monster Van" with his wife and 3 boys.
We woke up super early from Morro Bay (like too early to eat breakfast at the hotel) and hit the road for Los Angeles.
It was about a 3.5 hour drive according to my friends at Google Maps, but I heard a rumor once that the Los Angeles area experiences congestion on the roadways from time to time.
Besides, I realized I'd made my first (and only) timezone blunder when planning out our 3 days in LA.
I'd bought tickets for the Dodgers game on Saturday, and when I first looked up the schedule it said the game started at 7:05.
Once I received the tickets, I realized that wherever I saw that information was translating the game time into Eastern Standard Time.
So the game actually started at 4:05 in the local timezone.
This was only a problem because I'd built out the rest of the schedule around doing "Jake's Tour of Los Angeles & Hollywood" the morning/afternoon of the game.
That meant we had to get up around 5:00 AM and hit the road so we could fit in all of our sightseeing and still make it to the game on time.
(My dad hates being late to baseball games.)
Once we made it to the LA area, we drove straight to Beverly Hills for a surprise stop on my tour.
Andy Griffith Into Reenactment
If you know anything about my parents, you know that the Andy Griffith Show is ingrained in us from a young age.
Obscure quotes from the show are used in everyday conversation with the expectation that you'll immediately pick up on the reference.
A couple of practical examples: 
When somebody detects the smell of gas in the car: "What do you think this car runs on? Coal!?"  – Barney's First Car
When your kid says something you really wish they hadn't: "To think I was happy when you learned to talk."  – The New Housekeeper
When an adult gets overly excited about doing kid-friendly activities: "Will you help us!?" – Andy Discovers America
If you're not a fan of the show, these references mean nothing to you and this all sounds a little weird…
I can accept that.
However, the point is that Andy Griffith was a big deal in our house growing up, so I knew a surprise stop to Franklin Canyon Park in Beverly Hills would be a big hit.
I learned that this was the site of the famous, whistling show introduction that was supposed to be set in North Carolina.
When you pull into the park, there definitely aren't any signs around pointing you to the filming location.
So, I had my parents walking around like Moses and the children of Israel trying to look for a tree that looked familiar.
Eventually, I found a park ranger who gave me overly detailed instructions on how to find the place I was looking for and eventually… I found it.
The place looks a little different after 60+ years, but when I asked my parents if they recognized the famed Hollywood filming spot, mom's first guess was "Andy Griffith."
We felt so inspired that we did a little reenactment video:

We left Franklin Canyon and headed out to see some other sites notable in Beverly Hills
Rodeo Drive & Celebrity Homes
Rodeo Drive is one of the more iconic high end shopping areas you'll find.
Typically, you'll find cars parked on the street that you've never heard of, but you're confident that they're worth more than your house.
I was too scared to try to parallel park in front of it, but I stopped in the middle of the street and had Sarah capture this moment where Monster Van meets Bentley.
Shopping in Rodeo Drive sounds fun, but it's one of those things where you're not really going to buy anything…
"This shirt's nice!" (checks price tag) "$195! I'll just go to Old Navy."
So on this trip, we just cruised around the area in style and left the shopping to more materialistic people.
Roxbury Drive
My favorite things to see in Hollywood are things from the golden age that have some cool history behind them.
One of my favorite streets to drive down and see celebrity homes of yesteryear is Roxbury Drive.
Unlike celebrity homes of today which are usually hidden behind a huge fortress of walls and shrubs, these houses are on a more accessible, residential street.
It's fun to imagine the stories you hear of Jimmy Stewart walking his dogs, Lucille Ball handing out Halloween candy, and Bing Crosby doing some Christmas caroling with Rosemary Clooney's kids while you drive or walk around Roxbury.
Read more about Roxbury Drive's history here.
We drove around and soaked in some more wealth and privilege before heading over to a less touristy area like…
The Hollywood Sign & Walk of Fame
If you've never been to Hollywood before, you've just got to stop here.
The famed stars on the ground aren't the easiest thing to take in – especially with a Saturday afternoon crowd milling around on the sidewalks.
However, the handprints near the Chinese Theatre are awesome.
You can size up your hands and feet next to some modern celebrities as well as icons from the past like Shirley Temple and Roy Rogers (with Trigger's hoof prints).
Surprisingly, parking at the Hollywood & Highland garage is pretty easy and cheap when you get it validated at one of the stores or restaurants.
Hollywood Sign
To get up close to the Hollywood sign, we set the GPS to Lake Hollywood Park.
It's a cool little park and playground right below the Hollywood sign and has a great view of the sign and downtown LA in the distance.
Often, you can find parking along the street – but this time we weren't so lucky.
It didn't help that it was probably 1:00 on a beautiful Saturday afternoon.
Sarah was really pushing me to double park or just stop in the middle of the road so we could all hop out real quick and get a picture with the famed sign in the background.
As you saw on Rodeo drive, I'm not afraid to invent a temporary parking spot for a photo opp.
But in this case, there was HEAVY traffic from both cars and from pedestrians. I also remembered how things turned out when my mom tried to get in and out of the van in an expedited fashion.
(Hint:)
So instead, we snapped a picture of the sign through the window of the Monster Van and moved on with our day – which meant heading to Dodger Stadium.
Dodger Stadium
The only way down from the Hollywood hills are narrow, winding residential streets. You'll see really unique houses along the way – so it's a balance between taking it all in and trying not to drive into someone's living room.
We arrived at Dodger Stadium without much fuss, and parking was quite simple thanks to one of the largest surface parking lots you'll see anywhere. We arrived early enough to take a wonderful family photo by the big logo, and we all got free Kike Hernandez t-shirts!
We sat in the second deck on the third base side, and it was simply a beautiful night for baseball. We were seated in the shade with a nice breeze blowing through, which carried the scent of Dodger Dogs throughout the stadium.
I spent the extra $1 and went with the "Super" Dodger Dogs which were basically a 12-inch hot dog on a 6-inch bun.
Another thing we noticed about Dodger Stadium is that the fans are into the game in a big way – which always makes things more exciting.
Dodger Stadium is one of those classic, retro-feeling ballparks that should be on any baseball fan's list of places to visit. The energy, the scenery, and the experience are all top-notch.
After the game, we made our way down to Anaheim and arrived at the Staybridge Suites – which would be our basecamp for the next 3 nights.
Disneyland
We got back a little late from the game, but that didn't stop us from heading over to Disneyland the next day.
We were excited to pack in the Magic, but we made the wise choice to eat, swim, and rest a bit at the hotel before going to Disney's California Adventure.
This was the one Disney theme park in the US we'd never been to, so we were anxious to check it out and meet some of the Marvel characters as well as ride some new rides.
Mom & Dad were excited to go as well, but they were a little nervous about keeping pace and doing all the walking that comes with any trip to Disney.
I assured them that keeping up would be no problem, we'd be sure to walk at a very casual pace.
But the truth is, when I hit Main Street USA, I've been known to turn into a bit of a speed walker.

So with that in mind, right after we scanned our tickets and entered the park, we decided to start the day with a little fun at mom & dad's expense.
I had the kids in on it, so as soon as I said "Ok, let's go!" we all took off running full speed, about like this:
Without skipping a beat, dad just said "Ok, we'll see you back at the hotel!"
Fun times…
California Adventure Highlights
I won't turn this into a Disneyland review blog (you're welcome), but here are a few things we liked in Disney's California adventure.
Below is when we took one of the drawing classes they offer with one of the animation artists. The boys are really into their art and it's a ton of fun to follow along and draw a random Disney character step by step.
Another big thing we loved about this park compared to Disney World in Orlando is that you get to meet some of the Marvel Superheros.
The boys were beyond excited to get up close to Black Panther, Captain America, and Spider Man.
One of the other standouts from California Adventure was Cars Land. If you've seen any of the Cars movies, then you'll recognize the street scene from Radiator Springs below.
The level of detail in bringing an animated town to life is one of those magical things that Disney seems to do better than anybody.
Also – the Cars ride, which is kind of like a Cars-themed version of Test Track from Epcot, was outstanding. So much fun for kids and adults alike.
We finished the day by riding Soarin' Over California – which is a ride that simulates that you're flying over all different kinds of scenery.
Of course, Nana's reaction was more entertaining for the kids than the ride itself.
Disneyland Highlights
We were pretty worn out after a full day at California Adventure.
Mom & Dad decided to rest up in the morning and joined us for just the afternoon portion of our visit to Disneyland.
You know what that means…
I spend 4 hours leading the kids around like this:
I love that Disneyland is the park that Walt actually saw come to life. It just has such a nostalgic vibe to me for that reason.
If you've been to Magic Kingdom the parks are similar and some of the rides are the same. Including the classic Dumbo ride.

Jackson was excited to show Mickey Mouse a picture he'd drawn of Mickey:
Sarah was excited to wear the Disney-themed mom and dad shirts she's always wanted:
We explored Disneyland at a fast pace all morning long, then went back to the hotel for lunch and a break before returning in the evening.
Mom & Dad joined us for the evening festivities which included the Disney Forever fireworks and laser show before closing time.
Headed to Vegas
Once the park closed, we hopped in the Monster Van and got back to the Staybridge Suites to grab some shut-eye.
Up next – heading to Las Vegas and the Trump International Hotel.