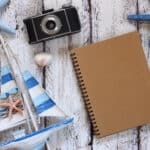 Elizabeth is an experienced traveler and writer with bylines in several popular travel publications. She currently co-owns a small digital travel publication and spends her free time writing, taking photos, and traveling.
From the iconic Lake Tahoe with its mesmerizing blue waters to the expansive 19,000-acre Lake Havasu, California is home to some of the most stunning lakes in the country. There are so many, in fact, that it makes it hard to plan a lake-centered trip to the Golden State.
If you're unsure where to start, here are 17 of the most beautiful lakes in CA where you can count on breathtaking landscapes and unforgettable experiences.
Lake Tahoe
Located in the heart of the Sierra Nevada, Lake Tahoe stands as the largest and one of the deepest alpine lakes in the United States. Its clear waters (a testament to a formation process dating back two million years) alongside rugged mountains invite year-round thrill-seekers, from winter sports enthusiasts to summer beachgoers. Whether venturing on the Tahoe Rim Trail or exploring the historic Vikingsholm mansion, Lake Tahoe delicately interweaves natural splendor with intriguing local lore, making for an unforgettable stop on any California vacation.
Big Bear Lake
Nestled within the San Bernardino Mountains, Big Bear Lake enchants with over 300 sunny days annually. A unique snow and rain-fed reservoir, it offers exhilarating skiing, scenic hiking trails, tranquil fishing, and unique shopping experiences in its vibrant resort community. Whether exploring the seven-mile-long lake depths or discovering secluded, off-the-beaten-path preserves, Big Bear Lake perfectly blends California's abundant sunshine and the splendor of the serene mountain landscape.
Lake Havasu
Lake Havasu, a 19,000-acre impoundment on the Colorado River, presents a wild and wondrous fusion of adventure-filled activities and profound historical richness. Nestled on the Californian-Arizonan border, it's the perfect spot for motorized boating, bass fishing, and shoreline swimming. Beyond the water, explore Lake Havasu City with its memorable London Bridge and dive deep into the story of the Mojave people.
Lake Berryessa
Immersed in the breathtaking beauty of the Blue Ridge and Cedar Roughs, Lake Berryessa, the largest fresh body of water in Napa County, unfurls a panoramic paradise for over 1.5 million adventure seekers every year. Its vast 165-mile shoreline pulsates with water sports, while secluded coves promise serene kayaking, swimming, and fishing experiences. In the summer, the lake's warm 75-degree waters are the ideal antidote to a warm day spent exploring sun-drenched vineyards or hiking trails.
Folsom Lake
Folsom Lake, cradled at the base of the Sierra foothills, embodies an enticing blend of outdoor activities, historical charm, and serene landscapes. From horseback riding through lush trails and picnicking beside tranquil waters to casting a line for bass, trout, and catfish, the recreation area offers numerous adventures. Unsure where to start? Uncover the intriguing history of the Folsom Powerhouse and challenge yourself on a 32-mile bicycle path en route to Old Sacramento.
Shasta Lake
Sprawled out over a 30,000-acre reservoir, Shasta Lake is an inviting aquatic wonderland in California, studded with fishing boats, jet skis, and houseboats. Wrapped in 370 miles of shoreline, its mirror-smooth coves are ideal for anchoring and provide opportunities to spot wildlife like bald eagles and osprey or fish for bass and catfish. All this, with the snowy silhouette of Mt. Shasta as your backdrop, creates a striking scene rooted in history from the 1944 construction of the Shasta Dam.
Mono Lake
Discover the antiquity of California at Mono Lake, an exquisite saline soda lake over a million years old that paints a mesmerizing landscape with its spectacular "tufa towers." The lake's unique alkaline waters, twice as salty as the ocean, and surrounding wetlands serve as a nurturing habitat for millions of birds annually. Immerse yourself in the birdwatching paradise, kayak amid ancient calcium-carbonate spires, or stay ashore and simply take in the awe-inspiring history encoded in the lake's saline depths.
Tenaya Lake
Elevated at 8,150 feet in Yosemite's alpine region, Tenaya Lake, known as the "Jewel of the High Country," offers visitors a blend of serenity and adventure. The inviting blue waters, cocooned by towering granite domes under the Sierra Nevada sky, create a perfect backdrop for activities ranging from boating and swimming to sunbathing and picnicking. Easily accessible via Tioga Road, it's not just a lake; it's a gateway to a vibrant outdoor experience.
Lake Sonoma
Enveloped by world-renowned vineyards and steeped in Sonoma County's rich history, Lake Sonoma is a true testament to nature's bounty. Formed by the Warm Springs Dam, the lake, with its 2,700-acre surface and 50-mile shoreline, opens its arms to a wealth of recreational pursuits. From peaceful fishing excursions and challenging hikes to water sports or boat-in camping under the stars, the lake presents a captivating tableau for any travel enthusiast.
Big Pine Lake
In the heart of the Sierra Nevada Mountains lies Big Pine Lakes, a constellation of beautiful glacial lakes ensconced beneath towering 14,000-foot peaks. Adventure awaits as you hike a scenic trail that winds past a waterfall and loops around six of these high alpine gems, with tantalizing spur paths leading you to other lakes and the majestic base of the Palisade Glacier.
Convict Lake
Discover Convict Lake, a scenic jewel just a short drive from Highway 395. This glacially carved, deep lake offers glass-clear waters for top-tier fishing and a three-mile-long trail against the steep grandeur of the Sierra Nevada. As you explore the lakeside trails, let the echoes of history add an intriguing layer to your exploration (it's the site of the historic 1871 shootout between prison escapees and a local posse).
Donner Lake
Cradled in a historic High Sierra pass near Truckee, Donner Lake sparkles as one of the best lakes in CA, offering a less crowded alternative to the vastness of nearby Lake Tahoe. Primed with a mix of water sports and mountain recreation, this 2.7-mile-long gem offers an array of trails that invite exploration on hikes, snowshoes, or skis. Just don't miss the chance to visit Donner Memorial State Park's visitor center, where the tale of the unfortunate Donner Party unfolds.
Mammoth Lakes Basin
Nestled in the lap of the Sierra Nevada Range, Mammoth Lakes Basin offers an enticing blend of tranquil lakes, towering pines, roaring streams, and mountains that seem to flirt with the sky. When the snow retreats, wildflowers erupt in a riot of colors, painting the rock walls with spectacular hues. Ultimately, the diverse landscapes hide a veritable playground for campers, hikers, fishermen, and paddleboarders, offering something for every level of adventurer.
Bass Lake
Set in the cool shadow of the Sierra National Forest, Bass Lake's allure lies in its warm summer waters and abundant activities. This pine-trimmed reservoir, a scenic half-hour drive from Yosemite National Park, thrills with water skiing, wakeboarding, and wave running while catering to the tranquil with sheltered coves and sailing opportunities. For land lovers, challenging treks to the Goat Mountain Fire Lookout or the scenic Willow Creek Trail offer fun adventures.
June Lake
Located in the rugged heart of the Sierra Nevada, June Lake is a mesmerizing destination stretching over 320 acres of sparkling waters and sandy beaches. Its unique blend of natural beauty and outdoor adventure opportunities like fishing, canoeing, and hiking make it a must-visit for nature enthusiasts. The best thing to do here? Ascend to the captivating vantage point at Oh Ridge, a photo-worthy spot where the lake's majesty unfolds like a living postcard.
Silverwood Lake
Discover Silverwood Lake Recreation Area, a trove of adventure and serenity in the heart of the San Bernardino National Forest. With its cool, shimmering waters inviting visitors for a swim, a paddle, or a fishing adventure, this locale is a sought-after retreat for Angelenos. A short 80-mile journey from downtown Los Angeles, it boasts campgrounds, boat rentals, and multi-use trails that enable a true immersion in nature. As you explore, don't miss the barge tours that offer an intimate glimpse at the lake's resident bald eagles.
Lake Almanor
Lake Almanor is a vast reservoir in northwestern Plumas County, California, offering an array of water activities for families. For those on a summer road trip, embrace the inviting summer temperatures, perfect for water skiing, jet skiing, or simply basking in the water. The colossal man-made lake, encircled by a generous 52-mile coastline, serves as a year-round fishing hotspot, with the magnificent Lassen Peak and Dyer Mountain delivering a captivating backdrop.
8 Most Unique Places To Kayak In The US — Stunning Beauty
Looking for a unique and thrilling way to explore the natural beauty of the United States? Look no further! From the bioluminescent bays of Puerto Rico to the rugged beauty of the Apostle Islands in Wisconsin, there's something for every adventure seeker.
The 10 Most Beautiful Hikes In The US — Discovering America
This article highlights the most beautiful hikes in the US from California to Maine. Whether you're a seasoned hiker or just starting out, there's a trail on this list that will leave you awe-inspired. So, put on your hiking boots and get ready to explore the diverse and awe-inspiring landscapes of America's most beautiful hiking destinations.
10 National Parks To Skip If You Have Young Children
This article is a must-read if you're planning a national park trip with young children! Don't get stuck in rugged terrain, limited water access, or super-long hiking distances with your kiddos! Learn about the challenges and potential dangers of visiting these parks with young children and plan your trip accordingly for a safe and enjoyable experience.