Stephanie is a cherished member of the Sampling America writing team, dedicated to crafting captivating narratives that transport readers to thrilling adventures across the country and beyond.
For many people, driving through the United States national parks is one of the best ways to spend a vacation or a road trip with friends or family.
National parks offer so much, such as wildlife preservation, stunning views on amazing hikes, and well-maintained trails with education for park attendees. Consider this two-week-long national park road trip to hit the best parks in the United States in one vacation.
Grand Canyon National Park, Arizona
To begin your ultimate national park road trip, we recommend starting in the most well-known park, the Grand Canyon.
This stunning natural geological feature might seem cliché and overcrowded; however, in the off-season, this park is very manageable, and the hiking trails can often be clear of tourists.
You can either stop for a full day of hiking, biking, or horseback riding to experience all the different facets of the park. However, you can also stop in for a photo and move on if you'd like.
Saguaro National Park, Arizona
Although it might seem redundant to visit two national parks in Arizona, they could not be more different. Located in Southern Arizona, Saguaro National Park is marked by the stunning saguaro cacti.
Visiting this park feels incredibly different from the vast cavern at the Grand Canyon; it's a quintessential stop to breathe in the majesty of the southwest desert.
Big Bend National Park, Texas
From Arizona, drive over to the west side of Texas, above Mexico, to gaze at the stunning mountains and lush greenery.
Known as Texas's gift to the nation, this park looks incredibly different from the flat cattle fields usually associated with the Lone Star State.
The park is also rich in cultural and natural history; the area has played host to many different indigenous tribes through the centuries. It's a perfect place to learn more about the rich history of the nation.
Indiana Dunes National Park, Indiana
For a completely different experience, head over to the white sand beaches of Indiana Dunes National Park. Located on the shores of Lake Michigan, this massive national park looks like you're enjoying the Caribbean while staying in the heart of America.
Spending a few hours in this stunning national park will make you forget that you're driving through the Midwest. Be sure to plan this stop on your road trip to experience this unique destination.
Dry Tortugas National Park, Florida
Take another stop at one of the most unique national parks in the United States. The Dry Tortugas National Park on the Florida coast is on the Gulf of Mexico and is made up of seven islands.
The tropical park has multiple coral reefs filled with sea turtles and other types of tropical marine life. This national park is a sunny, tropical destination that you can visit without leaving the continental United States.
Shenandoah National Park, Virginia
Return to the rich forested wilderness at Shenandoah National Park in the Blue Ridge Mountains of Virginia.
These rich woods are full of excellent hikes that intersect with the Appalachian Trail. Although rumored to be very haunted, the woods here are still a stunning place to spend a day or two hiking and enjoying the low hills of the Southern United States.
Acadia National Park, Maine
It would be a mistake to forget about New England on a road trip through the U.S. Although a small section of land on the East Coast, Maine offers some of the country's best views of the ocean and the forest.
Acadia National Park is well-known for being the perfect combination of woodsy and beachy. The area is filled with unique wildlife, such as brown bears, whales, moose, and more.
Badlands National Park, South Dakota
Head to South Dakota to witness dramatic natural landscapes and a piece of quintessential American history at Mount Rushmore.
The park is the perfect place to stop on a road trip through the U.S. because of its easily accessible hiking trails, stunning natural views, and connection to U.S. history. You can also view a fossil exhibit of all the prehistoric items that have been found here.
Rocky Mountain National Park, Colorado
You'll notice the mountains dramatically shift when entering Rocky Mountain National Park in lovely Colorado.
The West Coast mountains simply cannot be beat. Dramatic height made from solid rock formations plays host to big horn sheep, grizzly bears, moose, and more. The forests and alpine tundra allow for some of the best and most challenging hiking trails on this list.
Canyonlands National Park, Utah
Although Canyonlands is usually overlooked in Utah in favor of Bryce Canyon, Zion, or Arches National Park, it's still a wonderful destination.
With the same amount of natural beauty and breathtaking views, this park offers much less crowded hiking paths so that you can enjoy more solitary adventures.
Grand Teton National Park, Wyoming
While Wyoming is a relatively small and unpopulated state, the natural beauty and scenic outdoor views simply cannot be matched.
Grand Teton National Park is rich in wildlife, stunning lakes, alpine views, and a thick piney forest. Be sure to stop through for some of the best hiking trails in the crisp fall air.
Glacier National Park, Montana
This massive national park in Montana's Rocky Mountain wilderness has massive peaks carved by ancient glaciers, which have also left crystal clear lakes and streams.
This destination is a wonderful place to camp overnight while exploring more than 700 miles of hiking trails.
Yosemite National Park, California
The best way to cap off a cross-country road trip to see the best national parks is by visiting Yosemite National Park in the Californian wilderness.
Due to the warm temperatures, Yosemite has a unique climate that produces stunning vegetation. Along with the massive waterfalls and towering cliffs, the hiking trails in this national park are stunning places to spend a vacation.
The 16 Best National Parks to Visit in June For Summer Fun
Are you looking for the perfect summer adventure? Look no further than these top national parks to visit in June! From the stunning wildflower displays at Lassen Volcanic National Park to the world-class whitewater rafting at New River Gorge National Park, this article provides insider tips and recommendations for an unforgettable outdoor experience. Don't miss out on the chance to explore these breathtaking natural wonders during one of the best months of the year!
6 National Parks To Avoid This Summer (And The Alternatives)
Are you planning a summer trip to a national park but want to avoid the crowds? Look no further than this article, which provides insider tips on which popular national parks to avoid and offers recommendations for six alternative destinations that offer unique experiences and stunning natural beauty. From exploring rugged peaks and pristine lakes at North Cascades National Park to discovering the geological history of Capitol Reef National Park, this article has everything you need to plan an unforgettable outdoor adventure this summer.
Best 16 Utah Vacation Spots
Are you looking for an unforgettable vacation spot with breathtaking natural beauty? Look no further than Utah! With stunning national parks like Zion and Bryce Canyon, as well as unique attractions like the Homestead Crater and Dead Horse Point, Utah has something for everyone. This article provides insider tips and recommendations for the best places to visit in Utah, from hiking to skiing to soaking in natural hot springs. Don't miss out on the chance to explore this incredible outdoor playground!
5 Waterfalls in Zion National Park For A Fabulous Day Out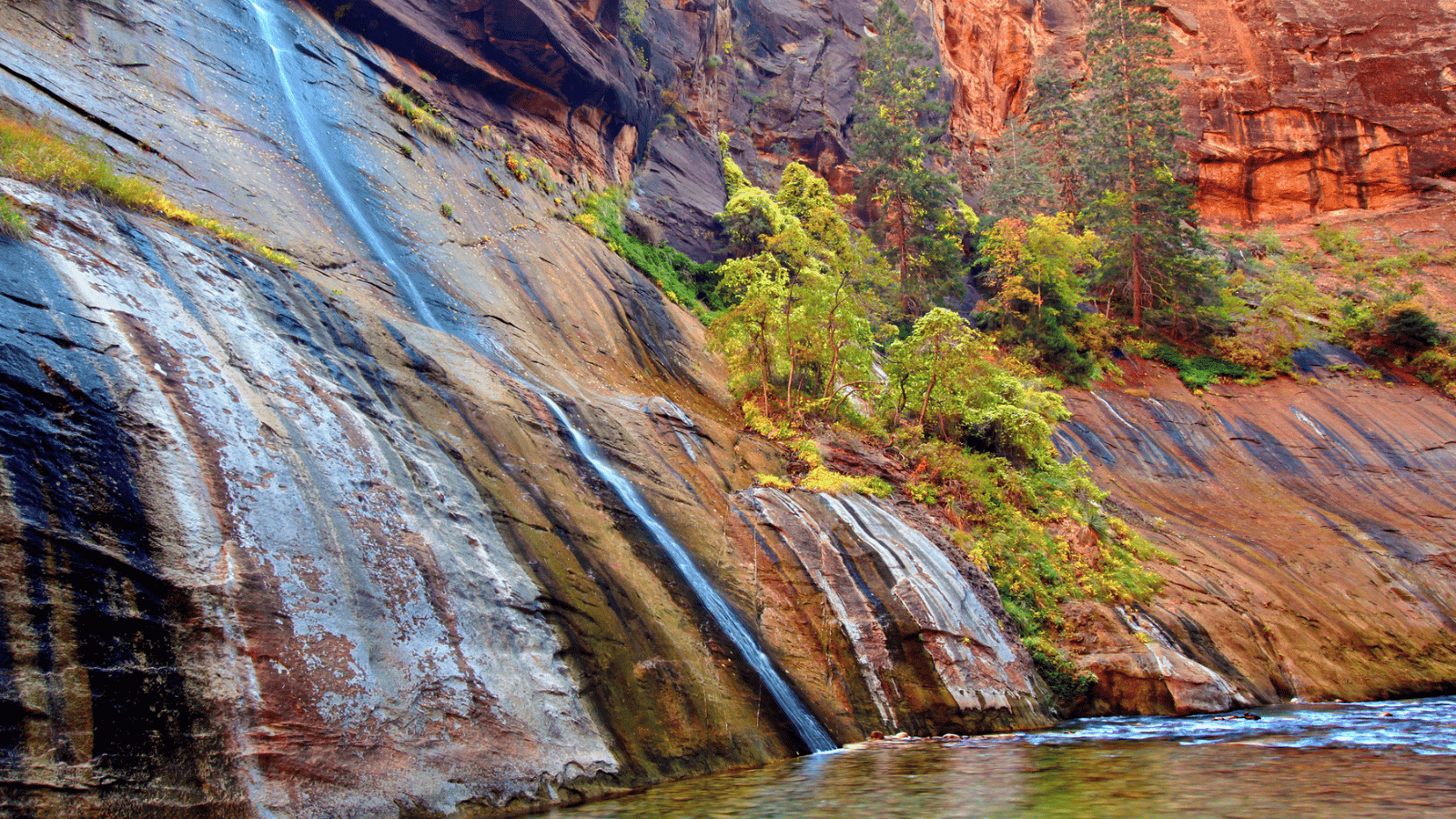 Are you a nature enthusiast looking for an outdoor adventure that will take your breath away? Look no further than Zion National Park in southwestern Utah! This article explores the park's stunning waterfalls, including the moderate hike to Archangel Falls and the more challenging Upper Emerald Pools. But that's not all – the article also highlights other natural attractions in the park, such as The Great White Throne and the Court of the Patriarchs. Don't miss out on the chance to explore this gorgeous landscape and experience the beauty of Utah's unique natural wonders!