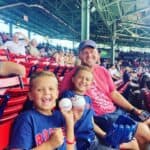 Jake Cain is an entrepreneur and writer from Cincinnati, Ohio. He spends his free time driving around the country in his late 90's conversion van, affectionately known as the "Monster Van" with his wife and 3 boys.
When we left Yellowstone, we made an overnight stop in Idaho Falls before we headed REALLY west.
On the way, we had dinner at Frostop in Ashton, Idaho. I'd planned this stop ahead of time (of course) but the cool root beer mug sign makes it feel like an obvious, americana road trip stop.
Weirdly, the root beer was nothing special. Also, I'm used to my root beer stands offering footlong hot dogs to accompany the root beer.
Apparently, the good folks in Idaho missed that memo – so I was forced to have a burger.
Fathers Day & Anniversary
I'm not real big on special dates – especially those that aren't recognized federal holidays.
There are less than 10 people on earth whose birthday I remember without a Facebook reminder.
So I don't get too jazzed up for things like anniversaries or Father's Day either. I guess it's just the way I'm wired, but if I woke up on Father's Day and everybody treated it like every other Sunday – I'd have no idea it was Father's Day.
That said, it was nice waking up on June 16th to some homemade notes from the boys:
I was feeling so sentimental that I snapped a photo before throwing them away.
A Stop In Lovelock
When we did our first road trip, we took a very similar drive from near Yellowstone to Reno.
This drive to me is particularly grueling – it's almost all desert terrain with plenty of long stretches with no exits or chances to stop.
So back in 2017 I was googling some of the little towns along the way, and discovered Lovelock, NV.
There's basically nothing there, but they take advantage of their name by setting up a little place next to the city building where you can "lock your love."
I remember I took Sarah there in 2017 as a surprise, and she loved it.
So we stopped by again, this time to surprise my parents who have been married 40 or so years (see earlier note about my position on anniversaries).
Here they are locking their love in Lovelock:  
Fortunately, Sarah had some pictures we took from 2017 so we knew roughly where we'd put our lock a couple years prior. After a few minutes of searching, we found it.
Still locked, still in love.
Arriving in Reno
We passed the 9 – 10 hours of drive time by listening to Chip & Joanna Gaines book, The Magnolia Story (which is excellent).
Eventually, we arrived at our hotel in Reno.
We stayed at the Grand Sierra Resort and got a nice deal on a suite and ordered Pizzava pizza, which was quite tasty. It seems like you can get some really sweet deals on casino hotels, so it's a nice way to get something a little more luxurious and fun for a budget price.
Once thing I love about kid-friendly casino hotels is that they usually have a big arcade.
It's funny, with all the bright lights and sounds it's kind of like a casino for kids.
We loaded up some credits and let the boys go crazy for an hour or so.
Exploring Virginia City
We had 2 nights at the Grand Sierra in Reno, so we spent most of a day checking out an old cowboy town, Virginia City, Nevada.
My mom is big into cowboys and western movies, so towns like this are right down her alley. There are some cool historical elements, and plenty of typical touristy shops and sights.
We started by taking a 35 minute train ride on V&T railroad, which gave an audio tour of some of the old gold mines in the area.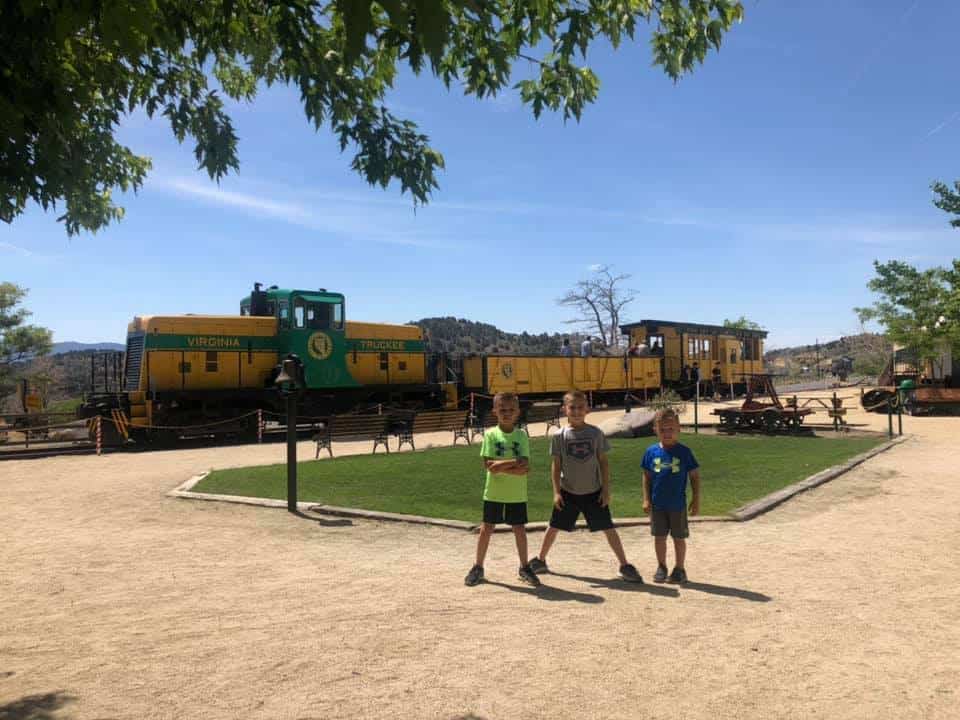 From there, we went to the Fourth Ward School museum. This place was really like stepping back in time and showed what school life was like during the gold rush era.
The kids even got to try on the dunce cap:
I couldn't help but think about what would happen if a school brought back the dunce cap in an ever-outraged 2019 culture.
I think I'd have a hearty chuckle if I found out Hudson got in trouble and had to wear a dunce cap at school, but it probably wouldn't go over so smoothly with many of today's parents.
Introducing a new "participation cap" is probably more likely than bringing back the dunce cap.
What The Kids Noticed
History museums can be a bit of a struggle for kids. Afterall, it's not like we're at COSI and making slime – we're reading about school life in the late 1800's.
But the kids did notice that in all these old pictures, seemingly nobody ever smiles.
I've always kind of wondered that too.
I guess I could google the answer to that – but I think I'd rather leave it in my brain as a fun mystery of why everyone in black and white photos looks like they are about to assault the photographer.
We had some fun with it, and the kids wanted to take some DIY old time photos and look like the sad/angry kids from back in the day:
Shootout Show
We wrapped up our old west day with a live shoot out show by the Virginia City Outlaws.
The plot of these kinds of shows isn't exactly compelling, but you're really just there to enjoy watching people get fake shot.
I think the kids enjoyed the show, but they have no idea what's being said from one outlaw to another because they sit there like this the entire time:
We made our way back to Grand Sierra after grabbing Mexican food for dinner. The next stop is Yosemite, and I just learned that the east entrance is still closed due to snow (on June 17th) so we've got a longer drive than I thought.