Stephanie is a cherished member of the Sampling America writing team, dedicated to crafting captivating narratives that transport readers to thrilling adventures across the country and beyond.
Home to the University of Arizona, Tucson is a large city with tons of visitors yearly. One of the main attractions here is to get out into nature and explore the diversity of the landscape.
Due to the dry and arid terrain, the state is famous for its desert landscapes and rocky mountains. However, there are also plenty of lakes to visit in Tucson. Read on to discover the best lakes in the area next time you need a break from the dry desert sun in Tucson, Arizona.
Rose Canyon Lake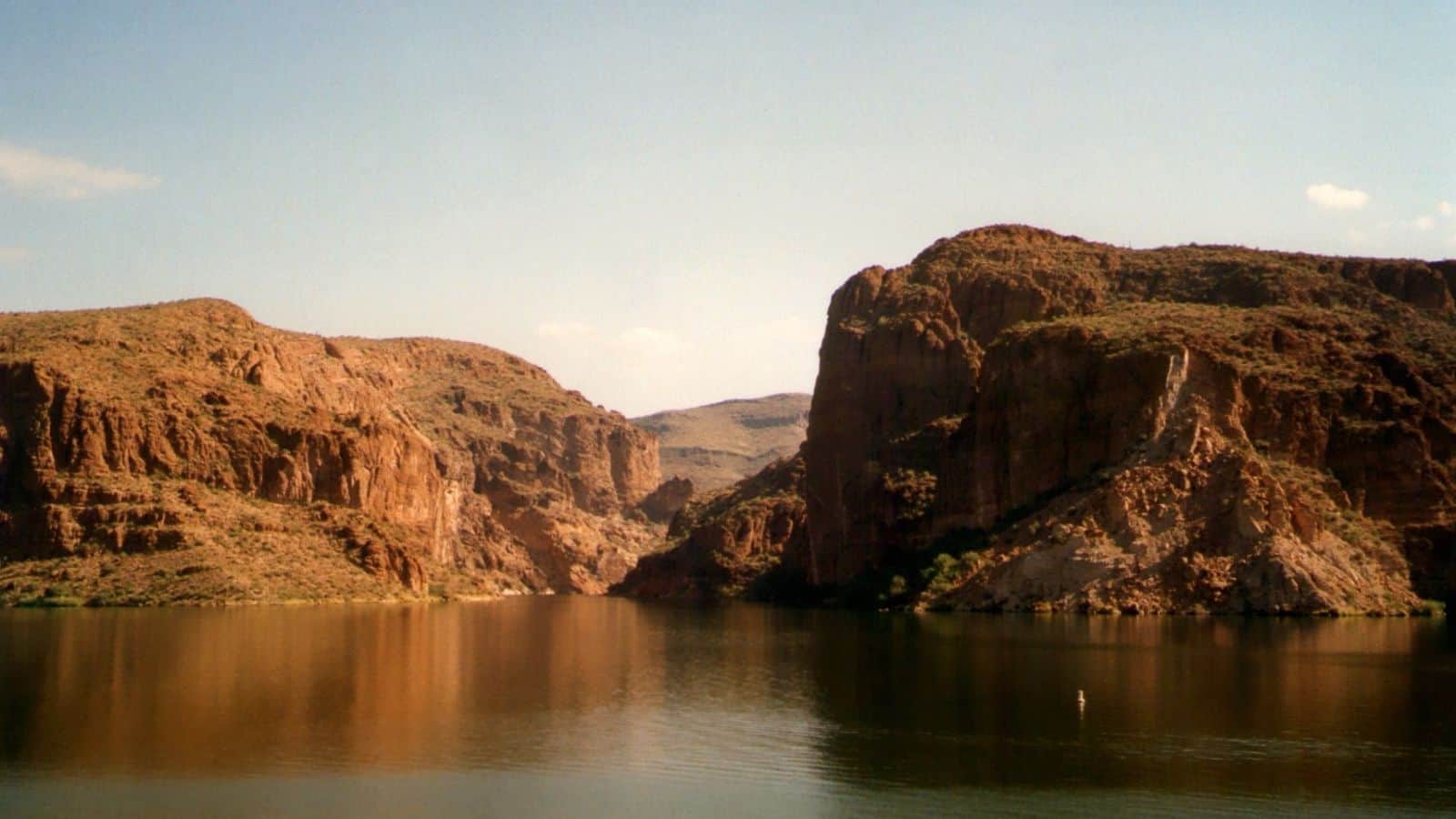 This tiny 6-acre lake sits inside of Coronado National Forest. Although the lake itself does not take up much space, it's well known for its trout fishing.
The calm nature of the lake creates the ultimate fishing experience. With no motorized boats, anyone can come here to rest and relax while fishing for healthy trout.
Roper Lake
Almost two miles outside Tucson, this lake sits inside the Roper Lake State Park, a stunning destination full of hiking trails and camping spots.
Canoeing is a popular activity on this stunning lake, with guests visiting from all over the state and the U.S. to experience the calm waters and dry mountain views.
Peña Blanca Lake
This large lake sits on more than 50 acres south of Tucson. Peña Blanca Lake is well known for fishing, kayaking, and canoeing. It makes a beautiful destination for those looking for a serene natural getaway.
Although the campgrounds do not have water hookups, they're still a wonderful place to spend the weekend, just in a more rustic fashion.
Riggs Flat Lake
This stunning natural lake is the perfect place to bring your boat for fishing, kayaking, canoeing, and more.
The area hosts plenty of campgrounds and hiking trails, making this spot a popular destination for college kids to get out into nature on the weekends. In the summer, be sure to arrive early to secure a spot at the popular campgrounds.
Agua Caliente Park
Just 40 minutes outside of Tucson sits Agua Caliente Park. This small lake is a beautiful spot to head with your family for a BBQ or picnic. The park has plenty of updated amenities for an afternoon get-together with friends.
The lake is also known for its hot spring surrounded by palm trees, creating the ultimate oasis atmosphere.
Patagonia Lake
This large reservoir sits on more than 260 acres inside of a well-developed state park. With tons of water activities and hiking trails, Patagonia Lake is the perfect destination to spend a day or even a weekend vacation.
The lake is well-known for its well-maintained hiking trails that are perfect for outdoors people of all abilities.
Silverbell Lake
As one of the urban lakes in Tucson, this destination can be packed full of people all year long. It's known among the locals and college students as a small oasis in town.
If you're lucky enough to stop by this lake on a quieter day, be sure to take advantage of the peace and wait and set up a picnic, canoe, or hike around the stunning scenery.
Sahuarita Lake
Just south of Tuscon sits this 10-acre reservoir. Driving only takes 20 minutes to feel like you've entered another world at Sahuarita Lake.
Be sure to bring your fishing gear and a picnic for the day. The lake is stocked full of fish and has plenty of outdoor recreational spots for guests to enjoy.
Kennedy Lake
Only 5 miles outside Tucson is Kennedy Lake, named after the 35th President, John F. Kennedy.
This urban reservoir is just 10 minutes outside of the downtown core, making it the perfect destination for swimming, hiking, and fishing without leaving the Tuscan area.
Lakeside Lake
Serving the city's Eastern District is Lakeside Lake. It's a popular destination for locals, a small oasis in the middle of the dry desert.
The lake has several hiking and walking trails circling stunning views of the water. With a large boat ramp, locals are encouraged to bring their water crafts to get out to fish and participate in water sports.
8 Most Unique Places To Kayak In The US- Stunning Beauty
Looking for a unique and thrilling way to explore the natural beauty of the United States? Look no further! From the bioluminescent bays of Puerto Rico to the rugged beauty of the Apostle Islands in Wisconsin, there's something for every adventure seeker.
The 10 Most Beautiful Hikes In The US- Discovering America
This article highlights the most beautiful hikes in the US from California to Maine. Whether you're a seasoned hiker or just starting out, there's a trail on this list that will leave you awe-inspired. So, put on your hiking boots and get ready to explore the diverse and awe-inspiring landscapes of America's most beautiful hiking destinations.
10 National Parks To Skip If You Have Young Children
This article is a must-read if you're planning a national park trip with young children! Don't get stuck in rugged terrain, limited water access, or super-long hiking distances with your kiddos! Learn about the challenges and potential dangers of visiting these parks with young children and plan your trip accordingly for a safe and enjoyable experience.