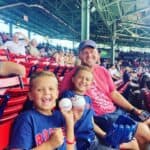 Jake Cain is an entrepreneur and writer from Cincinnati, Ohio. He spends his free time driving around the country in his late 90's conversion van, affectionately known as the "Monster Van" with his wife and 3 boys.
Woodstock, NY, is known for its historic hippie rock festival that changed the course of pop culture forever. However, not many people realize that the area is rich in natural wonders just waiting for visitors to explore.
Waterfalls, parks, rivers, and a diverse array of wildlife make upstate New York a prime destination for people of all ages. So, if you find yourself near Woodstock, make sure to add our list of waterfalls to your destination list!
Let's look at the top waterfalls near Woodstock you won't want to miss as well as some tips for exploring them and making the most of your visit.
Woodstock Falls
Woodstock Falls is in Greene County, NY. The waterfall is a sight to behold and a great destination to visit for nature lovers.
This waterfall is made up of a series of cascading levels, which visitors can experience up close by taking a short hike around the area. You can also take in the scenery from afar – it's a great place to stop for a picnic, take photos, and stretch your legs!
Tompkins Falls
Tompkins Falls is an hour's drive from Woodstock, making it a great place to visit while coming into town or on your way back home!
At approximately 20 feet tall, Tompkins Falls offers a great backdrop for photos and videos (perfect for bolstering your Instagram or TikTok feed).
Better still, visitors are allowed to go swimming and fish in the crystal clear waters of Tompkins Falls, making this a great place for both kids and adults to spend some time!
Rainbow Falls
Rainbow Falls is located in the town of Shandaken, New York. This 150-foot-tall waterfall is a natural marvel in the Catskills that is not to be missed!
In fact, Rainbow Falls is said to be the highest single-drop waterfall in the area and is a popular destination for visitors from all over the country.
With its stunning view and tranquil atmosphere, Rainbow Falls is sure to leave a lasting impression on your friends and loved ones.
Niagara Falls
No list of New York waterfalls would be complete without mentioning Niagara Falls! You'll have to drive 85 miles to get there, so it's not exactly next door to Woodstock, but it's definitely worth the travel time.
Niagara Falls is comprised of three separate waterfalls, each more impressive than the last. Its immense power and beauty are awe-inspiring and a great reminder of the natural wonders that New York has to offer.
To get the full experience, take a boat ride on the Maid of the Mist to get up close and personal with the falls. This is sure to be an indelible experience for adults and children alike!
Kaaterskill Falls
Kaaterskill Falls is located on Spruce Creek, NY, and is a two-stage waterfall. This cascade is located in Green County, spanning two hamlets- Haines Falls and Palenville.
Visitors can actually hike to this location. The trek to Kaaterskill Falls is considered to be moderately difficult but is a great way to experience the beauty of the Catskills if you're up to the task.
Note that the terrain is rocky and uneven at places, so it's important to wear proper shoes and bring plenty of water. Once you reach the top of the falls, you'll be rewarded with an incredible view that is like nothing else in the area!
Fortunately, now that the health emergency has passed, Kaaterskill Falls are once again open to the public. Feel free to take the half-hour drive from Woodstock and snap some viral-worthy photos of the falls.
Woodstock, NY is an ideal destination for anyone looking to explore some of the most impressive waterfalls and natural wonders in the northeast. From Niagara Falls to Kaaterskill Falls, there is no shortage of beauty and adventure to be found in this part of the world.
Whether you are looking to go on hikes, boat rides, or simply take it all in, you will find it all in Woodstock, NY. So don't wait, head over and explore the area today!