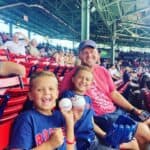 Jake Cain is an entrepreneur and writer from Cincinnati, Ohio. He spends his free time driving around the country in his late 90's conversion van, affectionately known as the "Monster Van" with his wife and 3 boys.
After we left the Grand Tetons, we headed up to Yellowstone.
The south entrance is only about an one and a half hour drive, so we were able to see quite a bit on our first day.
Here's some of the highlights from our 2 days in the original national park, including the moment I thought Hudson might lose a hand.
Yellowstone is Big
I don't feel like googling just how big, but trust me: Yellowstone is huge. It takes up parts of Wyoming, Idaho, and Montana.
I remember the first time we went, we were inside the park and I saw a sign that we had 81 miles to go to Old Faithful.
So unlike many other national parks, you can't just hop over from one thing to another very quickly. If you don't plan out your sites and see them in some logical order, you could waste hours commuting around Yellowstone.
You could definitely spend a week or more in Yellowstone, but we're going at a quicker pace to see a bit of everything in our month-long loop around America.
We definitely didn't see everything, but we were able to see just about everything we wanted to.
My Favorite Sign At Yellowstone
With all the geysers and thermal areas in the park, they have signs everywhere telling you to stay on the path.
In addition to translating that message into 4 languages, they also provide this beautiful illustration of a kid from the 80's getting nailed by a geyser:
Despite these warnings, it's not uncommon to see idiots venturing off the path to get a slightly better picture.
They're just asking to take an Old Faithful in the shorts like that poor kid from the 80's.
Wildlife Sightings
They say that dusk and dawn are your best chances to see bears and most other wildlife, so we spent our first evening driving through Hayden Valley and were lucky to see a ton of bison, several elk, and even a grizzly bear in one of those monster-sized spotting scopes.
Here's a video of when a bison was blocking the road, just walking along in my lane and then eventually let me sneak by:
Bison are everywhere in Yellowstone.
If you go to Yellowstone and don't see a bison, you're a terrible tourist.
On the other hand, seeing a bear takes more luck and effort. We were determined to see a bear, ideally as closely as possible without dying.
So we set the alarms for a little after 5:00 AM, and took off from our room at Canyon Lodge and headed toward Lamar Valley.
Wildlife spotting while driving in Yellowstone is a little intimidating. I really want to help look, but at the same time I don't want to drive off a cliff.
There's a real balance you've got to find there.
We drove for quite awhile and didn't see much of anything. We saw plenty of bison, but it's weird how quickly bison become no big deal when you're in Yellowstone.
In fact, after a couple of days you get a little annoyed when you get all excited about a possible wildlife sighting only to find out it's "just" bison.
The telltale sign of a wildlife sighting is a bunch of cars pulled over and people with 6 foot long camera lenses pointed in the same direction.
When you see that level of interest, I'm pulling up hoping that there's a grizzly bear eating an antelope or something… not a herd of bison.
After a steady diet of bison on our early morning drive, we actually saw a wolf pretty close-up:
We pulled over and watched him trot around for awhile, and it really is fascinating to see these kinds of animals in the wild.
Though I'll admit, deep down I'm really hoping every animal I see would do something cool like go kill something lower on the food chain and have lunch while I'm filming.
But I realize this isn't the zoo and I'm not watching a show – so I'm perfectly happy watching these amazing creatures go about their normal life.
But one can dream…
Bear Close-ups
We were excited and felt like getting up extra early was worth it once we got to see a wolf so close-up.
Little did we know that the fun was just beginning.
As we were headed back toward our lodge, I turned a corner and saw a couple of stopped cars and a black bear right next to the road.
We were probably 15 – 20 feet away from this guy, and eventually he crossed the street right in front of us.
Now we were super happy with our wildlife trip, but then we got even luckier and saw a grizzly bear along the road.
Here's the video I took driving by:

We ended up turning around and driving back by it about 5 or 6 times. It's weird how you feel comfortable driving so close to an animal that could kill you without breaking a sweat.
When he's looking down and not noticing you, you feel perfectly safe.
But when he looks up and makes eye contact with you – your heart skips a couple beats.
So you can imagine my reaction when I'm slowly pulling past a grizzly bear that's close enough to touch and I look in my rearview mirror and see this:
Yes, that's Hudson dangling his hand out and doing spirit fingers. (I made him reenact it for a photo).
I guess he was thinking he'd get the bears attention or maybe pet him?
Either way, I freaked out and yelled at him to get his hands in the car. Fortunately, we all lived and got some amazing photos and videos of the experience.
Natural Wonders Of Yellowstone
Of all its natural wonders, none is more famous than Old Faithful.
We stopped there first, and as luck would have it the geyser that erupts about every 90 minutes was just finishing up.
So we hung out and shopped a bit and waited for the next eruption. It is really cool to see and one of those must-do things if you go to Yellowstone.
For my money, once I've seen the king of the geysers, I don't go see the other ones at the park. Why waste time on Old Faithful wannabes?
From there, we went to see grand prismatic and it's pool of vibrant colors.
Right as we found a parking spot, I was informed that Gray had just fallen asleep. That meant I got to haul his limp carcass up to the top of the hill so we could see grand prismatic.
I love Gray as much, or perhaps more than my other kids, but he has an uncanny ability to fall asleep at the most inconvenient times.
Another one of my favorites in Yellowstone is the Grand Canyon of Yellowstone. There are several different viewpoints to take in the amazing colors of the rocks and the powerful waterfalls below. Even if you've only got one day in Yellowstone, this is a must see.
A Surprise Reunion
The most unexpected thing that happened on our trip to Yellowstone is that I ran into a former co-worker from my time at Hobsons, Vishal Saboo.
I found out that Vishal moved to the west coast and doesn't live in Cincinnati anymore, making this random Wyoming run-in even more special.
Vishal was always one of my favorites, so it was definitely a pleasant surprise that made a great day become "epic." (As Hudson would say).
Speaking of Hudson, here's a portrait mode photo I took of him today with the beautiful Yellowstone scenery behind him. I know I'm biased, but that's a good-looking kid right there.
Next – we're headed to the west coast and going to check out the Reno & Tahoe area before heading to Yosemite.