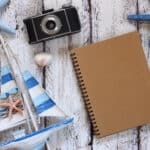 Elizabeth is an experienced traveler and writer with bylines in several popular travel publications. She currently co-owns a small digital travel publication and spends her free time writing, taking photos, and traveling.
Soon, summer will come to an end, and the days will begin to cool, and as they do, nature prepares to put on its most spectacular show. Leaves turn brilliant shades of red, orange, and yellow, creating a stunning display of fall foliage.
If you're in search of the perfect fall getaway, visit one of these 12 destinations for awe-inspiring fall foliage.
Boston, Massachusetts
If you want to experience the quintessential New England autumn, there's no better place than Boston. Take a stroll through Boston Common or the Arnold Arboretum to view the fall foliage. For a unique vantage point of the fall foliage, take a cruise along Boston Harbor to see the city's skyline set against the backdrop of the autumn colors.
Portland, Oregon
With the backdrop of Mount Hood and the Columbia River Gorge, Portland is a haven for nature lovers (as are most other Oregon cities, by the way). Take a scenic drive down the Historic Columbia River Highway for stunning views of the fall foliage, or, if you're up for an adventure, hike the Multnomah Falls Trailhead.
Aspen, Colorado
With the golden-yellow aspen trees set against the snow-capped peaks of the Rocky Mountains, the vibrant contrast creates a truly mesmerizing experience. Enjoy hiking or biking through the classic Maroon Bells, savoring delicious fall-inspired cuisine, or taking part in various cultural festivals, all while being surrounded by the stunning beauty of Colorado in the fall.
Stowe, Vermont
Fall foliage viewing is a serious business in Stowe, Vermont, and if you want the best vantage point for photos, take a gondola ride up Mount Mansfield for panoramic views of the fall colors. For a quieter experience, take a scenic drive along Smugglers' Notch Road.
Asheville, North Carolina
Nestled in the Blue Ridge Mountains, Asheville is a dreamy destination for leaf peepers traveling through North Carolina. With a breathtaking array of vibrant reds, oranges, and yellows, the fall foliage here is a showstopper. A stroll down the historic downtown district is a must, where you can admire the colorful canopies of trees overhead.
Taos, New Mexico
Known for its desert landscapes, Taos offers a unique fall foliage viewing experience. Head to the nearby Carson National Forest for stunning views of the changing leaves. For a different view and a totally unique experience, take a hot air balloon ride to experience the autumn colors from above.
Door County, Wisconsin
Located on the shores of Lake Michigan, Door County is a prime destination for fall foliage viewing. For an enriching and beautiful autumn experience, take a scenic drive down Highway 42 for stunning views of the fall colors, or hike through Newport State Park.
Traverse City, Michigan
Traverse City, Michigan, is an epicenter of autumnal brilliance, with dramatic hues of gold, crimson, and amber transforming the area into a mesmerizing masterpiece. Known as the "Cherry Capital of the World," Traverse City is also a foodie haven, serving up farm-to-table fare using some of the freshest ingredients the season has to offer.
Great Smoky Mountains, Tennessee
Located on the border of Tennessee and North Carolina, Great Smoky Mountains National Park is a prime destination for fall foliage viewing. Take a drive along the Newfound Gap Road for stunning views of the mountains and fall colors, but pencil in some time to get out of the car and explore the trails close up, too.
Lake Placid, New York
Nestled in the Adirondack Mountains, Lake Placid is a prime destination for those who love fall foliage. From mid-September to mid-October, the changing hues transform the town into a picturesque wonderland. Hike to the top of Mount Jo and take in panoramic views of the surrounding area.
Green Mountain Byway, Vermont
No autumn trip through the United States is complete without a scenic drive along the Green Mountain Byway. Don't miss out on the chance to stop and explore the quaint New England towns along the way, including Stowe and Waterbury.
North Conway, New Hampshire
As you make your way up the East Coast, plan to explore the White Mountains and stop in North Conway, New Hampshire. Take a scenic drive down the Kancamagus Highway for panoramic views of the foliage. Or, for a closer look, hike through the White Mountains.
8 Most Unique Places To Kayak In The US- Stunning Beauty
Looking for a unique and thrilling way to explore the natural beauty of the United States? Look no further! From the bioluminescent bays of Puerto Rico to the rugged beauty of the Apostle Islands in Wisconsin, there's something for every adventure seeker.
The 10 Most Beautiful Hikes In The US- Discovering America
This article highlights the most beautiful hikes in the US from California to Maine. Whether you're a seasoned hiker or just starting out, there's a trail on this list that will leave you awe-inspired. So, put on your hiking boots and get ready to explore the diverse and awe-inspiring landscapes of America's most beautiful hiking destinations.
10 National Parks To Skip If You Have Young Children
This article is a must-read if you're planning a national park trip with young children! Don't get stuck in rugged terrain, limited water access, or super-long hiking distances with your kiddos! Learn about the challenges and potential dangers of visiting these parks with young children and plan your trip accordingly for a safe and enjoyable experience.