Nikita is a valued contributor to the Sampling America writing team, passionately sharing captivating narratives from adventures across the country and beyond.
Offering some of the most captivating landscapes in America, Oregon has many tourist attractions.
Boasting 360 miles of scenic landscape, the state comprises of forests, rivers and fossil-studded desert and mountains.
In addition to its natural beauty, Oregon is also known for its urban charms. States like Portland and Newport have a lot to offer to tourists.
A great state for outdoor lovers and nature enthusiasts, Oregon has a lot to offer to its visitors.
Let us explore some of the best vacation spots in Oregon.
Cannon Beach, Oregon
Home to one of the most beautiful beaches, Cannon Beach is a popular tourist resort town in Oregon. Making for a terrific vacation spot in the city, Cannon Beach features a four-mile-long shoreline that is dotted with tide pools and sand dunes.
The most well-known attribute of the beach is the Haystack Rock, which is a 235-foot tall rock dominating the background of this coastal community.
There is also a great cultural appeal to this state, from exciting restaurants to boutique shops – it offers a perfect weekend getaway.
Cannon Beach has also been named as one of America's top 100 Best Art Towns and is packed with wonderful galleries and studios and museums as well.
Columbia River Gorge National Scenic Area, Oregon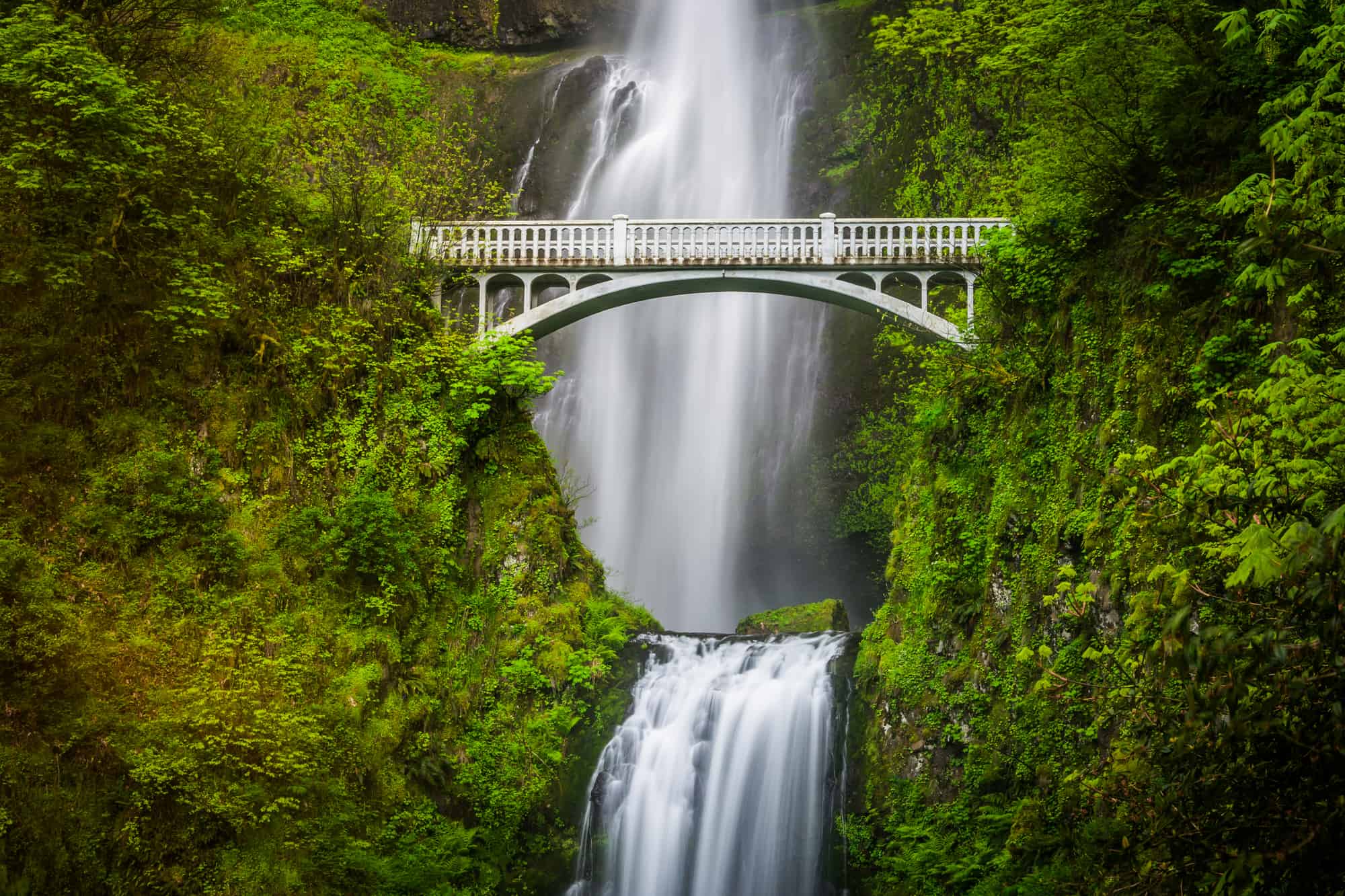 Columbia River Gorge National Scenic Area attracts thousands of outdoor enthusiasts every year thanks to its scenic beauty, making it a top vacation spot in Oregon.
Bring your own tent or RV and spend a few nights exploring the extensive area. You can go on hikes and explore the biking trails as well.
The gorge is best known for its numerous waterfalls including Multnomah Falls, which is the tallest waterfall in the state.
There is even a Gorge beer trail where you can enjoy great views with some great beer!
Portland, Oregon
Considered one of the best food cities in the USA, Portland there is never a dull moment in this city. Portland makes for one of the best vacation spots in Oregon.
Spend your time exploring the culinary offerings that the city has to offer. From coffee, beer to locally sourced farmers produce – there are lots to explore in Portland.
First-time visitors can get a good idea of the city through the walking tours that Portland has to offer.
There are cultural sights to explore as well like the Forrest Park which is one of the largest urban parks in the country or goes to the Portland Art Museum.
Bend, Oregon
Bend is the best place for visitors looking for delectable eats and long hikes. The city is also famous for its dining scene that foodies love.
They have food carts, breweries, and cider houses as well. Bend sits roughly in the center of Oregon.
Bend also offers many natural attractions such as Deschutes National Forest and excursions to volcanic landscapes of Lava Butte and Newberry National Volcanic Monument.
Travelers can also ski at the large Mount Bachelor Ski Area. There are ample opportunities for outdoor activities like snowboarding in winter, hiking in summer and rock climbing in spring and fall, which makes Bend a great getaway spot in Oregon.
Astoria, Oregon
Located in the far northwest of Oregon, Astoria is one of the oldest settlements west of the Rocky Mountains.
Boasting of many cultural, historical and artsy attractions, Astoria has something for every kind of traveler. Astoria is a charming seaside town with many activities to keep a visitor busy.
This town was also the backdrop of the 80s cult-classic movie, The Goonies. Film buffs can learn more about the history at the Oregon Film Museum, located in the old Clatsop County Jail.
Art lovers can explore the many galleries, studios and unique shops in the town or you can also choose to listen to a concert in the historic Liberty Theater.
Mount Hood National Forest, Oregon
Nature lovers and outdoor enthusiasts listen up – Mount Hood National Forest is one of the best places in Oregon to enjoy outdoor activities.
Mount Hood rises up to 11,239 feet, making it the highest mountain in Oregon and also an unmistakable landmark of the state.
It is also the second-most climbed peak in the world. On it slopes one can explore the Mount Hood Skibowl, picturesque hiking paths like the Timberline Trail.
You can also ski after dark at the Mount Hood Skibowl if you are up to something a little more adventurous than usual.
Hood River, Oregon
This delightful small town is located on the banks of the Columbia River just over an hour east of Portland.
It makes for the perfect base for a lot of outdoor sports, making Hood River a fantastic vacation spot in Oregon for outdoor enthusiasts.
This 80-mile long valley is also known for waterfalls like Multnomah Falls and Starvation Creek Falls, which are accessible via hiking trails.
Visitors who are in this town just to relax and explore can easily hop on the Historic Columbia River Scenic Byway or the Mount Hood Railroad. Apart from the outdoor activities, Hood River city has great restaurants and hotels, local shops and live music venues.
Salem, Oregon
The capital of the state is nestled in the heart of the wine-growing Willamette Valley. Salem offers something to every kind of visitor.
Salem is surrounded by vineyards and there are many historical and cultural attractions as well. Start by visiting the Oregon State Capitol building, then set off to explore 19th-century Bush House Museum and Willamette University's Hallie Ford Museum of Art.
The city also boasts of a great food scene thanks to its farm-to-table restaurants and its Ale and Cider Trail.
Kids can also have a great time in the city at Gilbert House Children's Museum and Riverfront Park, which features a playground and a carousel.
Eugene, Oregon
Eugene provides the perfect blend of city attractions and outdoor fun. This is the third most populous city in Oregon and provides for a great getaway in the state.
The city hosts many varieties of cultural and historic attractions to keep its visitors occupied.
Art enthusiasts can visit the historic Shelton McMurphy Johnson House (1888) and the Museum of Natural and Cultural History.
Additionally, Eugene also offers many hiking and biking trails which can be enjoyed. Plus, there are beautiful green spaces like Alton Baker Park and the Owen Rose Garden which are also a great spot to visit.
Medford, Oregon
Located in Rogue Valley, Medford is best known for its pears, blue cheese, and fruit baskets. This ticks all the boxes for a foodies getaway.
Go on wine tastings, or explore creameries or breweries in Medford. Visit Rogue Creamery to try some of its award-winning cheese. After which you can take a tour of the Harry & David Country Village store to sample local produce.
Get active at the Bear Creek Park or hike the Natural Bridge Loop or Upper and Lower Table Rock to work off the calories.
Smith Rock State Park, Oregon
Located on the high desert plateau of Oregon at an elevation of around 3,000 feet, Smith Rock State Park is an international climbing destination.
It has over 1000 bolted sport routes lining a stunning river canyon environment. For the adventurous, there are umpteen opportunities to do climbing and hiking.
Smith Rock is known as one of the best hiking trails near Bend. Visitors can also try horseback riding along sections of the Canyon River, Wolf Tree, and Homestead trails. There is also a camping site here for those who want to stay for a couple of days.
Newport, Oregon
Of all the charming coastal towns that families love, the best one in Newport. The city is located on Oregon's central coast, features kid-friendly attractions like the Oregon Coast Aquarium.
Hatfield Marine Science Center is another popular tourist destination. Don't miss the Yaquina Head Lighthouse which is a beacon of coastal beauty.
Ashland, Oregon
A crowd favorite with the artsy types and culture hounds, Ashland boasts of many cultural and outdoor attractions.
Explore the art scene at the monthly First Friday Art Walk and visit the Schneider Museum of Art, the Oregon Center of the Arts. Ashland is also known for a plethora of festivals like the Tony Award-winning Oregon Shakespeare Festival and A Taste of Ashland.
There are interesting festivals like the Oregon Chocolate Festival, and the Honey Festival as well, so there is something for everyone in Ashland.
This is also an excellent destination for wine. Make sure to try out a local vintage.
Florence, Oregon
Those who are keen to spend their vacation outdoors can try visiting Florence. The main attraction of this town is countless sand dunes where you can drive an all-terrain vehicle or zip down on sandboard.
Do visit the Heceta Head Lighthouse and Historic Old Town Florence. Here you will find shops, art galleries and the Siuslaw Pioneer Museum.
Of course, there are many outdoor activities as well like fishing, hiking and even riding horses.
Newberry National Volcanic Monument, Oregon
Located within the Deschutes National Forest, Newberry National Volcanic Monument is a wonderland of lava flows, peaks, lakes, and calderas.
The Monument is a 1,200-square-mile volcano which is filled with lava and other fascinating geological features, including a lava river cave and a lava field where NASA astronauts trained to walk on the moon in the '60s.
Do visit the Lava Lands Visitors Center before setting off to explore the monument on foot. You can even take the shuttle to get around.
Must-see attractions include Lava River Cave, Lava Cast Forest, and Paulina Falls.
Willamette Valley, Oregon
Home to 500 wineries, Willamette Valley is to Oregon what Napa Valley is to California. This region is home to two-thirds of Oregon's wineries and vineyards.
A perfect place to spend your weekend wining and dining, Willamette Valley is a paradise for wine connoisseurs. It is noted for its production of Pinot Noir wine.
The cool temperate climate of this region makes for a perfect climate conducive to grape growing and wine production.
Lincoln City, Oregon
Just a two-hour drive from Portland, Oregon, Lincoln is a relaxing coastal city. Established in 1965, it offers beautiful scenery and lots to do to its visitors, which makes Lincoln city a perfect vacation spot in Oregon.
Surfing and kite-flying can be enjoyed here. Visitors can learn more about the history of the city at the North Lincoln County Museum.
Don't forget to miss out on the Lincoln City Farmers and Crafters Market where you will find delicious food to make your holiday even better!
Other must-dos include hiking, whale watching and shopping at the Lincoln City Outlets.
Oregon Caves National Monument and Preserve, Oregon
These wonderful marble halls are carved out of solid marble by centuries of rainwater. Tour this labyrinth of caves on a 90-minute guided Discovery Cave Tour.
The National Park service arranges for many types of tours ranging from guided treks for families and kids to wild cave expeditions that veer off the normal tourist path.
Adventure enthusiasts can try the three-hour Off-Trail Adventure Tour in summer, where you have the opportunity to belly-crawl and slither through some very small spaces.
To get really up close and personal, you can even pitch a tent and spend some time exploring the scenic trails.
Springfield, Oregon
Mostly famous for being a backdrop of Simpsons, this town has a lot to offer to its visitors. A great city to try out some outdoor activities, you can enjoy walking, running, hiking, and cycling in Island Park.
Also, try river rafting on the Willamette River in summer. Families can enjoy Splash Indoor Water Park all year round.
Conclusion
Oregon can be a perfect vacation spot for people who want to spend their time outdoors or even enjoy Pinot Noir at Willamette Valley.
This city has lots to offer to its travelers, all you have to do is explore!